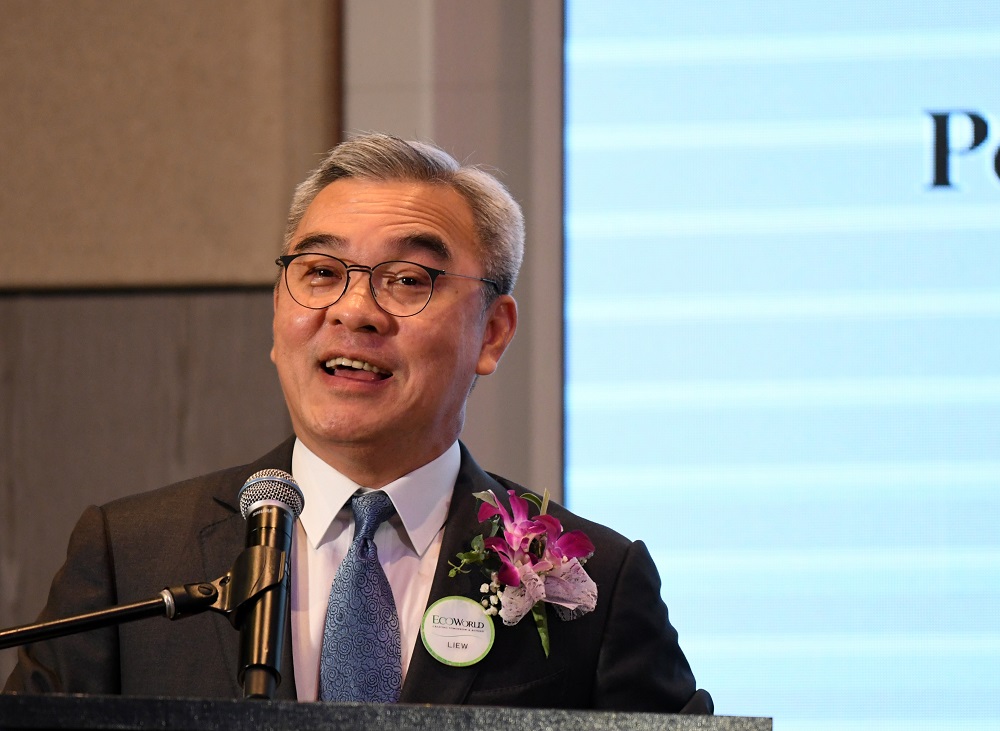 PETALING JAYA (Dec 17): EcoWorld Malaysia and EcoWorld International are eyeing for a higher combined sales target of RM5 billion for FY2021.
The latest sales target came after the announcement that the group had achieved a combined sales of RM3.7 billion for FY2020.
Read also
EcoWorld Group achieved RM3.7b in sales, exceeding RM2b target
For FY2021, EcoWorld Malaysia is targeting to achieve sales of RM2.875 billion which is a 25% increase from the actual RM2.3 billion sales achieved in FY2020, while EcoWorld International has set a sales target of RM2.2 billion for FY2021, which takes into account the expected gradual economic recovery and market sentiment in the United Kingdom and Australia.
"I am confident that the [combined] target, despite being 30% higher than the sales achieved in FY2020, is attainable," said EcoWorld Malaysia chairman Tan Sri Liew Kee Sin (pictured) in a media statement today.
On EcoWorld Malaysia's performance, Liew said that the strategic plans they have put in place in every geographic location to strategise and refocus on key segments of the market have proven depth and resilience.
In addition, he noted that the proactive steps taken in FY2020 to reduce and reset the cost structure of both Malaysian and international operations, coupled with the team's willingness to continually reinvent and relearn the way of doing business, will help counter the impact of a soft property market and preserve cash flow and profits.
"Based on the measures undertaken, I am therefore confident the EcoWorld brand is well positioned to not just come out of this crisis but to thrive in the years ahead," Liew added.
Meanwhile, EcoWorld Malaysia president and CEO Datuk Chang Khim Wah shared that apart from the solid performance of its residential developments for FY2020, rising demand for the Group's business park projects, which saw sales increase by 193% from RM75.2 million in 3Q YTD 2020 to RM220.4 million in 4Q YTD 2020, also contributed to the overall sales achieved.
He highlighted that a little known fact about EcoWorld Malaysia is the size of its industrial portfolio.
"We are quite a big player in this space with approximately 1,760 acres under development. This gives us a total gross development value (GDV) of RM9.5 billion from our four Eco Business Parks located in Senai, Tebrau and Pasir Gudang in Iskandar Malaysia, [Johor] and Puncak Alam in Selangor. As at Oct 31, 2020, we have achieved cumulative sales of RM2.1 billion from our business parks segment," he shared.
Thus in FY2021, he said the Group is looking to further grow its share of this market.
"We are confident that the uptick in buying interest we experienced in 4Q2020 can be sustained. The attractive tax and other incentives offered by the Malaysian Government under PENJANA and as announced in Budget 2021, to increase foreign direct as well as local private investments in key industries and service sectors, will help underpin the growing demand," Chang continued.
Furthermore, Chang also pointed out that the strategic decision to focus on meeting the housing needs of the M40/Gen Y and Gen Z groups will expand further in FY2021 with the launch of numerous exciting new projects and products in the pipeline.
"First up is the upcoming launch of Eco Botanic II in early 2021. We have received overwhelming interest for the first phase terraced homes priced from RM500,000 to RM800,000 which are well within the affordability range of young M40 families," Chang said.
"We also plan to officially launch a new product called Co-Homes at Eco Grandeur in the Klang Valley and Eco Horizon in Penang. Designed to provide an innovative solution for all generations, customers can choose to buy a single 1,000 sq ft unit (at a starting price of less than RM400,000) or mix and match ground floor and/or first floor units for harmonious multi-generational living.
In Kuala Lumpur, we will shortly be unveiling SWNK Houze @ BBCC which offers a wide range of serviced apartments from studio units, 1-bed, 2-bed, 2+1 bed, 3-bed as well as dual key units. This will enable us to meet the needs of young urbanites and investors seeking to own a residential property within the city," Chang added.
As for the EcoWorld International front, its president and CEO Datuk Teow Leong Seng said that by 1Q2021, it would have commenced handover of Yarra One in Melbourne.
"Once that has been completed, we would have effectively delivered to purchasers the bulk of the portfolio of projects we started with when we were listed in 2017. This will release substantial amounts of cash, and following repayment of the respective project loans, we intend to repatriate some of the cash/profits generated for dividend declaration by EcoWorld International in FY2021," said Teow.
The build-to-rent (BtR) blocks in Quayside Barking (formerly known as Tesco Barking) is also making good progress, as major institutional investors continued to show keen interest in the asset following extensive discussions with [the EcoWorld London] management, Leow said.
"They have also given some good feedback which we are taking on board to further refine the development plans. As such, the sale of Quayside Barking has been rescheduled to FY2021. Looking forward into FY2021, we believe that demand for London properties will remain strong.
Property agents are expecting the acute undersupply of residential properties in London to worsen in the coming years due to reduced supply as a result of disruptions caused by Covid-19. This will continue to provide support to London's property prices and rental rates," Leow added.
As for the Australian property market, Leow observed that major local banks are predicting a recovery in housing sentiment on the back of improved economic conditions in 2021.
"A rollout of the Covid-19 vaccine may also enable crossborder travel to resume, which could improve the buying interest of foreign purchasers. Our management has planned a series of marketing events for FY2021 to take advantage of the recovery in homebuying interest and foreign demand for residential properties to sell the remaining units of West Village in Sydney and Yarra One in Melbourne," said Leow.
Get the latest news @ www.EdgeProp.my
Subscribe to our Telegram channel for the latest stories and updates