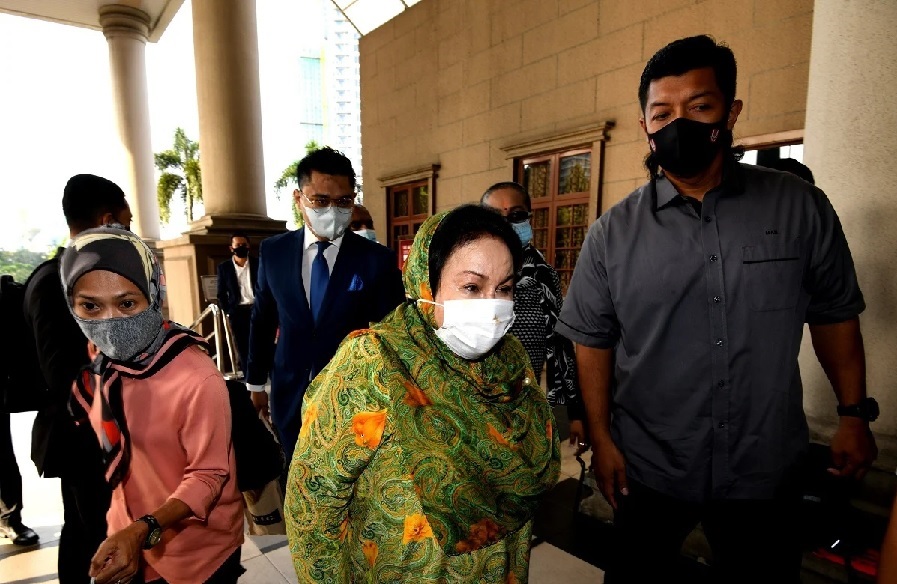 KUALA LUMPUR (Feb 10): The High Court today fixed Feb 18 to deliver its decision on whether to call Datin Seri Rosmah Mansor (pictured) to enter her defence with regard to three counts of graft in relation to the solar hybrid project involving 369 schools in Sarawak.
Justice Mohamad Zaini Mazlan fixed the date as he finished hearing submissions from the prosecution and defence today.
Rosmah is charged with two counts of receiving a total of RM6.5 million bribe from Jepak Holdings Sdn Bhd director Saidi Abang Samsudin whose company was awarded with the project.
She is alleged to have received RM5 million and another RM1.5 million sent to her homes in Seri Perdana, Putrajaya as well as Langgak Duta here, between December 2016 and September 2017.
If convicted, she faces a maximum jail term of up to 20 years and a fine of five times the amount received.
The wife of former prime minister Datuk Seri Najib Razak also faces a charge of soliciting a RM187.5 million bribe from Saidi for the RM1.25 billion project.
Earlier, senior deputy public prosecutor (DPP) Datuk Seri Gopal Sri Ram, who was leading the prosecution, questioned why Rosmah had asked then secretary-general Tan Sri Madinah Mohamad and her successor Datuk Seri Alias Ahmad about the progress of Jepak's application if she did not have any financial interests in the matter.
"There is no rational explanation why the accused should show an interest in Jepak unless she had financial interests in the contract award to be given," he said.
Sri Ram said there were consistent testimonies from Saidi and former business partner Rayyan Radzwill concerning the money delivered to her home.
"There is no need for the prosecution to call the butlers to corroborate on the evidence as the two witnesses testified that the monies were delivered to her residence, and she was present," he said, adding the delivery of money was also corroborated by another witness, Datuk Ahmed Farriq Zainul Abidin.
"If she is not involved, she should ask them to get out, instead of having them in her residence to give the money, or thrown the bags out," said Sri Ram, who is also formerly a Federal Court judge, adding that Saidi had even pointed to the bag containing the money to Rosmah.
Furthermore, Sri Ram said one of the witnesses heard her in the meeting asking for a political donation from them.
Sri Ram described Rosmah as being a smart person in letting others do her bidding to solicit the bribe, and this task fell on her aide Datuk Rizal Mansor.
He said a person who wants to take a bribe is entitled to stay as far away as possible.
"From this case, it points that she is clever enough to distance herself from demanding directly. The solicitation was made by PW21 (prosecution witness 21, Rizal) as she wants to distance herself," the senior DPP said, adding that the fact remained that the bags of money were delivered to her home.
"Hence, we say there is a strong case for the court to order her to enter into her defence," he added.
Meanwhile, Datuk Akberdin Abdul Kader who was counsel for Rosmah pointed to the prosecution's failure in not calling in the butlers and Pekan UMNO secretary to testify, as a strong point for the defence.
"Why were they not called when they supposedly brought in the bags? Are the three butlers missing and we expect the prosecution to produce their recorded statements, but they did not," he added.
Akberdin maintained that the solicitation was done by Rizal as it was to his own benefit, and when trapped he put the blame on her.
He even questioned as to why the prosecution did not call Datuk Ahmad Aazmey Abu Talib, the UMNO Pekan secretary, as he was the one who obtained the go-ahead for Jepak.
However, Justice Zaini pointed out that while it was true that Aazmey was approached and provided the letter or notations of support for Jepak from Najib, the project did not actually go on then.
Despite this, the lawyer said Aazmey should have been called.
Akberdin's counterpart, Jagjit Singh, raised the issue of the prosecution's selectiveness in not continuing prosecution on Rizal or former education minister Datuk Seri Mahdzir Khalid despite earlier allegations of graft.
Jagjit also raised the issue of Sri Ram's appointment to prosecute in this case, as former Attorney-General Tan Sri Tommy Thomas wrote in his book "My Story: Justice in Wilderness" that the former Federal Court judge's appointment was merely for the 1Malaysia Development Bhd case and not Rosmah's.
"Hence, this court should look back on its earlier decision in light of the new evidence as stated in the book," he said.
A total of 23 witnesses testified in the trial before the prosecution closed its case.
Get the latest news @ www.EdgeProp.my
Subscribe to our Telegram channel for the latest stories and updates