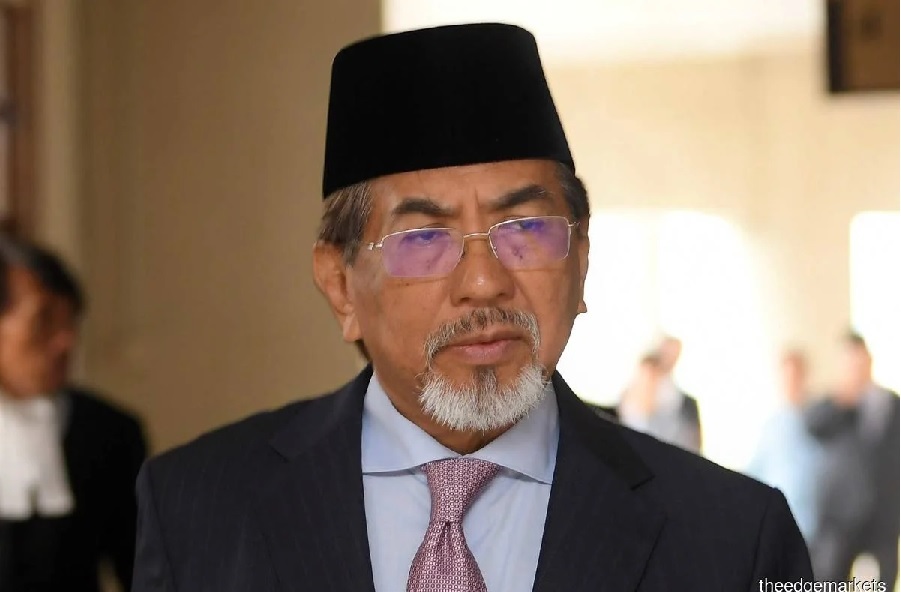 PUTRAJAYA (March 26): Former Sabah chief minister Tan Sri Musa Aman (pictured) today withdrew his appeal in the Federal Court over the issue of who is the rightful CM to lead the state in his dispute with Datuk Seri Mohd Shafie Apdal.
Tamparuli assemblyman Datuk Jahid Jahim from Parti Bersatu Sabah (PBS) also followed suit and withdrew his appeal over the same issue.
Musa's lawyer Tengku Fuad Tengku Ahmad and Jahid's counsel Datuk Firoz Hussein Ahmad Jamaluddin informed the three-member panel, led by Court of Appeal President Tan Sri Rohana Yusuf, of the withdrawal of their appeals.
The other members of the bench were Chief Judge of Sabah and Sarawak Datuk Abang Iskandar Abang Hashim and Federal Court Judge Datuk Seri Mohd Zawawi Salleh.
Musa filed the challenge in the aftermath of the 14th general election (GE14), where he was reappointed Sabah's CM on May 11, 2018 after two Parti Solidariti Tanah Airku (STAR) assemblymen sided with him, following a stalemate between Barisan Nasional (BN)-Umno and Warisan-Pakatan Harapan (PH), with both sides at the time having 29 seats each in the state assembly.
However, Shafie was appointed the CM a day later after six assemblymen from the BN-Umno camp switched sides, which resulted in Warisan-PH gaining the majority in the state assembly. Subsequently, Musa launched his legal suit to challenge the legality of Shafie's appointment that went to the Kota Kinabalu High Court and the Court of Appeal.
Both Musa and Jahid were allowed leave (permission) by the Federal Court on Aug 20 last year with a two-to-one majority decision just before the Sabah state election.
Musa named the present governor, Tun Juhar Mahiruddin, and Shafie as respondents, while Jahid named Shafie along with then State Legislative Assembly Speaker Datuk Syed Abas Syed Ali and legislature secretary Datuk Bernard J Dalinting as respondents.
Lawyer Firoz in submitting for the two (Musa and Jahid) said they had received instructions to withdraw the appeals in light of the circumstances of the change in the political scenario and the state election held last September.
"The issues sought in the appeals are still important and vital issues for determination in today's democracy," the senior lawyer added.
Firoz said the Sabah Attorney-General's office, led by former AG Datuk Brenndon Keith Soh, had agreed not to ask for costs due to it being a public interest and constitutional matter.
He implored the same from Shafie not to ask for costs. Tengku Fuad too said they had not received any submissions to the case, and hence should not ask for costs.
Meanwhile, Shafie, who was represented by Datuk Dr Cyrus V Das and Datuk Theodore Douglas Lind, said although this is a public interest and constitutional matter, a significant amount of research had been made.
"We filed our written submissions in February but had not given it to them as they had not filed theirs and given a copy to us. However, they could download the submissions from the court.
"For these reasons, we are asking costs of RM60,000 from Musa and another RM20,000 from Jahid," they said.
After a short recess, Justice Rohana struck out the appeals and ordered Musa to pay RM60,000 costs and Jahid to pay RM20,000 costs to Shafie.
Get the latest news @ www.EdgeProp.my
Subscribe to our Telegram channel for the latest stories and updates