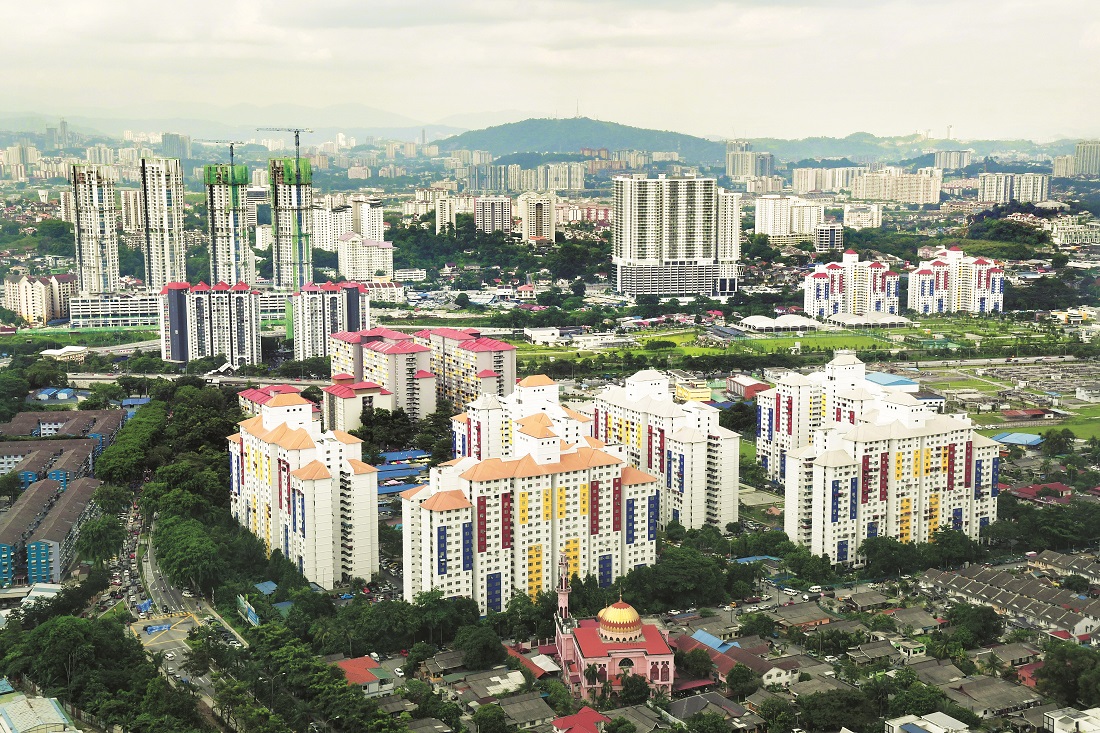 KUALA LUMPUR (May 11): Cash transfers from the government shored up the average income of some of the country's poorest urban households above 2019 levels in March but 71% say they still need financial aid in the coming months and 60% still could not buy enough food for their families, the fourth and final instalment of a study commissioned by two United Nations (UN) agencies showed.
While the average household income averaged RM2,895 (RM2,582 without cash transfer) in March 2021, up 4% compared with RM2,777 (RM2,546 without cash transfer) in 2019, many representatives of households living in Kuala Lumpur City Hall Projek Perumahan Rakyat (PPR) low-cost flats surveyed in February and March this year "expressed a strong need for continued, regular and reliable financial assistance", according to data appended in the "Families on the edge" report (Part 4) by the United Nations Children's Fund (UNICEF) and United Nations Population Fund (UNFPA) that was conducted in partnership with Malaysia-based public policy research outfit DM Analytics.
"I have to borrow to buy food because the assistance is not enough… I really don't have money. I don't even have savings," a 44-year-old single mother with school-going children known only as "Ms Z" was quoted in the survey.
Other indicators of hardship that the study say reflect the pre-existing low-income situation faced by these households even before the pandemic include the fact that one in two could not pay utility bills or mortgage and pay rent on time, one in four of participants continue to reduce food intake while one in three have at least some difficulty or severe difficulties providing enough money for their children to buy meals in school.
According to the report, some 71% of respondents believe they will require continued financial support over the next six months, and they expressed "a clear preference for monthly allowance" — something that researchers say provide a level of comfort and certainty for the low-income PPR folks depending on cash transfers to make ends meet.
Direct social assistance from the government now makes up 11% of overall household income, rising to as high as 19% among female-headed households and 36% among households headed by persons with disabilities.
Almost 40% of respondents still need to use their savings to mitigate a reduction in income, despite one in three heads of households and four in 10 female heads of households depending on government assistance.
As such, researchers continue to highlight the need to help urban low-income families, especially those with children, persons of different abilities and the aged, despite it being more than a year since the first Movement Control Order (MCO 1.0) was implemented in March last year.
Even though it is encouraging to see a number of socio-economic indicators improving from the survey in December 2020, researchers say many PPR folks are not out of the woods while already exhausting their savings. Unemployment, for instance, remains 12% or 2.5 times higher than the pre-crisis baseline while that among female heads of households remains at 16% or three times the national average, researchers note.
Overall, pre-transfer median household income of RM2,117 per month remains 5% below pre-crisis levels (RM2,219 in 2019) but improved from RM1,400 in May 2020 and RM2,000 in September and December last year, researchers note. Pre-transfer median household incomes for female-headed and disabled-headed households in March 2021 of RM1,300 and RM1,200 respectively, are the same as in 2019. The average household size is 5.5 persons.
"Although households have recovered to pre-crisis levels of income, such a level of income [RM1,300 among female heads of households and RM1,200 among disabled-headed households] typically reflects a condition of absolute poverty (45% of household in the sample) or, at best, relative poverty," read the report launched by Datuk Seri Mustapa Mohamed, Minister in the Prime Minister's Department for Economic Affairs, today.
Dr Rashed Mustafa Sarwar, Representative for UNICEF in Malaysia and Special Representative to Brunei Darussalam, said in a statement: "We are delighted to see that socio-economic indicators had nearly returned to pre-crisis levels for many families, but this is not true for all. The real impact of a year of hardship and uncertainty is now apparent in terms of the mental wellbeing of women and children, with significant implications for children's learning among other issues. Over six in ten of the parents surveyed called for advice on how to best support their children through this period and we need to take that very seriously."
At least nine in 10 households and almost all children live in relative poverty, the survey found.
Indeed, only 25% think their financial situation will worsen in the coming six months compared with between 37% and 41% in the previous three surveys (in May, September and December 2020), but only 11% of the respondents think their financial situation will improve in the coming six months, up from 10% in May and December 2020 but down from 14% last September. About 56% of respondents think their financial situation will remain the same in the coming six months, compared with 41% a year ago.
According to the survey, having a job is still a major concern among the respondents, many of whom are in the informal sector or self-employed and want opportunities to generate better income for themselves and their families.
Some 37% think they are unlikely to get a job in the next few months and 56% say the lack of jobs being the reason they're not able to obtain employment. Worryingly, the unemployment rate was 37% among adult children of the survey respondents.
A total of 500 heads of households from 16 PPR flats in Kuala Lumpur were interviewed between Feb 26 and March 12 this year, with 4.34% margin of error at 95% confidence level. The survey is designed to capture a sample of 25,096 households in low-cost flats under DBKL with heads of households aged 30 and above.
Get the latest news @ www.EdgeProp.my
Subscribe to our Telegram channel for the latest stories and updates