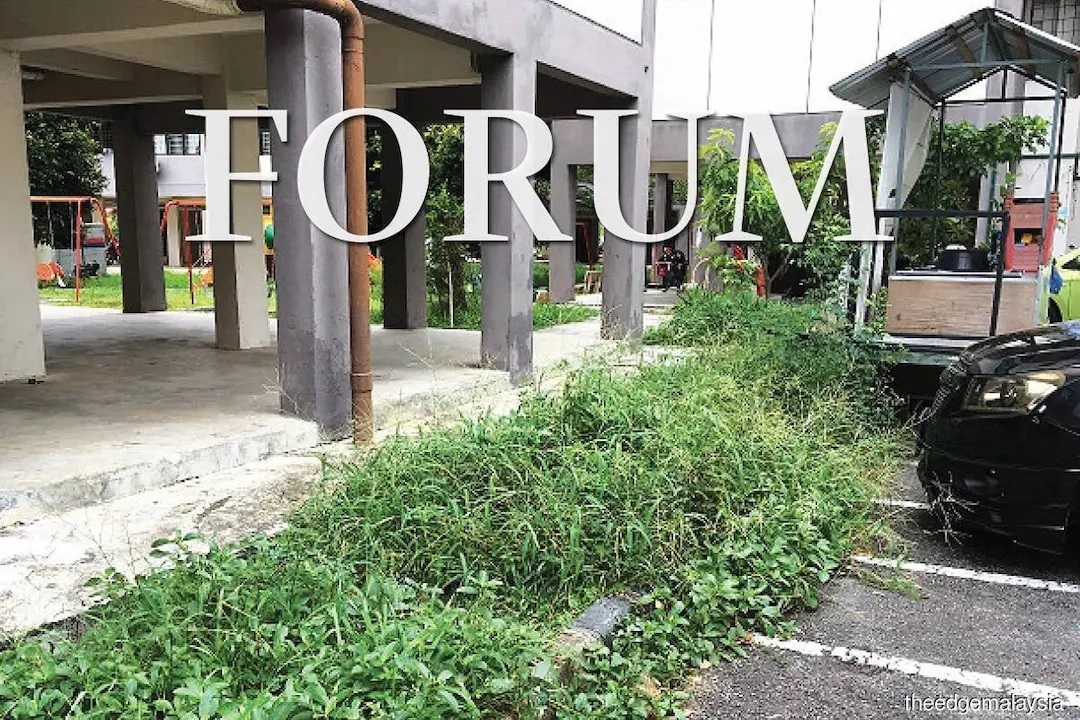 A home is not just a brick-and-mortar product that offers shelter. Rather, a home is about livability; a sustainable sanctuary one is proud of.
Unfortunately, with rare exceptions, social housing in the country's urban areas have become prime examples of very poorly maintained buildings. If left unchecked, these eyesores could end up being slums.
The government is racing to provide a roof over the heads of all Malaysians. Any responsible government would be serious in ensuring shelter, especially for those who need help the most. However, the act of building social housing on its own is not good enough. The homes must be livable and sustainable.
On June 23, Prime Minister Datuk Seri Anwar Ibrahim unveiled the Federal Territory Madani Neighbourhood scheme for the B40, M40 and the ultra poor. Under the scheme, several affordable housing projects will be rolled out for sale and rent, from as early as this year.
This scheme is the latest addition to the more than a dozen affordable housing initiatives that exist at the federal and state levels. These were introduced over the years by the government on its own or in partnership with the private sector.
With housing being a hot button topic among Malaysians, the government of the day is understandably incentivised to stamp its mark through the introduction of new affordable homes. There is nothing wrong with that as it is necessary to move with the times to meet the rakyat's housing needs.
What is terribly wrong, however, is the fact that the urgent need for proper maintenance of the social housing has been continuously ignored. Pumping in budgets on an ad-hoc basis to improve its livability is neither ideal nor sustainable.
A home is not just a brick-and-mortar product that offers shelter. Rather, a home is about livability; a sustainable sanctuary one is proud of.
Unfortunately, with rare exceptions, social housing in the country's urban areas have become prime examples of very poorly maintained buildings. If left unchecked, these eyesores could end up being slums.
An ill-maintained strata home — irrespective of its price tag — is lacking in more than aesthetics. It has health and safety hazards, and may contribute to social problems in the community. Needless to say, the property value would diminish.
For this article, let us focus on the government's PPR (Program Perumahan Rakyat) or people's housing programme. It was meant to offer transitory shelter to urban squatters in the hope that they would eventually be able to buy or rent homes developed by the private sector. According to a recent research report, by 2009, up to 62% of Kuala Lumpur's PPR units had been sold to low-income households either outright or through rent-to-buy schemes. This suggests that subsidising PPR rentals in the face of rising costs is not sustainable in the long term.
The question now is whether PPR housing should be made into permanent homes for the residents or remain transitory as was originally intended.
Whatever the case, the issue of the upkeep of these affordable homes is not addressed. How can one call a unit in a building with dirty corridors, staircases, lifts and open spaces home? Imagine having to deal with lifts that never work, unsightly and smelly garbage either left uncollected or strewn indiscriminately, mouldy walkways and dark corridors. Common facilities like playgrounds and so-called "green" spaces are in a dismal condition. There are neither security patrols nor an all-important property manager who is tasked with ensuring harmonious living.
All high-rise homes must be maintained for safety, livability and sustainability reasons. At the very least, adequate and functional back-of-house facilities such as fire-fighting control and systems rooms must be in order. Water leakages need to be attended to immediately. IAQ or indoor air quality, no more a luxury after Covid-19, must be maintained. Regular checks for structural weakness are important, especially for older buildings.
Sorry state of affairs
Why is our social housing in such a sorry state generally? What are the fundamental issues? What needs to be done?
Basic property management (let's not even talk about quality!) is absent in our social housing. Like the musicians in an orchestra, all building stakeholders — the government, developers where applicable, residents and property managers must work together as a team to make a difference.
Factors such as a lack of funds, badly managed funds and the vested interests of some stakeholders are core to property management headaches.
How much does it take to maintain 500 units of typical high-rise social housing? I asked a property manager with experience in managing such a project and he put the figure as about RM100,000 a month. This works out to a service charge of RM200 for each unit. The estimate is based on the following assumptions and costs:
• The apartments have three or four lifts of low specifications
• Common areas are cleaned three times a week
• General staffing
• Four security guards
• Electricity, water, telephone and sewerage charges
• Electrical inspection and fire system maintenance
• General repairs (for example, for damage caused by vandalism) and services
• Power generation sets and switch room maintenance
• Landscape maintenance
• Insurance, licence and audit fees
• Maintenance tools and cleaning products
• Festive decorations
• Management fee
Don't forget to add another 10% of the amount for the all-important sinking fund. This is the safety net that funds big-ticket expenditures such as repainting and replacement of lifts, which have a lifespan.
Is it realistic for people in the B40 group living in social housing to be paying RM200 each month for maintenance of the building? Or even RM100 a month if the total management cost is halved at the expense of quality? Without a doubt, government subsidies are needed.
Why HDB is successful
Let us look at the model of the highly regarded Singapore Housing & Development Board (HDB) flats. In the past, some quarters had frowned upon suggestions that we learn from the island state's experience with public housing. Ego must never stand in the way of learning.
Subsidies are core to the HDB success story. The government undertakes to provide public housing, which allows the units to be sold at about one-third the price of similar units built by private developers. It is said that currently, some 80% of Singapore citizens live in public housing.
The typical monthly maintenance charges of these flats are S$54.70 (1-room), S$56.70 (2-room), S$62 (3-room), S$73 (4-room) and S$80 (5-room).
To ensure proper maintenance, the government provides residents with monthly maintenance charge grants on a sliding scale such as S$33.70 (1-room), S$26.20 (2-room); S$17.00 (3-room) and S$9.00 (4-room). No subsidy is given to 5-room owners as they are deemed able to afford the charges.
It has been reported that the Singapore HDB town council service and conservancy charges will be increased from next month, and again in mid-2024 owing to rising costs. It is not immediately known if the government's subsidy will also move up in tandem with the increased rate.
High-rise slums in the making?
In Malaysia, social housing projects are expanding, yet there is little or no effort to ensure their proper upkeep. Poorly maintained buildings not only impact negatively on the well-being of their residents but would also mar the image of our beautiful cities. If we are not careful, social housing can evolve into slums.
Malaysia must act quickly to avert such a predicament. Government subsidies are inevitable. For economies of scale, the upkeep of social housing must be tackled in a holistic manner. Sustainable financial planning and pre-emptive maintenance practices are crucial. To reduce costs without cutting corners, think about centralising some of the operations in PPRs located in a certain area. Ultimately, effective property management is not just about ticking the boxes, it also has a lot to do with the use of soft skills to solve problems unique to community living.
Professionalism, transparency and accountability cannot be compromised. Key performance indicators must be set for those tasked with the responsibility. How well a building is maintained is measurable. (In 2017, The Edge Media Group introduced The Edge Malaysia Best Managed and Sustainable Property Awards to recognise first-in-class property management practices in the country. The awards, the first of their kind in Malaysia and also in this part of the world, have set strict criteria to benchmark and raise the bar on Malaysian property management standards. This year's winners will be announced at a gala dinner on July 4.)
At the same time, the government must educate and create awareness on what harmonious community living entails. This has to be an ongoing process.
In conclusion, building more affordable housing is not enough. Ensuring their sustainable livability is equally, if not more, crucial. Otherwise, the unthinkable would happen. That is the Real Deal!
Au Foong Yee ([email protected]) is an editor emeritus at The Edge Malaysia