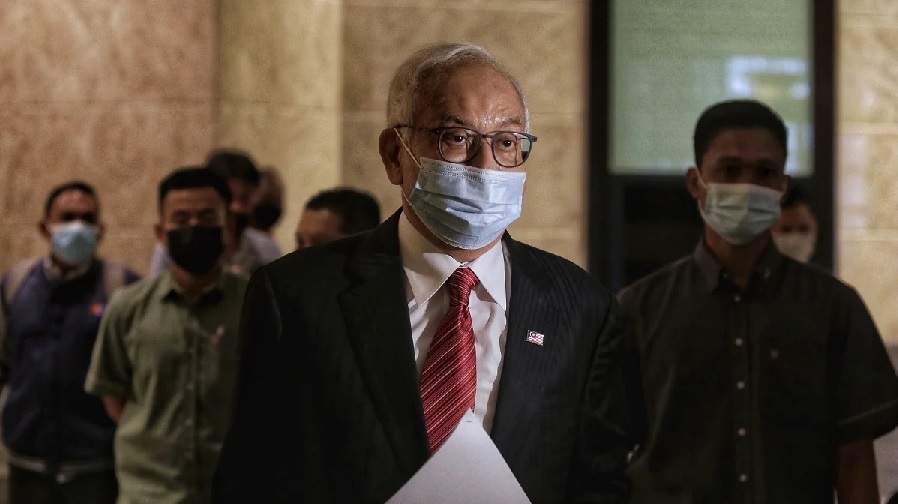 PUTRAJAYA (May 18): Former prime minister Datuk Seri Najib Abdul Razak's (pictured) appeal against his conviction on all seven charges related to RM42 million of SRC International Sdn Bhd funds came to a close today with the Court of Appeal deferring its ruling to a later date.
The three-member bench led by Judge Datuk Abdul Karim Abdul Jalil remarked that the hearing, which began early last month, took exceptionally long to conclude. The appeal had taken 15 full days.
Najib's legal team led by Tan Sri Muhammad Shafee Abdullah wrapped up their submissions this afternoon after they had previously asked for an extension for their submissions.
Justice Abdul Karim then told the parties at the close that the court will let the prosecution and defence know the date of its decision.
The other two judges on the bench were Datuk Has Zanah Mehat and Datuk Vazeer Alam Mydin Meera.
"Important issues were raised and we will need time to deliberate on oral and written submissions," he said.
Justice Abdul Karim also gave one week for both parties to submit their written submissions on Najib's appeal against his sentence.
Najib was found guilty of seven criminal charges, including one count of abuse of power and three counts each of criminal breach of trust (CBT) and money laundering, involving RM42 million from SRC that ended up in the former premier's personal accounts.
He was sentenced to 12 years in jail and a fine of RM210 million for the abuse of power offence, and 10 years of imprisonment for each of the CBT and money laundering charges. The court, however, ordered the jail sentences to run concurrently, which means Najib will have to spend only 12 years behind bars. He is currently appealing against the conviction and sentences.
Speaking to reporters after proceedings today, Najib, who is also a former finance minister, said he hopes to clear his name with this appeal.
"I pray that justice is done and I get the opportunity to clear my name," he said after thanking his legal team for all the hard work they have put into the case.
"This present period is a test to my family and I pray that what we hope for will come true," he said.
In the courtroom this morning, Najib's lawyer Harvinderjit Singh argued that there is proof that the board of SRC was independent and making their own decisions instead of being controlled by Najib as asserted by the prosecution and affirmed by High Court judge Mohd Nazlan Mohd Ghazali, who had also meted out the sentence against Najib.
"In the case the SRC chairman and a director testified that the board had made independent decisions without taking instructions from Najib. On paper in board meetings, it [seemed] that the board was indeed acting on fiduciary capacity on how SRC's funds were to be managed," he said.
Muhammad Shafee had criticised Justice Nazlan's judgment, calling it a "jaundiced view" of the defence and accusing him of "bending backwards to make the prosecution's case".
Shafee also rebutted Justice Nazlan's judgment that Najib had benefitted from SRC's funds, saying that the real person who benefitted was Low Taek Jho who made off with RM140 million in SRC funds.
"He (Nazlan) ignored the RM140 million Jho Low received… Jho Low benefitted more, Najib got (only a) pittance compared to the RM140 million he took," said Shafee.
He also took aim at the staff at AmBank Bhd and SRC's management who were in cahoots with Jho Low to siphon the funds.
Shafee argued that Najib's trial should not have even been called to the defence stage, let alone a conviction, because the prosecution had not crossed the threshold.
Shafee also said the SRC trial was badly conducted and also blamed former attorney-general (AG) Tan Sri Tommy Thomas, who was involved in the trial, saying that he did not assist the court to ensure that they did not "blunder".
"This was a badly conducted trial. The AG who sat there did not assist the court in ensuring that they did not blunder. On all counts an acquittal on all charges because my client went through a harrowing experience in this trial," he said.
Ad hoc prosecutor Datuk V Sithambaram said Jho Low benefitting from SRC is not the issue at hand. He said the issue was that Najib had benefitted from the RM42 million he received in his personal accounts.
"I find it fascinating that Jho Low benefitted, that's not the issue. The issue is that Najib benefitted from the RM42 million," he said.
He also justified that Najib had interest in SRC as he used his power as prime minister and then finance minister to expedite the two RM4 billion Retirement Fund (Incorporated) (KWAP) loans and get the loans released before guarantees were signed.
"This (expediting KWAP loans) shows Najib's involvement in getting the loan which shows his interest," Sithambaram said as his last point today.
Get the latest news @ www.EdgeProp.my
Subscribe to our Telegram channel for the latest stories and updates