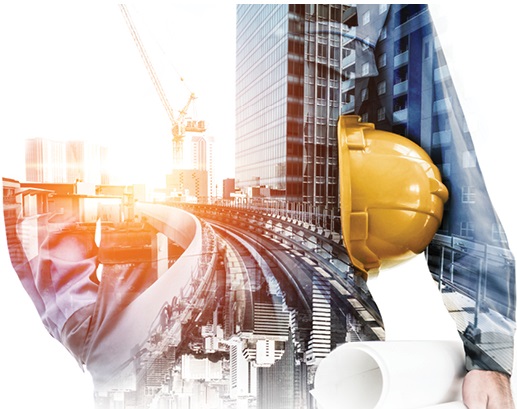 Covid-19 has severely hit nearly every sector of economy across countries. Construction is of no exception as projects have either been suspended or delayed. Those allowed for operation are likely to suffer from cost overrun due to the new standard operating procedures of social distancing measures, health and safety precautions, as well as the impact on loss of productivity and labour availability.
Based on the Royal Institution of Chartered Surveyors' (RICS) Global Construction Activity Index – a measure of current and expected construction market conditions among construction professionals – a subdued outlook was prevalent across regions in 2Q2020 (Figure 1). However, fast forward a year and in 1Q2021, sentiment has broadly improved over the course of the previous quarters. Since governments have opted to invest in infrastructure as part of their recovery – to create jobs, to stimulate the economy, and to accelerate a sustainability transition – construction industries in most countries are well positioned to make their recovery.
While the recovery is expected to continue in the forthcoming months of 2021 – assuming there is no repeat of the containment measures that were in place in 2020 – downside risks still remain as the pandemic-driven supply chain issues for building materials are pushing up construction costs, which are, then, likely to translate into higher house prices. In fact, residential property prices have been rising in most markets amid the pandemic, owing to the rock-bottom interest rates, governments' subsidies for home ownership, as well as the pent-up housing demand and shortage in supply during the lockdowns.
According to the Knight Frank Global House Price Index, residential property prices have increased by 5.6% on average in 2020, being the fastest rate in nearly three years. Looking ahead, house prices are likely to maintain their upward trend, and are expected to be fuelled further by the rising costs of construction materials, due to the difficulty in obtaining raw materials and logistics issues that delay delivery for imported materials.
Spike in steel prices spooks local players
In the case of Malaysia, it is the rising cost of steel bar, which started in Nov 2020, that has spooked the builders. The average selling price for Y10, Y12, and Y40 steel bars has increased 25% from RM2,292 per tonne in Nov 2020 to RM2,874 per tonne in Jan 2021. Meanwhile, the average selling price for Y16, Y20, Y25, and Y32 steel bars has increased 27% from RM2,142 per tonne in Nov 2020 to RM2,724 per tonne in Jan 2021 (Figure 2).
Such a drastic price increase in a short period of two month's time has put additional pressure on contractors as they are directly exposed to volatile material cost, given that the value of contracts tendered has already been fixed. Notably, the surge has seemed to continue, with the average selling prices for both the Y10, Y12, and Y40 steel bars, and Y16, Y20, Y25, and Y32 steel bars increasing to RM2,990 per tonne and RM2,840 per tonne respectively in April 2021; reaching an all-time unprecedented high-level since January 2018 (Figure 2).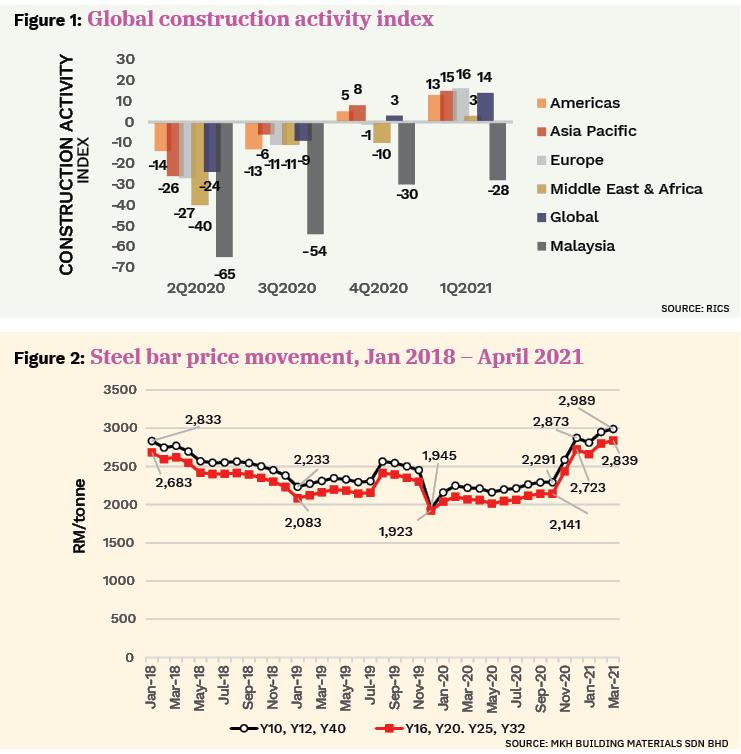 Concerns have arisen that higher steel bar prices will have a snowball effect on the overall construction cost, which will then lead to a surge in house prices. However, one should realise that the current spike in steel bar prices is due mainly to the shortage of steel supply globally. The slow restart of the steel manufacturing capacity coincided with lower output of iron ore in Brazil and larger-than-usual demand both from China and Europe, rather than a surge in local construction demand.
In fact, Malaysian steel players have been experiencing low production capacity utilisation rates over the past decade. This is apparent as steel bar prices have shown a downward trend throughout the first and second quarters of 2018 (Figure 2).
The price remained consistent in the third quarter of the year until October, when Alliance Steel (M) Sdn Bhd (ASSB) – a China-invested steel company in Kuantan – set up the country's largest steel mill with an annual capacity of 3.5 million tonnes producing long steel product, and crowded the local steel bar market upon their full production. Consequently, the prices went further down to RM2,233 per tonne (for Y10, Y12, Y40) and RM2,083 per tonne (for Y16, Y20, Y25, Y32).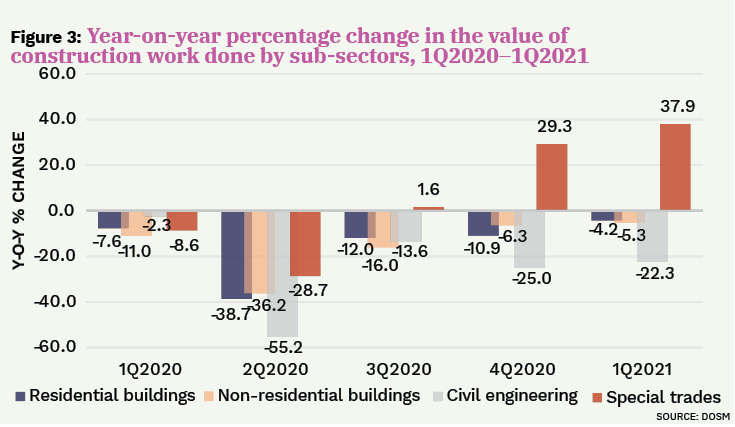 Though a recovery of steel bar prices was observed over the first half of 2019, a downward pressure was experienced in the fourth quarter of 2019 – in conjunction with the domestic steel bar price war – leading to the lowest price dip in December at RM1,945 per tonne (for Y10, Y12, Y40) and RM1,924 per tonne (for Y16, Y20, Y25, Y32). From this price movement chronology, it is clear that local construction demand is unlikely the main driving force of the local steel bar prices, albeit in the pre-MCO period, not to mention in the post-MCO period, where construction demand is still lower than the pre-pandemic era.
The high steel bar prices that we are facing now is largely backed by the strong growth in steel demand globally, following the reopening of business activities and vaccination after a year-long slowdown; coupled with the favourable pricing offered in the international market where some domestic steelmakers will leverage the better price of billet to export to China for its downstream production. This would probably lead to limited billet for the production of steel bars that cater for the domestic market and consequently, contribute to the high steel bar prices.
Domestic demand
In terms of local construction demand, though a gradual resumption has been observed in construction activities since 2Q2020, a full rebound to the pre-pandemic level seems an unlikely prospect, as concerns still remain around the transmission of the virus and the potential prolonging of lockdown measures. This is reflected in the value of construction work done, where the value in 1Q2021 fell 10.5% to RM31.4 billion compared to RM35 billion in the same period of 2020. In terms of sub-sector, all the major contributors – amounting to 92.7% of the total value of construction work done – namely residential buildings, non-residential buildings and civil engineering showed a drop of 4.2%, 5.3%, and 22.3%, respectively (Figure 3).
Under such circumstances, it is unlikely the increased steel bar prices would be passed on to house prices. Builders would have no choice but to absorb the increased cost on projects under construction. Hence, the gross margins for most builders are expected to be flat to slightly down in 2021.
Moreover, a weaker housing demand is generally observed among house buyers due to uncertainties and low market sentiment. In particular, following the recent spikes in Covid-19 cases, together with the potential implementation of another round of full lockdown, any purchase of big-ticket items are expected to be delayed. Also, due to the concerns on borrowers' creditworthiness and the tighter credit standards, there is, in fact, limited room to support house price increase.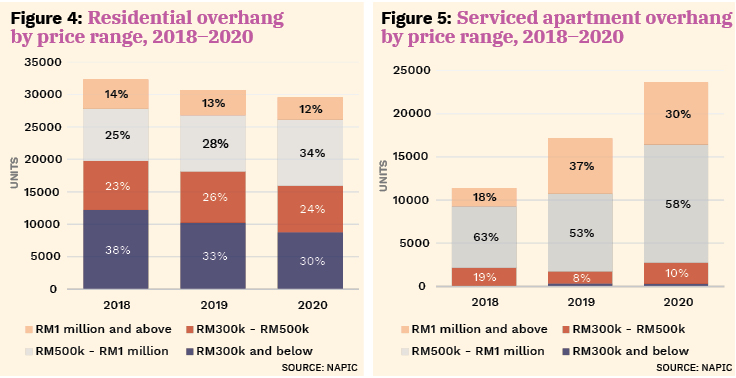 After all, it is housing affordability that plays a critical role in sustaining housing demand. However, by studying the property overhang status in the country, one can see that residential properties priced RM500,000 and above (high-end) are contributing to a significant portion to the inventory, and this portion has been increasing for the past three years (Figure 4). A similar result is observed in the serviced apartment's overhang too, but with more severe condition as the high-end units account for as high as 88%, and with a drastic increase in volume since 2018 (Figure 5).
Developers have been facing a double whammy – overhang caused by oversupply of properties in the market, and weak housing demand due to the issue of housing affordability – even before the pandemic outbreak, and both are likely to exacerbate amid the pandemic. On this basis, it is expected that house prices in Malaysia will not experience a surge like what is happening in other countries, at least until the end of 2021.
Dr Foo Chee Hung is MKH Bhd manager of product research and development and Brandon Loo is MKH Building Material Sdn Bhd general manager.
This story first appeared in the EdgeProp.my E-weekly on June 4, 2021. You can access back issues here.
Get the latest news @ www.EdgeProp.my
Subscribe to our Telegram channel for the latest stories and updates