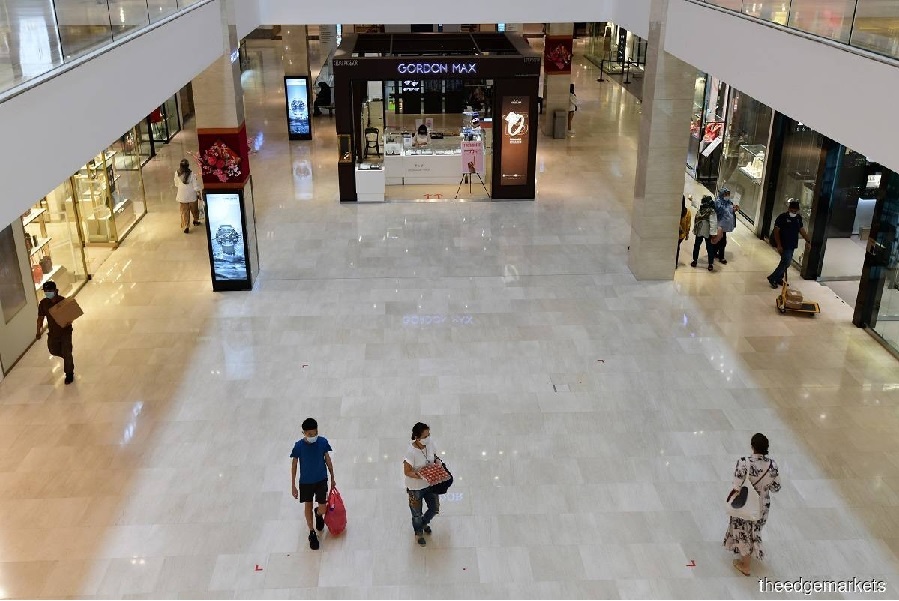 KUALA LUMPUR (July 11): The Malaysia Shopping Malls Association (PPK) and other retailer groups have urged the Selangor menteri besar to step in to help get the Enhanced Movement Control Order (EMCO) imposed in the state replaced with targeted lockdowns.
In an open letter to Datuk Seri Amirudin Shari, the groups called for a rethinking of the decision to put almost the entire state under EMCO.
"This sledgehammer approach unnecessarily harms and destroys lives and livelihoods in areas where the incidence of the pandemic is within control," they said.
The letter was issued by PPK, Malaysia Retailers Association (MRA), Malaysia Retail Chain Association (MRCA), Bumiputra Retailers Organisation (BRO), Malaysia REIT Managers Association (MRMA), and Malaysian Association of Theme Park and Family Attractions (MATFA).
The groups want Selangor to adopt the approach that Kuala Lumpur has been using which confines the lockdown to buildings and districts and not the entire state.
"EMCO is an appropriate tool to impose on critically infected areas and have to be used judiciously and precisely and to only specific targeted areas instead of a blanket lockdown of the entire district and state," the letter read.
"Data analytics and artificial intelligence allow us to intelligently craft responses that are precise and targeted which have been adopted in Kuala Lumpur where the lockdown is confined to buildings instead of districts and not the entire [city]," the groups said.
This, they said, should be carried out in Selangor to avoid further "unnecessary and unequivocal" damage to the economy.
The groups also asked for shopping malls in Selangor to be reopened as data from the Ministry of Health from April and May show that merely 0.8% of Covid-19 cases are attributed to shopping malls.
"[These] remarkably low incidences are due to the stringent adherence of SOPs implemented by the malls and shops. There is absolutely no basis for shopping malls and standalone shops to be closed and tantamount to punishing those who diligently abide by the SOPs instead of being encouraged and rewarded," the letter read.
The groups called on Amirudin to allow economic activities to operate as long as SOPs are adhered to.
"The ultimate solution is to accept that Covid-19 is already endemic in our midst and that vaccination to achieve herd immunity is the solution.
"We thus call upon the state government to harness all resources to further enhance acceleration and enable mass vaccinations be carried out immediately and to firmly demand the proportionate supply of vaccines based on population and economic contribution of the state to the national coffers.
"We cannot afford to have the businesses in Selangor's powerhouse to be in such jeopardy as many have already gone bust and many more are already now seriously considering to give up, so we earnestly plea for a fighting chance to help us to help ourselves to survive," they added.
Get the latest news @ www.EdgeProp.my
Subscribe to our Telegram channel for the latest stories and updates