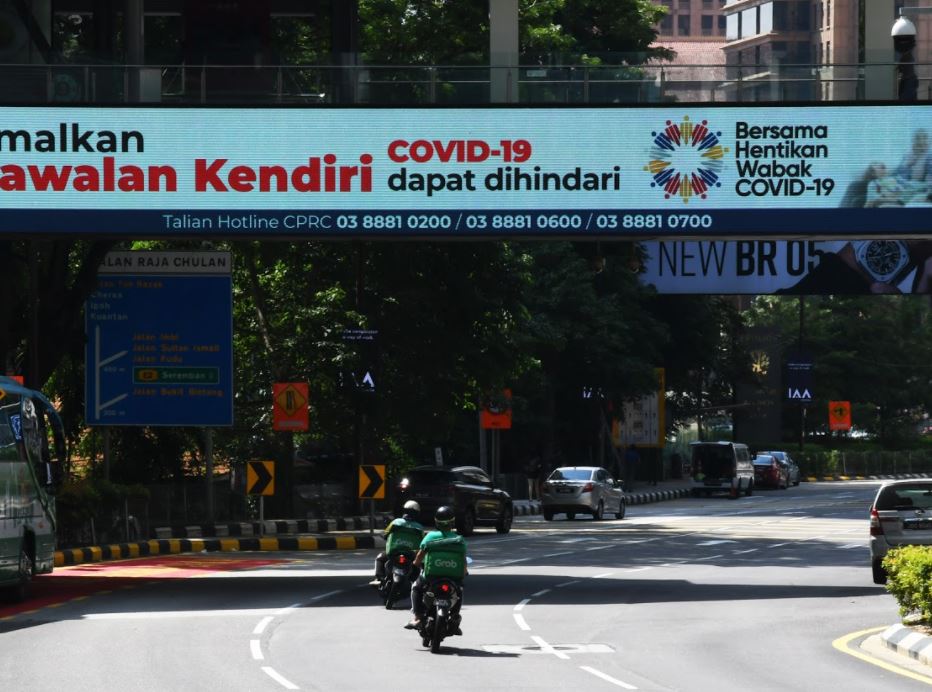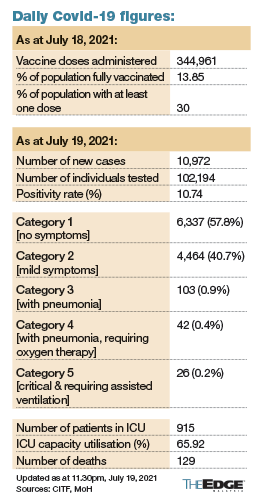 KUALA LUMPUR (July 19): Malaysia's Covid-19 cases stayed above the 10,000 level for the seventh consecutive day, with 10,972 new infections reported today, up from yesterday's 10,710, according to Health director-general Tan Sri Dr Noor Hisham Abdullah.
The infections were detected from the screening of 102,194 individuals in the past 24 hours, indicating a 10.74% positivity rate.
Selangor remained the state to report the highest number of new infections at 4,404, followed by Negeri Sembilan (1,340) and Johor (876). Other states and federal territory with three-digit cases were Kedah (705), Sabah (651), Kuala Lumpur (609), Pahang (475), Melaka (474), Penang (426), Perak (324), Sarawak (301), Kelantan (170) and Terengganu (144).
Also reported today were 129 Covid-19-related deaths, bringing total deaths linked to the coronavirus in the country to 7,148.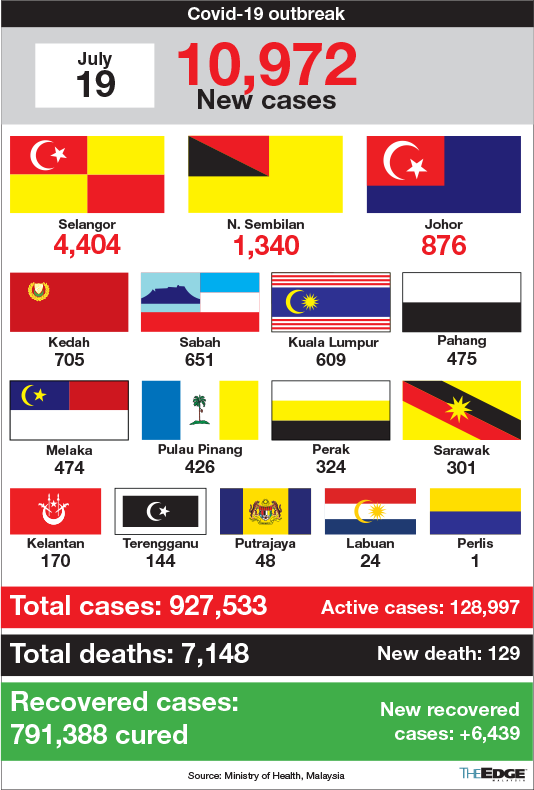 The surge of new infections that continue to surpass new recoveries — which came in at 6,349 today — caused active cases to climb further to 128,997.
Total recoveries from the coronavirus now stood at 791,388 versus the cumulative 927,533 cases that have been reported in the country since the pandemic began. This translates into a recovery rate of 85.32%.
98.5% of today's cases in Categories 1 and 2
Of the new infections, 57.8% or 6,337 of cases were classified as Category 1 (no symptoms) and 40.7% or 4,464 cases were classified as Category 2 (mild symptoms), according to Dr Noor Hisham.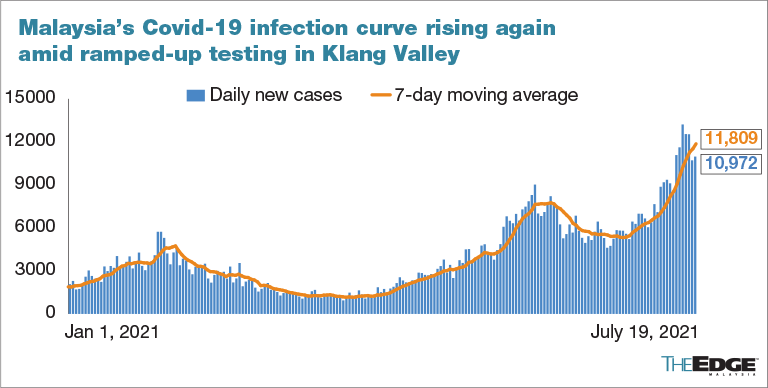 Only 0.9% or 103 cases were classified as Category 3 (pneumonia), 0.4% or 42 cases were Category 4 (pneumonia requiring oxygen therapy) and 0.2% or 26 cases were under Category 5 (critical and requiring assisted ventilation).
There are now 915 patients under intensive care, with 435 requiring ventilator support.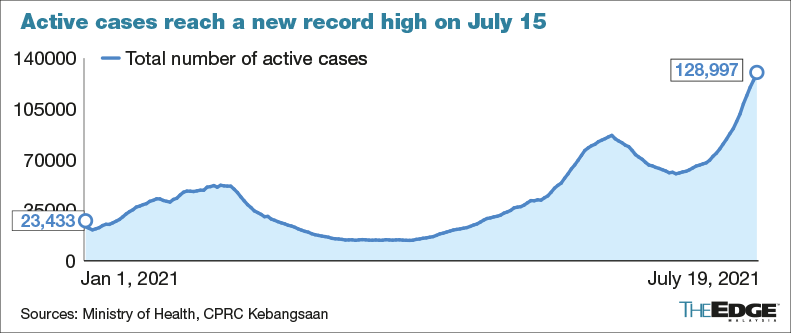 Dr Noor Hisham also shared that there has been a significant decrease in the admission cases under categories 4 and 5 among the elderly in Hospital Sungai Buloh. "This downward trend was found in line with the commencement of the National Covid-19 Immunisation Programme (PICK) Phase Two, which was initiated as early as April 2021," he said.
R0 declines to 1.15
According to Dr Noor Hisham, the country's basic reproduction number (R-naught or R0) for Covid-19 infections nationwide went down to 1.15 on July 18, from 1.18 the day before, with Terengganu having the highest R0 at 1.27.

Putrajaya came in second at 1.26, followed by Kedah at 1.24, Sabah at 1.21, and Selangor at 1.17.
The R0 projects the average number of people that each new Covid-19 patient will infect, or what is termed the effective reproduction number. An R0 of less than 1.0 means the infection is not spreading.
31 new clusters, 18 from workplaces
The Ministry of Health also identified 31 new clusters today — comprising 18 from workplaces, with the rest being from communities, high-risk groups, detention centres and import clusters.
To date, 3,281 clusters have been detected by the ministry, with 2,361 declared ended. That leaves 920 active clusters.
Get the latest news @ www.EdgeProp.my
Subscribe to our Telegram channel for the latest stories and updates