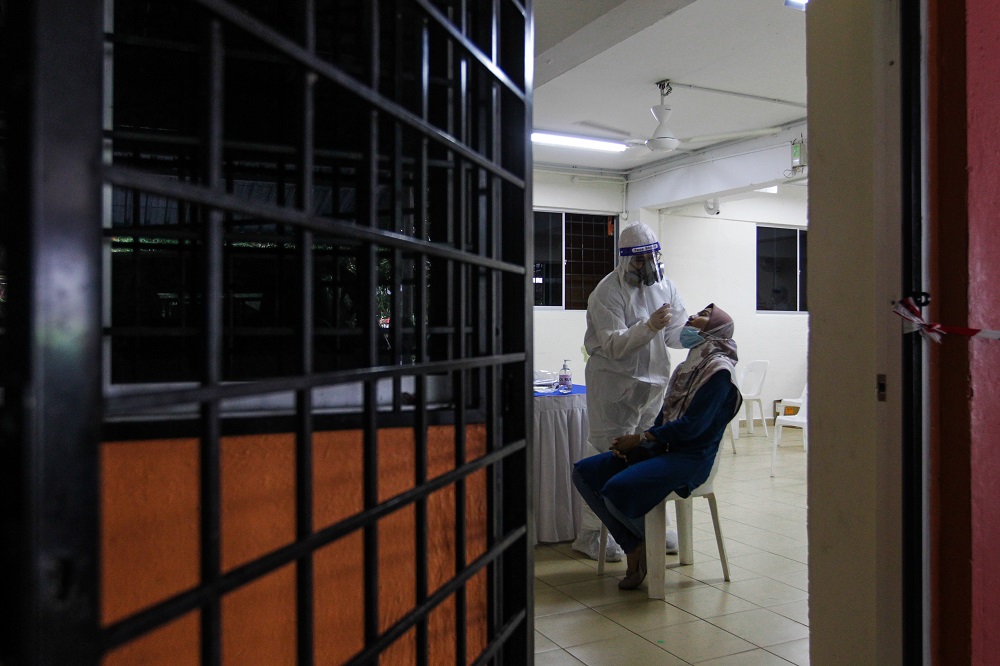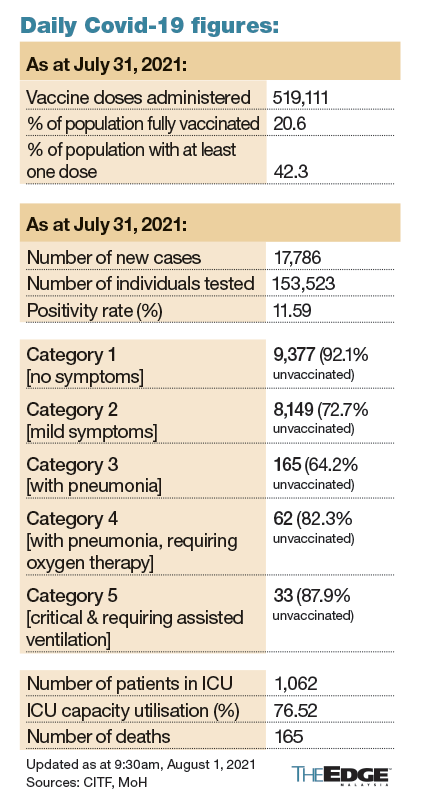 KUALA LUMPUR (Aug 1): Active cases in Malaysia surged to 195,273 today, as Malaysia reported a second consecutive day of over 17,000 new Covid-19 cases at 17,150, following yesterday's record high of 17,786 cases.
The Klang Valley accounted for almost half of the new cases at 8,484, with 6,326 cases from Selangor, 2,086 from Kuala Lumpur and 72 from Putrajaya, according to Health director-general Tan Sri Dr Noor Hisham Abdullah in a statement.
Outside of the Klang Valley, the highest numbers of infections were found in Kedah (1,511), Johor (1,045) and Sabah (1,002), followed by Negeri Sembilan (809), Penang (752), Perak (693), Melaka (686), Pahang (676), Sarawak (578), Kelantan (459), Terengganu (429), Perlis (21) and Labuan (five).
The latest cases were detected after 134,864 individuals were screened across the country, representing a positive rate of 12.72%. The number of individuals screened was down 12.15% from 153,523 people yesterday.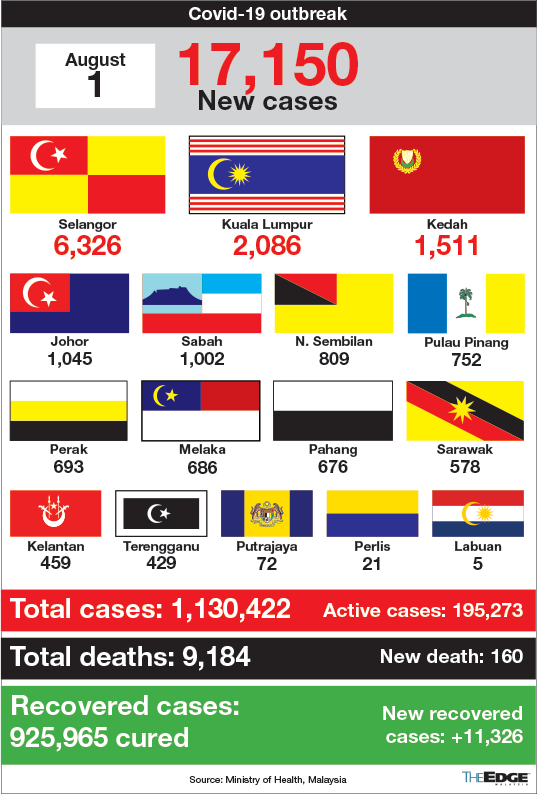 The surge in active cases came as daily recoveries — at 11,326 — trailed the jump in new infections. Total recoveries currently stood at 925,965, versus cumulative infections of 1.13 million detected, which translates into a recovery rate of 81.9%.
Also reported today were 160 Covid-19-related deaths, bringing the nationwide tally for coronavirus-linked deaths to 9,184.
Patients in intensive care are now at 1,059 — down from 1,062 yesterday — and 531 need ventilators to breathe.
95.7% patients under Categories 1 and 2
From the latest infections, 95.7% or 16,405 cases were in Categories 1 and 2, while 4.3% or 745 cases had serious symptoms and were placed under Categories 3, 4 and 5, said the ministry.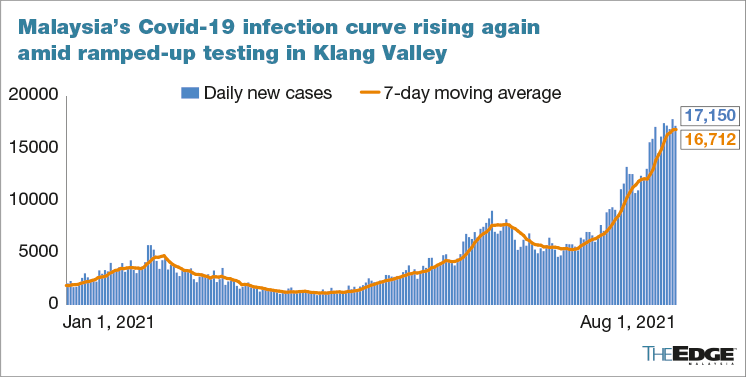 The breakdown of the new cases are as follows:
• 10,032 cases in Category 1 (no symptoms); 92% unvaccinated
• 6,373 cases in Category 2 (mild symptoms); 70.8% unvaccinated
• 574 cases in Category 3 (with pneumonia); 75.1% unvaccinated
• 65 cases in Category 4 (with pneumonia and requiring oxygen therapy); 72.3% unvaccinated
• 106 cases in Category 5 (critical cases requiring assisted ventilation); 90.6% unvaccinated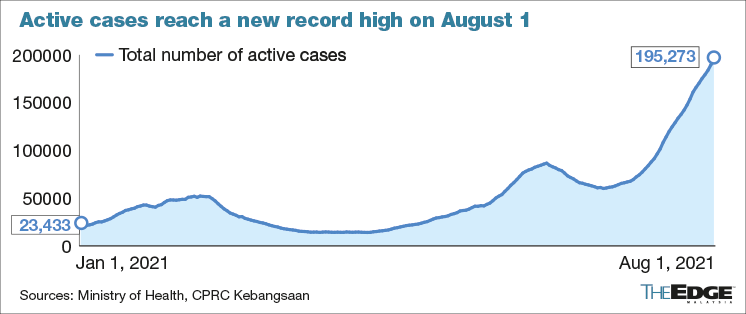 Nationwide R0 declines to 1.1 on Saturday, but Perlis jumps ahead with 1.47
The ministry said the country's basic reproduction number for the coronavirus, the R0 (pronounced R-Naught), fell to 1.1 on July 31 from 1.12 previously. Perlis had the highest R0 at 1.47, jumped from 0 previously, followed by Terengganu (1.42) and Kelantan (1.27).

Sabah, Kedah and Perak's R0 were at 1.21 respectively, followed by Putrajaya (1.2), Penang (1.18), Johor (1.17), Pahang (1.15), Kuala Lumpur (1.1), Selangor (1.08), Sarawak (1.05) and Melaka (1.05).
The R0 projects the average number of people each new Covid-19 patient will infect — or what is termed the effective reproduction number. An R0 of less than 1.0 means the infection is not spreading.
Only two states charted R0 of less than 1.0 as of yesterday, namely Negeri Sembilan (0.9) and Labuan (0.00).
23 new clusters found
Another 23 Covid-19 clusters were detected today, comprising 11 workplace clusters, eight community clusters, two high risk group clusters, one education institution and one detention centre cluster.
To date, 3,702 clusters have been reported nationwide, including 2,586 that have been declared ended, leaving 1,116 active clusters.
Get the latest news @ www.EdgeProp.my
Subscribe to our Telegram channel for the latest stories and updates