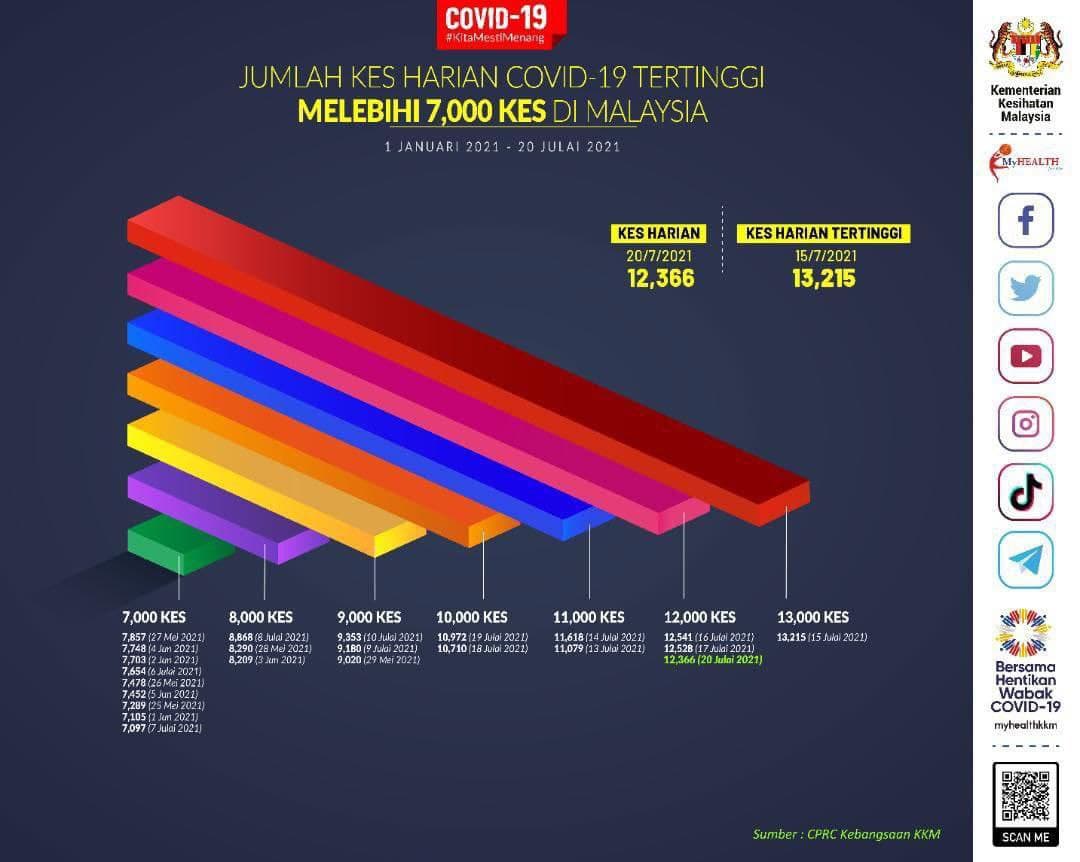 KUALA LUMPUR (July 20): Malaysia reported 12,366 new Covid-19 cases today, up 1,394 or 12.7% from 10,972 yesterday. The latest cases — eight being imported infections — were detected from the screening of 124,519 individuals in the past 24 hours, representing a 9.9% positivity rate.
Also reported were 93 deaths, two of whom were foreigners, which raised the tally of coronavirus-linked deaths to 7,241, according to Health Director-General Tan Sri Dr Noor Hisham Abdullah in a statement.
Selangor was again the top contributor to the new daily cases, with 5,524 infections — up from 4,404 previously — followed by Kuala Lumpur with 1,580 and Negeri Sembilan with 970. Behind these were Johor (793 cases), Kedah (701), Sabah (657), Sarawak (351), Penang (460), Melaka (309), Perak (295), Pahang (288), Terengganu (190), Kelantan (179), Putrajaya (50), Labuan (17) and Perlis (2).
Active cases breached 130,000 level for the first time with 133,703 cases — up from 128,997 yesterday — as recoveries continue to come in lower than new cases, at 7,567. Recoveries now total 798,955 of the cumulative 939,899 Covid-19 infections found since the first case was detected here in late January last year, indicating a recovery rate of 85%.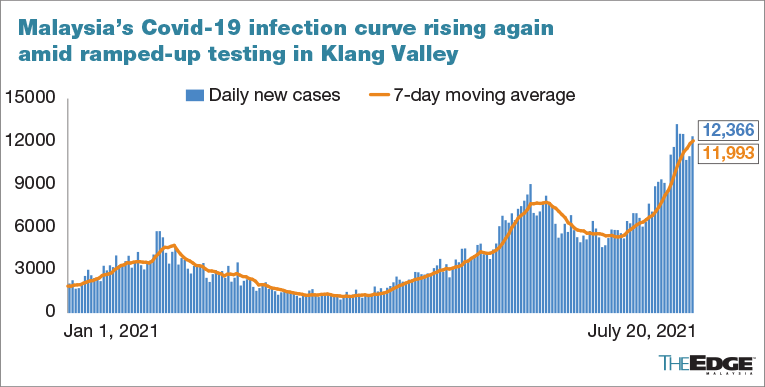 Bulk of new patients have little to no symptoms
Of the new cases, 98.5% exhibit little to no symptoms — same as yesterday — as 7,327 (59.3%) were patients under Category 1 (no symptoms), and 4,861 were under Category 2 (mild symptoms).
Of the remainder, 93 cases (0.8%) were classified as Category 3 (with pneumonia), 33 were under Category 4 (pneumonia and needing oxygen therapy), and 52 (0.4%) were under category 5 (critical and requiring ventilator support).

Across the nation, there are now 924 patients under intensive care, with 448 requiring ventilator support.
R0 declines further to 1.14
According to the Health Ministry, the country's basic reproduction number (R-naught or R0) for Covid-19 infections nationwide slipped further to 1.14 yesterday, from 1.15 on Sunday (July 18). The R0 was at 1.18 on Saturday (July 17).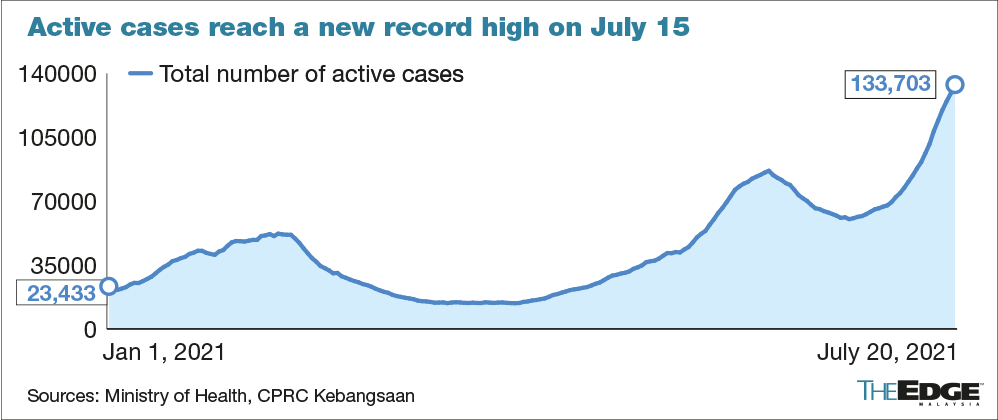 Terengganu remains the state with the highest R0 at 1.30 (up from 1.27 on Sunday), followed by Kedah with an R0 of 1.24, and Sabah with 1.23. The lowest R0 was found in Kelantan, at 1.09.
Active clusters now total 920, with 18 added
The ministry also identified 18 new clusters today, raising total active clusters to 920.
To date, 3,299 clusters have been identified, of which 2,397 have ended.
Get the latest news @ www.EdgeProp.my
Subscribe to our Telegram channel for the latest stories and updates