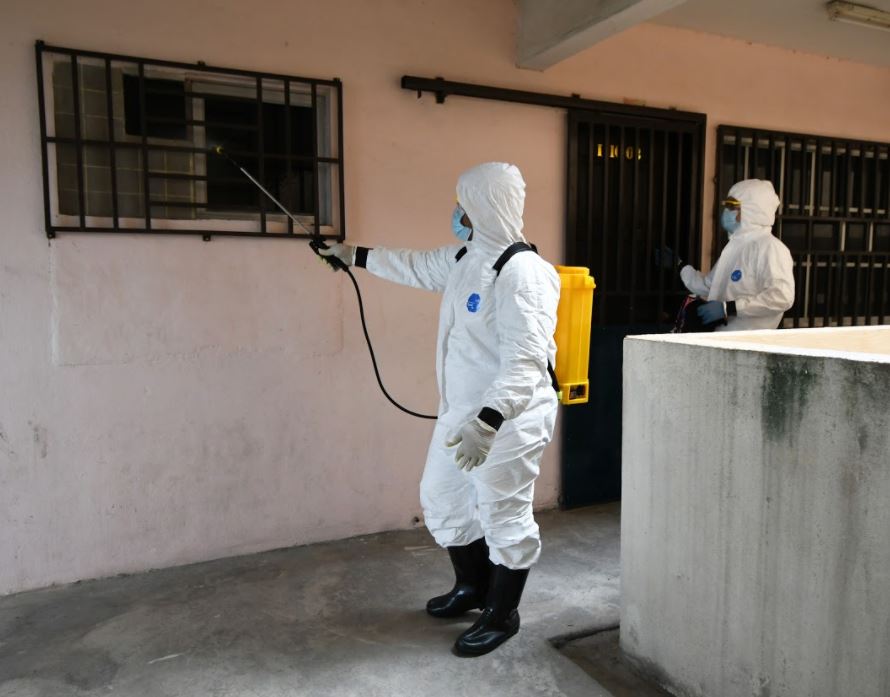 KUALA LUMPUR (July 27): Malaysia's daily Covid-19 cases rose to 16,117 on Tuesday — the second highest daily figure — from 14,516 the day before, according to Health director-general Tan Sri Dr Noor Hisham Abdullah.
The highest daily Covid-19 cases of 17,045 were reported on Sunday (July 25). Today is the 15th straight day that the number of daily cases in the country stays in the five-digit range.
The latest infections were detected from the screening of 148,049 individuals in the past 24 hours, indicating a 10.89% positivity rate. In contrast, 119,190 people were tested on Monday where 14,516 Covid-19 cases were detected.
Also reported were 207 Covid-19-related deaths — the second consecutive day that daily deaths came in above the 200-mark — bringing total deaths linked to the coronavirus in the country to 8,408.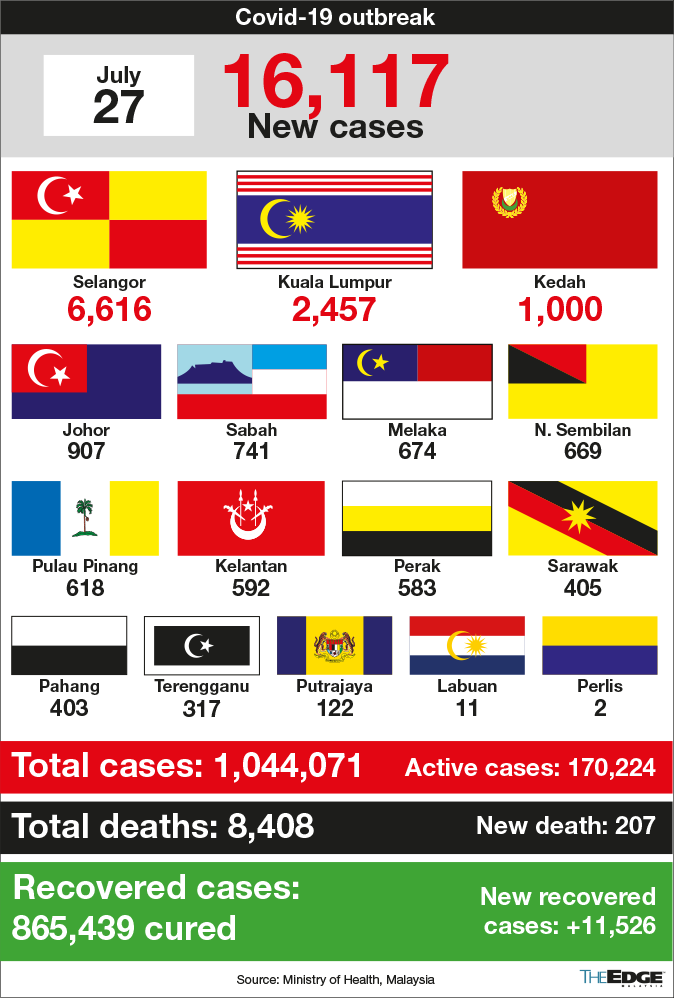 These involved 96 deaths in Selangor, 34 in Kuala Lumpur, 21 in Johor, 17 in Melaka, 15 in Kedah, seven in Negeri Sembilan, five in Kelantan, three in Sabah, three in
Terengganu, two in Sarawak, two in Pahang, and one each in Penang and Labuan, according to Dr Noor Hisham's statement.
The spike of new infections that continue to surpass new recoveries — which came in at 11,526 today — caused active cases, which carry high transmission risks, to climb to a new high of 170,224.
Total recoveries from the coronavirus now stand at 865,439 versus the cumulative 1.04 million cases that have been reported in the country since the pandemic struck the nation last year.
Covid-19 patients in intensive care units rose to 1,023 today, including 524 who need ventilators to breathe.
Klang Valley accounts for 57% of new infections
The Klang Valley — comprising Selangor, Kuala Lumpur and Putrajaya — recorded 9,195 infections or 57% of today's cases. Selangor reported 6,616 infections, while Kuala Lumpur had 2,457 and Putrajaya had 122.
Outside of the Klang Valley, the state/federal territory with the highest daily cases was Kedah with 1,000 infections, followed by Johor (907), Sabah (741), Negeri Sembilan (669), Melaka (674), Penang (618), Kelantan (592), Perak (583), Sarawak (405), Pahang (403), Terengganu (317), Labuan (11) and Perlis (two).

In terms of total Covid-19 infections, Selangor also led the country with 380,593, followed by Kuala Lumpur (113,933) and Johor (86,614).
R0 falls slightly to 1.14 from 1.15
Dr Noor Hisham said the country's basic reproduction number (R-naught or R0) for Covid-19 infections nationwide declined to 1.14 on July 26, from 1.15 the day before.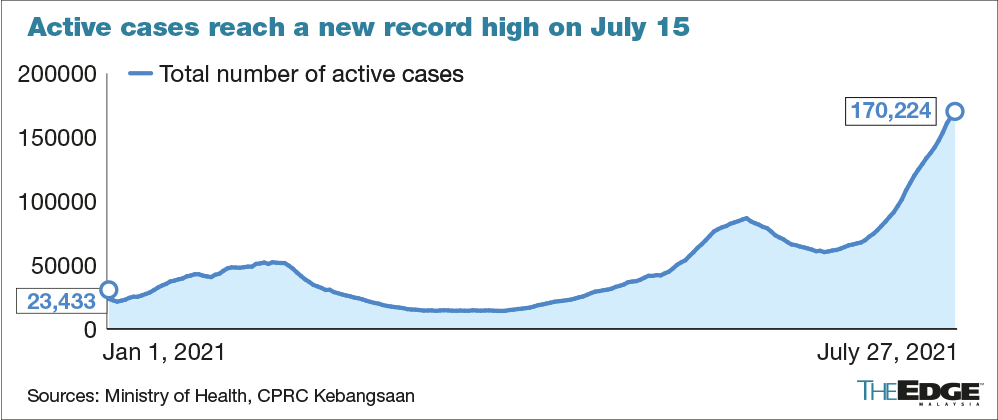 Terengganu had the highest R0 at 1.29, followed by Kedah (1.26), Johor (1.26), Sabah (1.23), Kelantan (1.22), Perak (1.22), Penang (1.19), Putrajaya (1.16), Selangor (1.14) and Kuala Lumpur (1.14).
The R0 projects the average number of people that each new Covid-19 patient will infect, or what is termed the effective reproduction number. An R0 of less than 1.0 means the infection is not spreading.
Get the latest news @ www.EdgeProp.my
Subscribe to our Telegram channel for the latest stories and updates