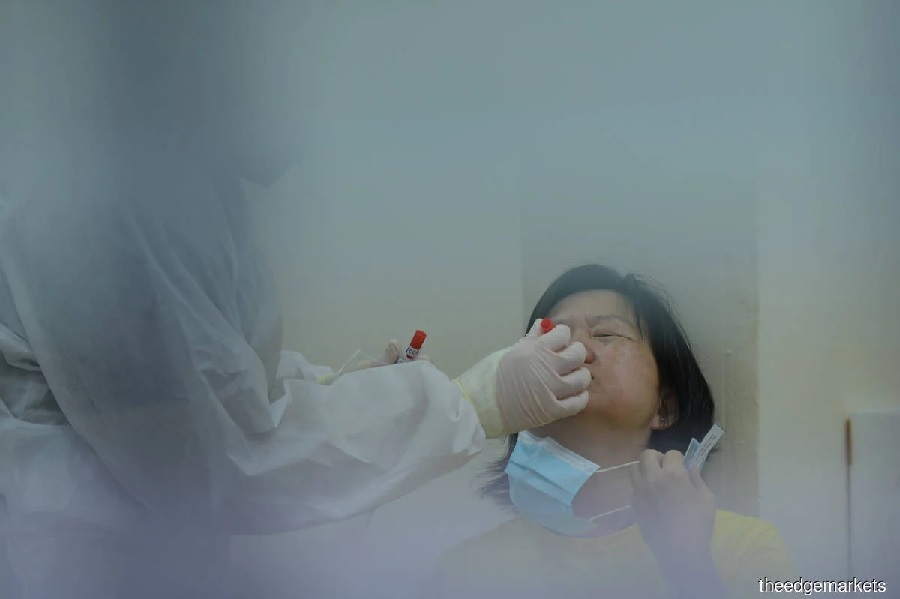 KUALA LUMPUR (July 30): Malaysia's daily new confirmed Covid-19 cases fell to 16,840 — after two consecutive days at above 17,000, according to the Ministry of Health (MOH).
The latest cases were detected from the screening of 158,557 individuals in the past 24 hours, indicating a 10.62% positivity rate.
Today was the 18th straight day that the number of daily cases in the country stayed in the five-digit range. The daily number of confirmed cases is expected to stay high in the near term as the authorities continue to carry out mass screening.
Among the latest infections, 16,556 cases today were in Category 1 and 2, while 284 cases were Category 3,4 and 5, according to MOH's statement.
The breakdown of new cases are as follows:
- 8,146 cases in Category 1 (no symptoms); 91% unvaccinated
- 8,410 cases in Category 2 (mild symptoms); 69.6% unvaccinated
- 180 cases in Category 3 (patients with pneumonia); 68.9% unvaccinated
- 79 cases in Category 4 (pneumonia requiring oxygen therapy); 83.5% unvaccinated
- 25 cases in Category 5 (critical cases requiring assisted ventilation); 96% unvaccinated
Active cases breach 180,000 mark for first time
The number of active cases reached a new high of 183,706 — the first time breaching the 180,000 mark — as daily recoveries came in lower than Covid-19 infections at 12,179.
The death toll was 134 — 35 deaths in Selangor, 17 in Melaka, 15 in Johor, 15 in Negeri Sembilan, 12 in Kedah, 12 in Perak, 10 in Kuala Lumpur, six in Sabah, five in Terengganu, four in Pahang, two in Kelantan and one in Penang.
A total of 1,055 Covid-19 patients are receiving treatment in intensive care units, including 532 who need ventilators to breathe.
The Klang Valley — comprising Selangor, Kuala Lumpur and Putrajaya — saw 8,306 new infections today, down 11.5% from 9,385 the day before.
Selangor had 6,092 new cases, Kuala Lumpur saw 2,114 and Putrajaya recorded 100 new infections.
Outside the Klang Valley, Kedah registered 1,281 cases, followed by Johor (1,104), Sabah (1,066), Negeri Sembilan (1,079), Perak (810), Penang (689), Kelantan (656), Melaka (581), Pahang (540), Sarawak (450), Terengganu (258), Perlis (13) and Labuan (7).
Total recoveries now stand at 902,921 versus total Covid-19 cases nationwide of 1,095,486. Meanwhile, the Covid-19 death toll increased to 8,859 from just 5,254 as of July 1.
R0 decline to 1.15 from 1.16 the day before
The Ministry said the country's basic reproduction number for the coronavirus, the R0 (pronounced R-Naught), fell to 1.15 on July 29 from 1.16 previously.
Terengganu had the highest R0 at 1.36, followed by Kelantan (1.27), Sabah (1.22), Kedah (1.21), Johor (1.18), Penang (1.18), Perak (1.18), Pahang (1.15), Putrajaya (1.15), Kuala Lumpur (1.14) and Selangor (1.10).
The R0 projects the average number of people each new Covid-19 patient will infect — or what is termed the effective reproduction number. An R0 of less than 1.0 means the infection is not spreading.
47 clusters detected
Another 47 Covid-19 clusters were detected today comprising 24 workplace clusters, 17 community clusters, three high risk group clusters, two education clusters and one religious cluster.
To date, 3,651 clusters have been reported nationwide, including 2,559 that have been declared ended.
Get the latest news @ www.EdgeProp.my
Subscribe to our Telegram channel for the latest stories and updates