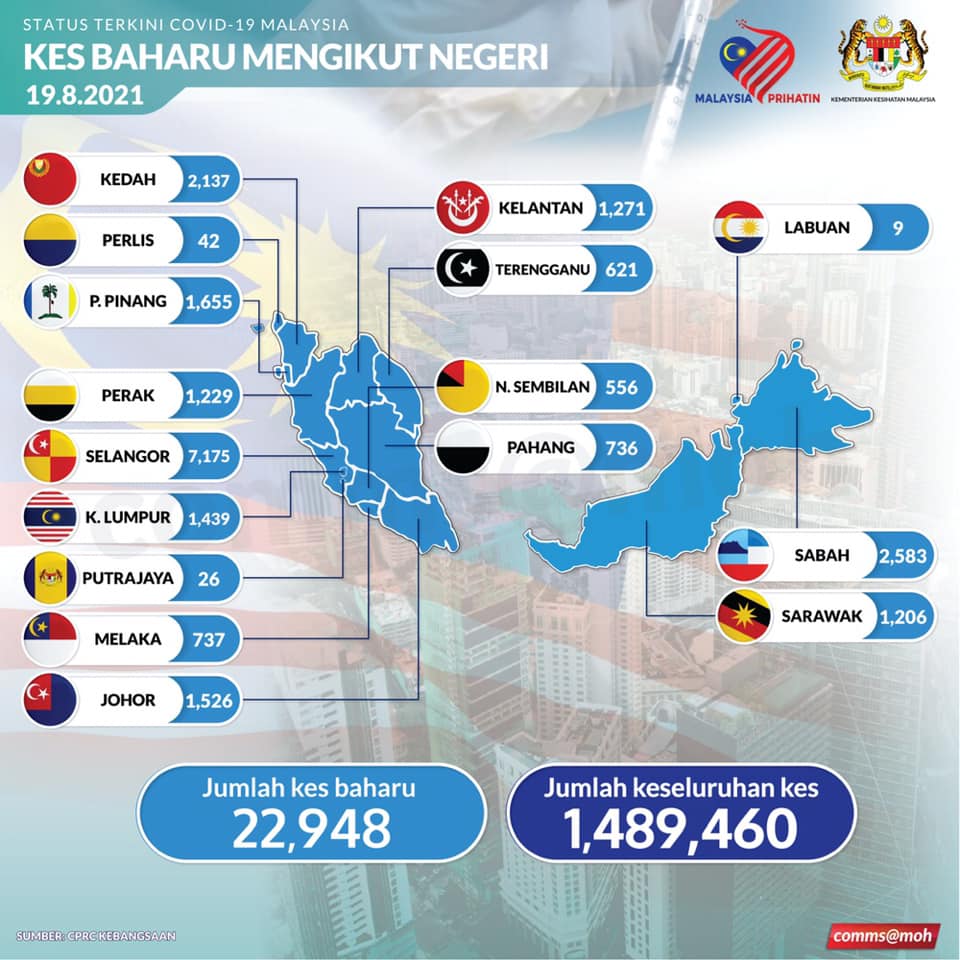 KUALA LUMPUR (Aug 19): Malaysia's daily Covid-19 cases climbed to a new record high of 22,948 today — the second consecutive day it has topped the 22,000 mark — from 22,242 yesterday, even as the country boasts of one of the fastest vaccination rates in the world.
This is the seventh time the country has recorded more than 20,000 daily cases. The new infections were detected from the testing of 163,264 individuals across the country in the 24 hours before noon today, indicating a positivity rate of 14.06%.
Consequently, active cases jumped to its worst level of 255,534, as new recoveries continued to lag behind new infections at 21,720, according to Health director-general Tan Sri Dr Noor Hisham Abdullah in a statement. However, this is the first time that daily surpassed the 21,000 mark.
The DG also reported a drop in daily fatalities to 178 — the lowest seen in 13 days — from the over 200 fatalities reported since Aug 7. This brought the coronavirus death toll in the country to 13,480.
Of the latest fatalities, 65 deaths were reported in Selangor, 36 in Johor, 23 in Kuala Lumpur, 11 in Sabah, eight each in Penang, Pahang and Melaka, five in Kelantan, four each in Negeri Sembilan, Sarawak, and Terengganu, and one each in Kedah and Perak.
Thirty-five of the new fatalities today were dead upon reaching the hospital. They involved 26 Malaysians and nine foreigners.
The number of patients in intensive care units stayed the same as yesterday, at 1,060; 528 needed ventilators to breathe.
21.6% of new cases have a history of prior vaccination
A total of 17,981 cases or 78.4% of today's Covid-19 cases comprised patients who were unvaccinated or have not yet completed their second dose of the vaccination, said Dr Noor Hisham. This means 21.6% have a history of having received at least one shot of the two-dose regimen.
And 22,491 or 98% were in Categories 1 (no symptoms) and 2 (mild symptoms), while 457 cases or 2% were in Categories 3 (patients with pneumonia), 4 (with pneumonia requiring oxygen therapy) and 5 (critical cases needing assisted ventilation).
Selangor — the worst-hit State — detected 7,175 new infections compared with 6,858 on Wednesday.
The States/federal territories reporting than 1,000 cases are Sabah (2,583), Kedah (2,137), Penang (1,655), Johor (1,526), Kuala Lumpur (1,439), Kelantan (1,271), Perak (1,229) and Sarawak (1,206).
This is followed by Melaka (737), Pahang (736), Terengganu (621), Negeri Sembilan (556), Perlis (42), and Labuan (nine).
42 new clusters, more than half from the workplace
The Health Ministry also identified 42 new clusters today, with 1,979 total infections among them.
They comprise 23 workplace clusters, 15 community clusters, two detention clusters — with the remaining being from high-risk and religious groups. The country has reported 4,348 clusters so far, including 2,945 that have been declared ended.
Malaysia has detected 1.49 cumulative Covid-19 infections to date, about 13 times the 115,078 total it had on Jan 1. Some 82% or 1.22 million of the total cases have since recovered.
Get the latest news @ www.EdgeProp.my
Subscribe to our Telegram channel for the latest stories and updates