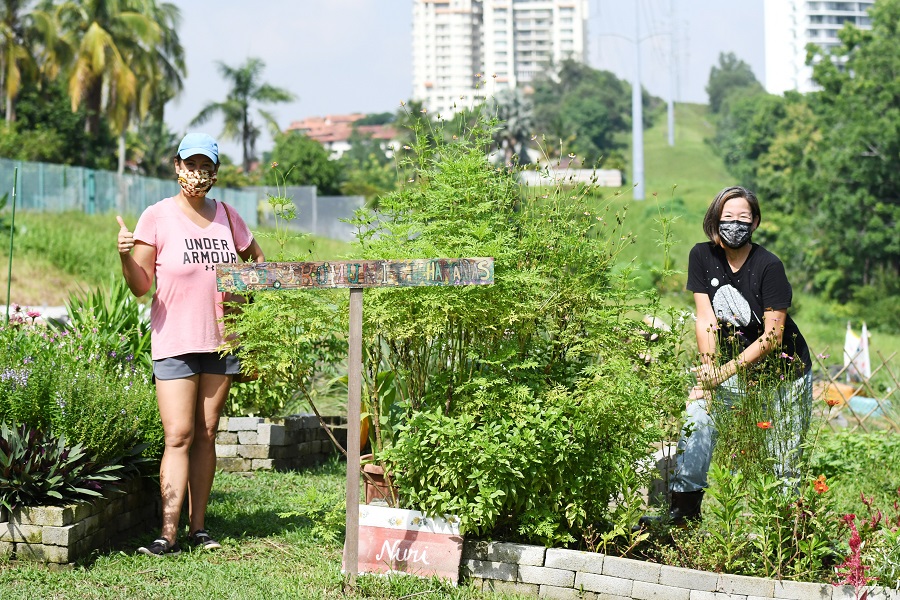 Located in the tranquil neighbourhood of Desa Sri Hartamas is a 1.5-acre green lung dubbed Kebun Komuniti Hartamas. An apt name indeed, for a project which has been conceived from the passion and hard work of a community of residents for the residents.
When EdgeProp.my first got in touch with the head of the project, Phillipa Yoong, her passion for the farm was apparent even before the physical meet-up.
Yoong brought up the idea in 2018 at a residents' annual general meeting, when she noticed the unutilised parcel of Tenaga Nasional Bhd (TNB) transmission reserved land which was initially left idle because of its electric pylons and high voltage wiring that run above the site.
Subsequently, a separate association called the Persatuan Kebun Komuniti Hartamas Kuala Lumpur was formed in Oct 2019 to specifically run this project located at Jalan Sri Hartamas 3, and TNB gave a conditional offer to the association to use the land. The land which they are permitted to use is approximately 1.5 acres and so far, they have utilised about half an acre of it.
"They have visited us a few times to see what we have worked on and we are currently in the midst of getting a Temporary Occupation Licence from the Land Registry Office. What has really been encouraging is that people just come on board and everything you see here is sponsored or donated by someone.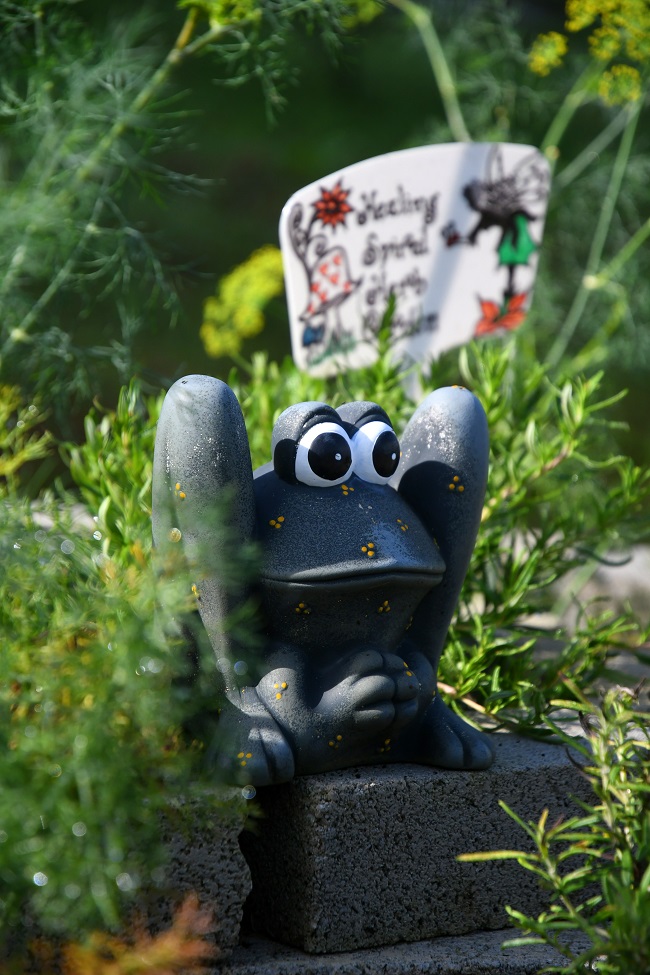 "We try to have a fundraising every few weeks or so because at the end of the day, we want to be self-sustaining as well," Yoong tells EdgeProp.my.
"Initially before all this started, some people said they could help kick off the project, but after a while it all died down. Finally in 2019, we got in contact with Ground Control, a private company specialising in gardening and composting, and we asked them to help us kick start this project. They helped us set up a few beds here in March last year with the help of landscape architect Ng Sek San who is actively involved with Kebun-kebun Bangsar," Yoong recounts.
Meanwhile, Kebun Komuniti Hartamas advisor Tania Leong, who was also the pioneer head gardener, says that after the Movement Control Order restrictions were lifted, people have become more confident in participating in the project, with social distancing and hygiene protocols in place.
"So, from then on, we have managed to organise a gotong-royong almost every Saturday, and that was also when the momentum started," says Leong.
Educating the next generation
For Leong, her main motivation for getting into the venture was the desire to teach the next generation, because she realised that a lot of people didn't understand how important nature and plants were.
"You know, [now] the children are always laughing, running around and catching frogs. They love getting involved and they're actually watching how these fruit and vegetables grow, rather than only see them all packaged in a supermarket. Now they're amazed to see things like cucumbers actually growing.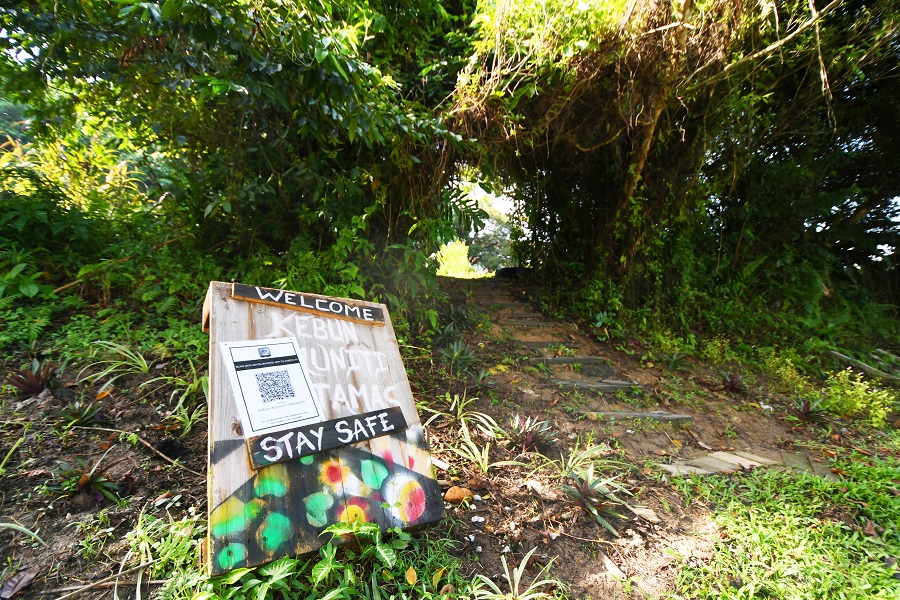 "This has turned out to be such a good timing because it brings people out. Vitamin D from the sun is much needed for clinical depression. The mobility and the actual act of bending down and getting up is gentle exercise, so it helps the senior citizens. And then the kids get to run around as well rather than just constantly being glued to their gadgets," Leong enthuses.
Residents with different skill sets come together voluntarily to contribute their knowledge or manpower in whatever way they can.
"There are some who are good with plants, some good at paperwork, and there is even one neighbour of ours who lets us take water directly from his house a few times a week. We have volunteers coming from Gombak, Bangsar and everywhere in the vicinity," says Leong.
During the interview, both Yoong and Leong's eyes sparkle with enthusiasm as they explain the activities around the garden, a clear sign of the sense of fulfilment they feel with their hard work.
"We have actually made labels for the different plants and fruit as well because we realised that some kebuns only put the names of the species but they do not explain what the plants can be used for," she says.
For instance, the label for the Roselle plant also has the plant's family name and its main usage written down. On top of that, the labels also explain why certain plants are put together. For example, the flowers in the kebun are planted not merely to add colour and beauty to the place, but also to attract the bees and butterflies to pollinate the okras, eggplants and others, explains Leong.
Both Yoong, Leong and the other volunteers also visit other kebuns to learn from them and also to keep up with the ever-changing technology when it comes to growing and sustaining a garden.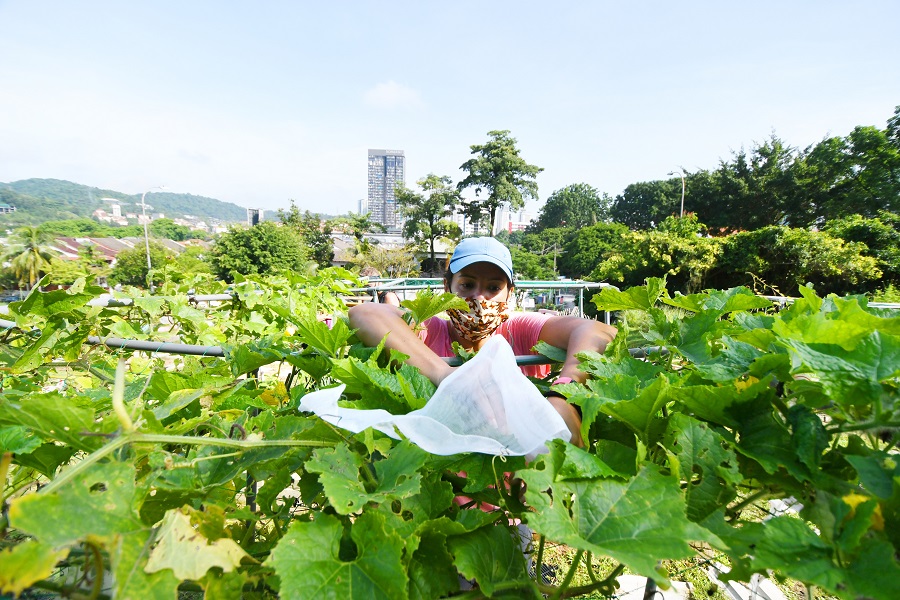 "As gardeners, we need to be aware of the climate change. Plants that could thrive eight years ago may not be able to thrive as well today and how we plant and grow them has also changed. In the old days, plants were growing across the ground but now we are trying to grow them upwards for ventilation and to keep the plants off the mud. It also helps to reduce pest infestation, because even when it is growing on the vines, there are already problems with pests. Imagine if these plants are on the ground," Leong observes.
Turning food waste to compost
Kebun Komuniti Hartamas also accepts food waste every Saturday as it has composting done on site.
"We encourage anyone who brings his or her food waste here to have them cut into smaller pieces first. That will aid the speed of the composting process. It must also be uncooked food waste so that it doesn't produce smell during the composting," says Leong.
Some upcoming short-term plans for the committee include working on paving a walkway of dug-out trenches with gravel or mulch to enable wheelchair access if possible, and to set up a sustainable watering system via a second water meter or collection points.
"We are also looking to have a proper storage area for our tools to keep them out of animals such as snakes and to protect them from the heat," says Yoong.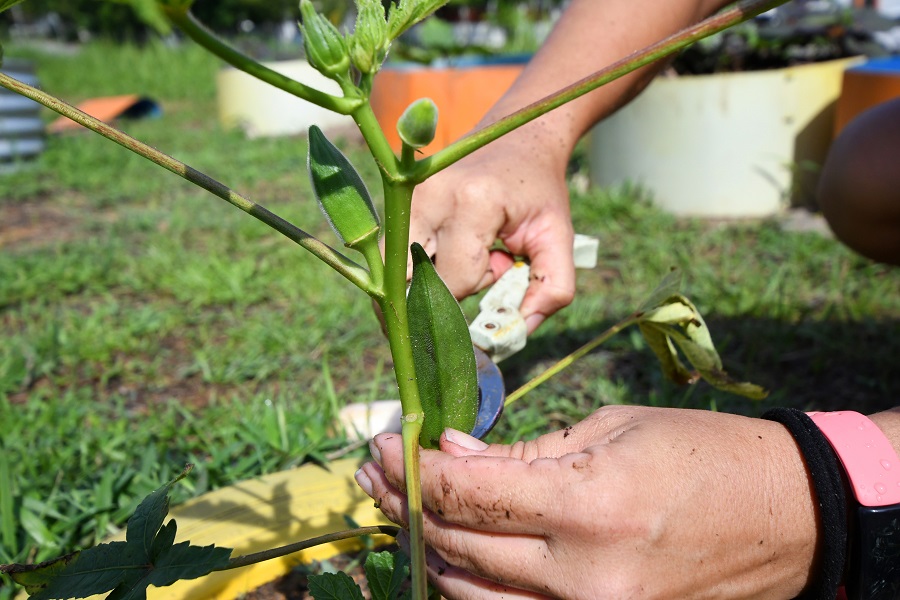 For Leong, she says that this pandemic has really opened the public's eye on the need to grow more crops.
"It is not impossible that another pandemic could happen 20 years from now and people need to know how to grow crops. When you see the visitors coming here, enjoying themselves and leaving with smiles on their faces, that makes it all worth it," Leong points out.
This story first appeared in the EdgeProp.my E-weekly on Sept 3, 2021. You can access back issues here.
Get the latest news @ www.EdgeProp.my
Subscribe to our Telegram channel for the latest stories and updates