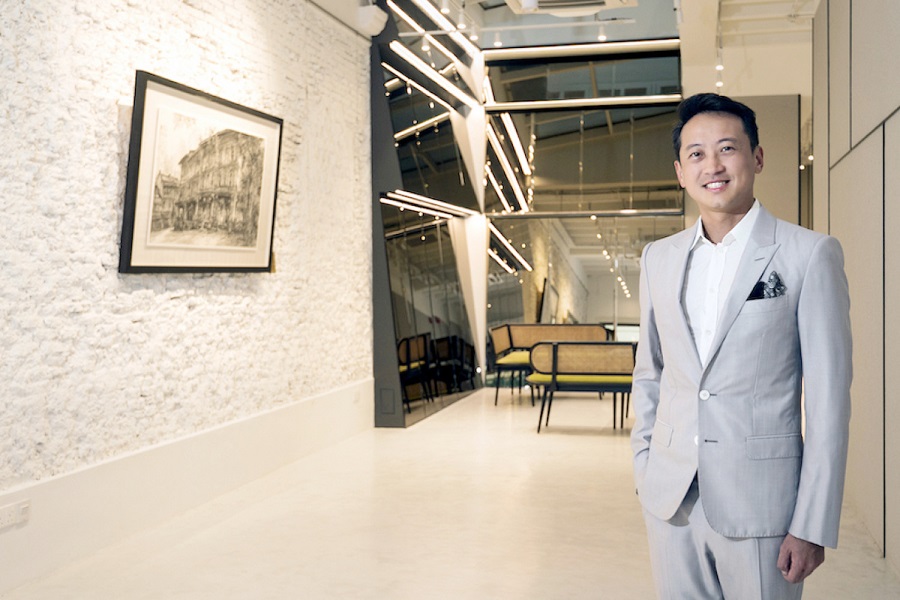 During the "circuit breaker" last year, Andy Lim, CEO of JL Family Office (JLFO), learnt to paint and make acrylic coasters. They are not only for display but for use at the boardroom of his new headquarters at 65 Club Street, a 3½-storey conservation shophouse located at a cul de sac on top of a hill. The property is located within easy access of the Maxwell Road area, Tanjong Pagar and Chinatown.
The 36-year-old has turned the shophouse into a showcase of Singapore heritage and local artists. He engaged a calligrapher and a woodcarver to create the signboard at the entrance of the shophouse, which translates to "Distinguished residence of Lim" in Chinese. "Making signboards by hand and carving them on wooden or metal plates is a dying art," he says. And he hopes to preserve a piece of that heritage before it fades away.
The reception area on the first level of the shophouse has been designed like an art gallery. Occupying prominent positions on the wall are two art pieces depicting shophouse scenes by Singapore artist Tung Yue Nang, who specialises in Chinese ink painting on rice paper. One of them is of Club Street, which Lim had commissioned Tung to paint.
Local architect and interior designer Pi Architects and builder Inspired Homes were engaged to undertake the renovation of the property. Lim had relocated JLFO and all its various divisions, from real estate to financial trading, private equity/venture capital and philanthropic arm to the new headquarters before Chinese New Year this February. However, the renovations were only 75% completed then. The remaining 25% has taken longer to complete due to the recent return to Phase 2 (Heightened Alert).
Still, the key elements are in place, for instance, the green wall with the skylight, which brightens up the place. The room at the rear end of the shophouse is now a multipurpose room, which can be used for philanthropic activities including roundtable discussions with students in his bursary programme, or for his staff to use as a recreation area or for informal meetings. The watercolour paintings featured in this room are by Paul Wang, a watercolour artist and adjunct lecturer at Temasek Polytechnic's School of Design.
The plaster had been peeled away to reveal the underlying brick walls. In so doing, they uncovered an archway at the rear of the shophouse that had been walled up, an indication that at one point the two adjacent shophouses had been connected. "That's what I like about these heritage properties," says Lim. "When you chip away the layers, you can uncover interesting things about the past."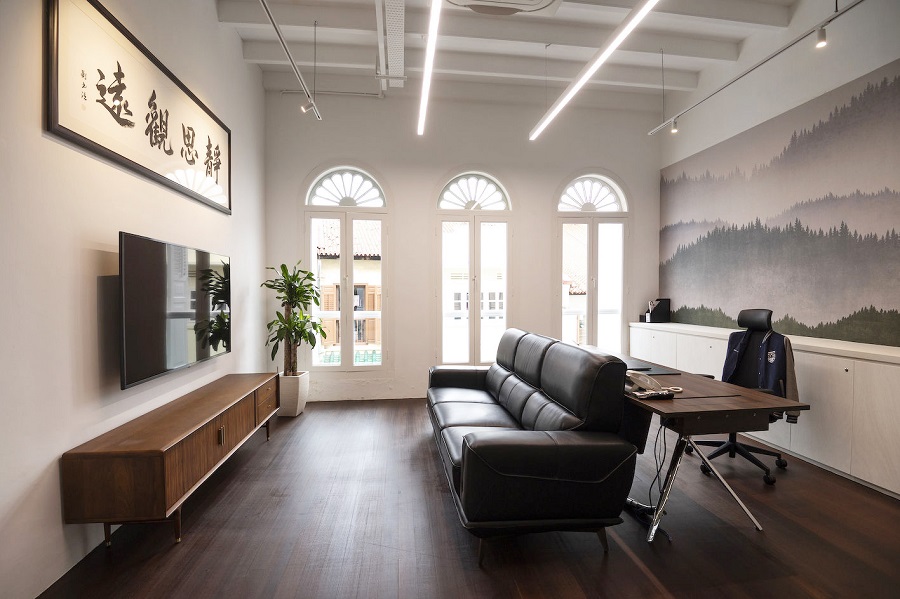 While Lim's office and that of his team are on the second level, his father John Lim's office is on the third level. It is equipped with a pantry. wine chiller and closet space. "He can store his wine here and entertain his friends," says Lim. "He and my mother like to visit the shophouse on weekends."
Next chapter
On August 5, Hong Kong-listed logistics real estate fund manager ESR Cayman announced it will become the largest real estate fund manager in Asia Pacific following its agreement to acquire ARA Asset Management for US$5.2 billion (RM21.5 billion).
The deal will merge ESR with its industrial competitor Logos, while also giving ESR management control of ARA's private and public real estate fund management business, which includes 11 real estate investment trusts, some of which are listed on the Singapore and Hong Kong stock exchanges.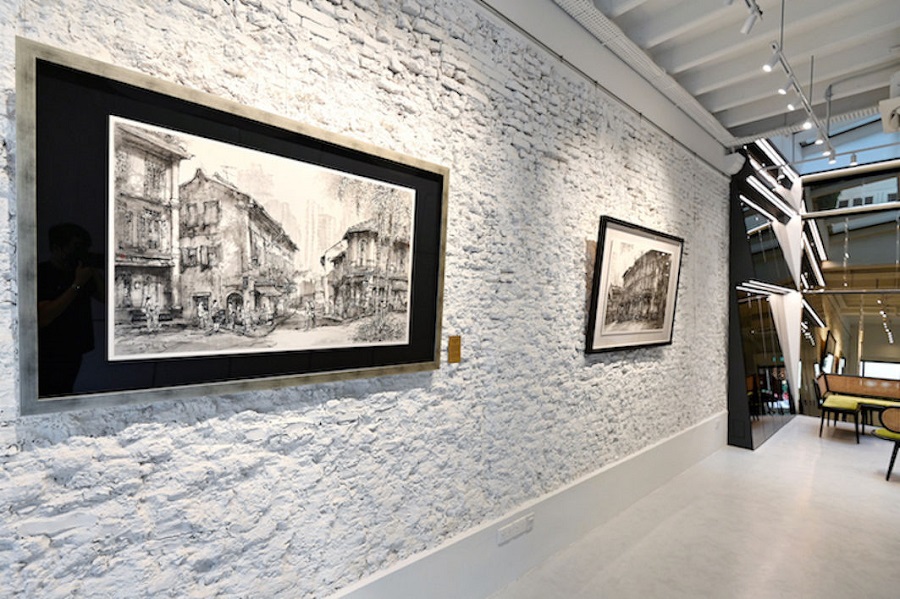 John Lim co-founded ARA Asset Management in July 2002 with the backing of Li Ka-Shing's CK Asset Holdings. Following the close of the sale of ARA to ESR, which is subject to ESR shareholders' approval, Lim would be committed to stay with the new company for at least 36 months as a senior adviser and board member.
"My father has come a long way since 2002 when he started the business at 45 and an initial investment of US$1 million," relates Lim. "He was the son of a teacher." He's also a self-made tycoon and ranks among one of Singapore's richest.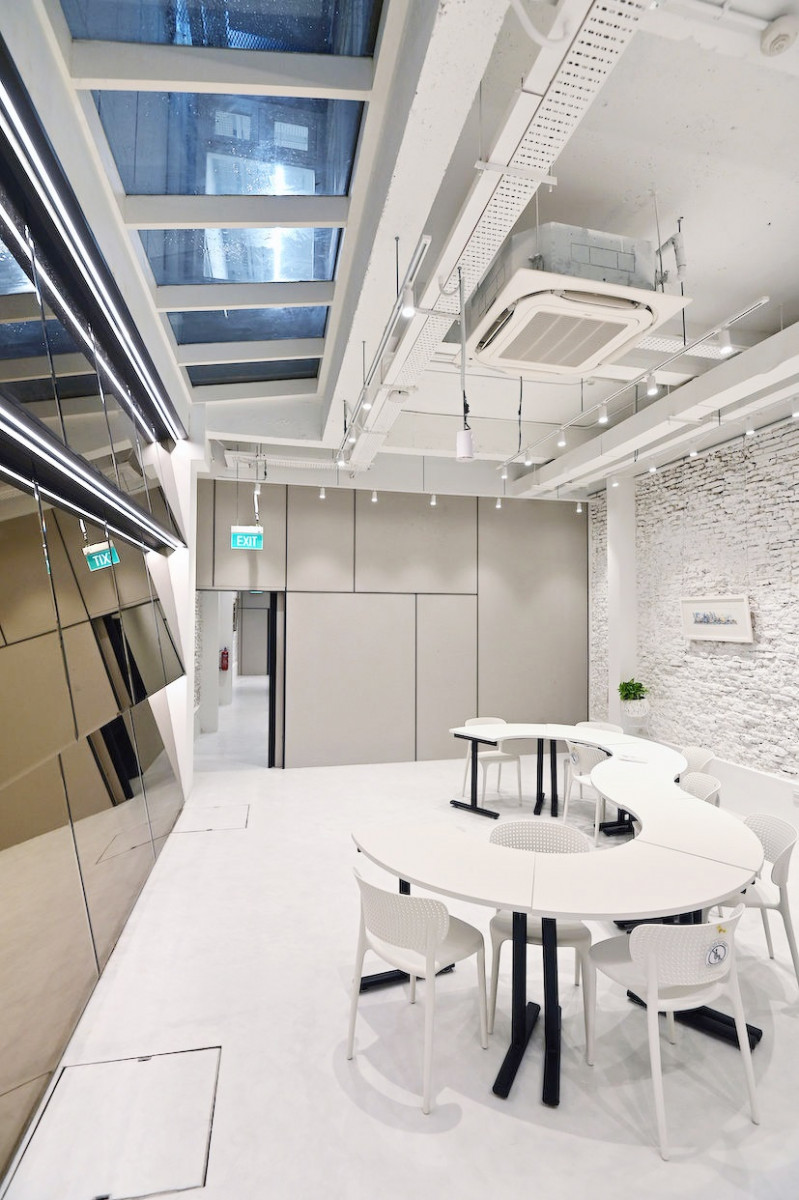 The younger Lim is now laying the groundwork for the next chapter of JLFO. Since his appointment as the family office's CEO in 2019, he acquired the shophouse at 65 Club Street for S$15.7 million or S$2,907 psf (RM48.5 million or RM8,984 psf) in August 2020 for use as JLFO's headquarters. In September 2020, he launched Odyssey Venture, the venture capital and private equity firm. This was followed by the launch of The Land Managers, a real estate investment firm, in December 2020, with an initial capital commitment of S$250 million.
Acquisitions, redevelopment
In early April this year, a subsidiary of Straits Trading Company acquired JLFO's 10% stake in Straits Real Estate for S$105 million. A month later in May, The Land Managers acquired a detached house at 12A Broadrick Road in the neighbourhood of Meyer Road in prime District 15 for S$18.1 million (S$1,400 psf). The 12,930 sq ft, freehold site can be redeveloped into two smaller detached houses.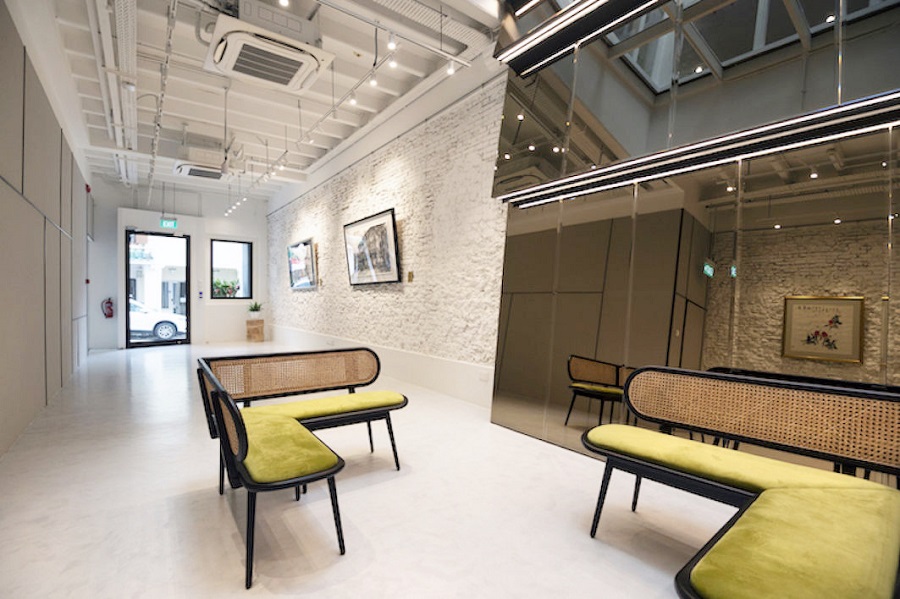 Lim has appointed local design firm Lua Architects Associates to design the two houses at Broadrick Road. "I want to continue developing houses that focus on Singapore heritage," he says. The new luxury houses will have a central courtyard like the traditional shophouses with the central air well and will combine elements of the old and the new." As Meyer Road has a rich history, the façade of the detached houses will incorporate some heritage elements too, adds Lim.
The redevelopment of the detached house at Broadrick Road is still at the planning phase. Lim is looking to start construction by the end of the year or early next year. "Construction costs have increased significantly due to Covid," he says. "So we don't want to rush to call for a tender until towards the end of the year when the Singapore economy opens up more."
Lim is still interested in looking at potential redevelopment opportunities in the landed housing sector, including terraced houses, semi-detached and detached houses. However, he feels that the gap between sellers' price expectations compared to what buyers are prepared to pay, has widened in recent months.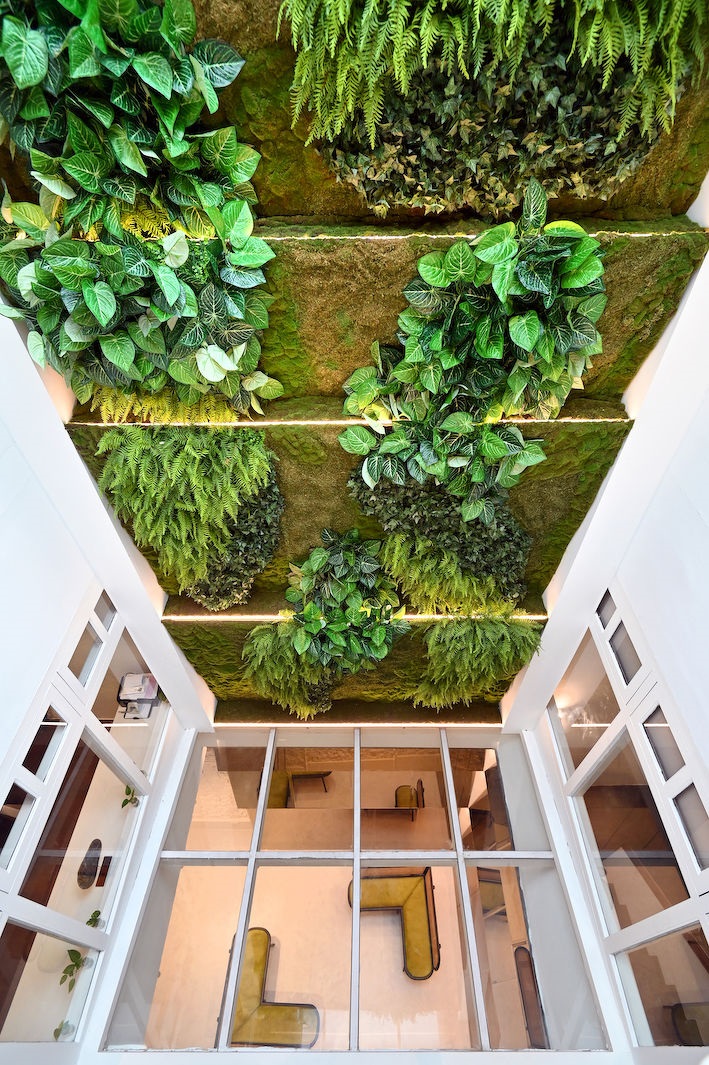 He had looked at 10 houses for sale before closing the one at Broadrick Road. In September last year, the detached house at 12 Broadrick Road which sits on a bigger plot of 16,159 sq ft, changed hands for S$19 million (S$1,176 psf). Compared to The Land Managers' purchase of the site next door for S$1,400 psf this May, land prices in that area have increased 19% in just eight months.
"There is a shortage of land for redevelopment and for each land for redevelopment it is not surprising for us to see four to five bidders for it," says Williiam Wong, founder and CEO of Realstar Premier Group, who brokered the sale on both sites at Broadrick Road. "Both construction cost and positive market sentiment equally contribute to the increase in landed pricing."
The biggest challenge is in securing a reasonable return on investment (ROI), he adds. "A good site would probably generate 20% or more annual ROI, but if a developer is competing with others who don't mind having a single-digit ROI, and willing to pay a premium price for the site for redevelopment, it becomes more challenging."
For now, The Land Managers will not be entering the Good Class Bungalow (GCB) market, says Lim of JLFO. "Most of the buyers in the GCB market want to redevelop their own dream home," he observes. "This is a very niche segment; there may not be any opportunity for us as a developer to enter right now. But we will continue to look closely at this segment."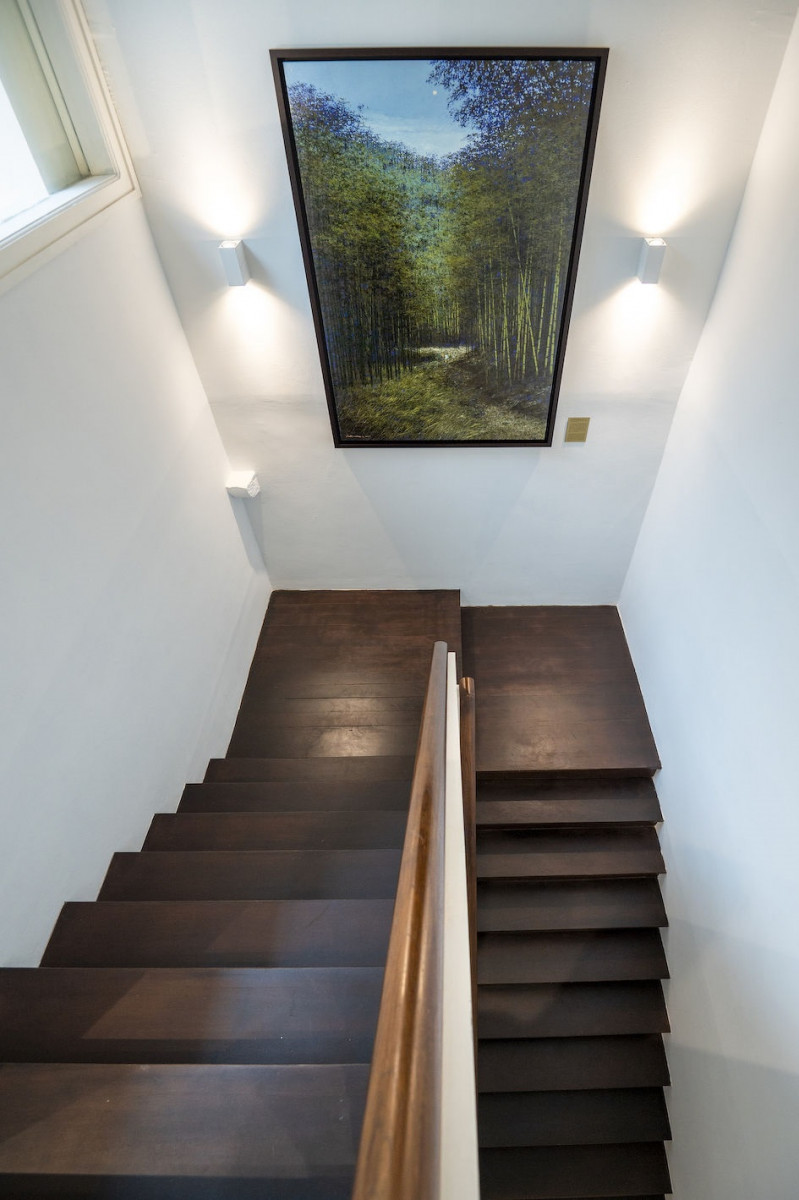 In Wong's view, prime GCB prices have soared 40% since the start of 2020, while the non-prime GCBs have seen prices increase by up to 25%. Overall landed property prices are up 12% to 15% since the beginning of 2020, he estimates.
Shopping for higher-yielding assets abroad
Lim will also not be in a hurry to purchase another conservation shophouse. Since his purchase of the property at 65 Club Street for S$2,907 psf last August, prices have soared. Further down the hill, 44 and 46 Club Street were transacted for S$25.5 million or S$3,935 psf based on approximate built-up area, in July. The deal is said to be brokered by Simon Monteiro, associate vice-president of List Sotheby's International Realty. It's a new record for the Club Street area, surpassing the previous high of S$3,888 psf set by the sale of 64 Club Street for S$21.8 million in August 2018.
Meanwhile, Loyalle Chin, senior associate division director of PropNex is marketing a shophouse at 93 Club Street. The shophouse has a total built-up area of 2,787 sq ft and sits on a 999-years leasehold site. The asking price is S$9.9 million or S$3,552 psf.
Based on Lim's calculation, shophouse prices in Club Street have increased by 35% in just the last 12 months from the time of his purchase.
As such, Lim has set his sights on higher-yielding assets in the UK and Europe. He wants to focus on the private rented sector, office and retail assets. He has no intention of buying property sight unseen. He believes it's important to physically visit the property, the site and the neighbourhood before making a decision to purchase.
"In January, I had this optimistic view that I could travel abroad by June," he recalls. "The virus is really unpredictable. So here we are in September and restrictions are just lifting. Covid is a game-changer for everything. In such an environment, it's best to be prudent."
However, he is still optimistic about Singapore's prospects, and intends to focus on acquiring "good quality, development sites for landed property".
Get the latest news @ www.EdgeProp.my
Subscribe to our Telegram channel for the latest stories and updates