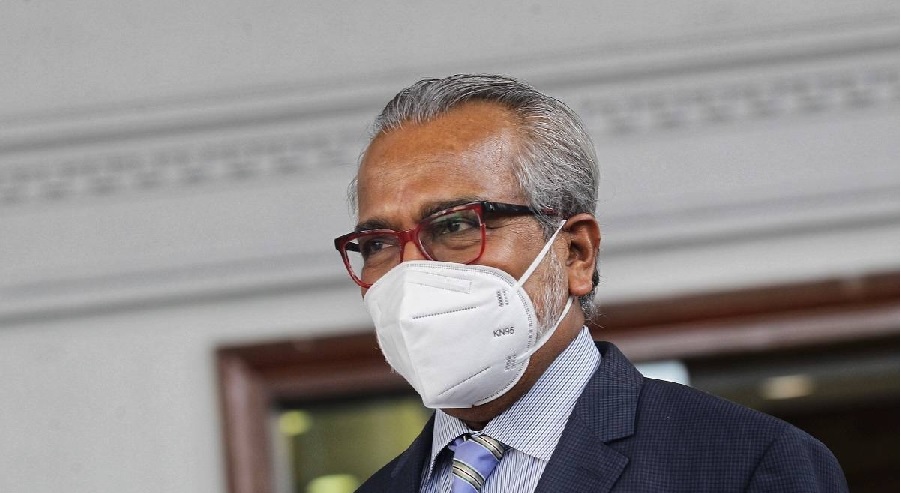 PUTRAJAYA (Sept 23): A senior lawyer for former prime minister Datuk Seri Najib Razak told the Court of Appeal today that the appointment of Datuk Seri Gopal Sri Ram as a senior deputy public prosecutor (DPP) in order to prosecute the politician for 1Malaysia Development Bhd (1MDB) cases was not proper, as the former top judge should have been appointed as a DPP first before being a senior DPP.
Tan Sri Muhammad Shafee Abdullah (pictured) said one's appointment must be that of a DPP first before being appointed as a senior DPP straight away as in Sri Ram's case.
This led to Justice Datuk Yaacob Md Sam, who is leading the three-member bench, saying that he remembered that the appointment of other persons to be DPPs have to be gazetted, and Shafee continued that this must be the correct mode.
Shafee also said Sri Ram's appointment should have been made under Section 379 of the Criminal Procedure Code (CPC) first and not only under Section 376(3).
He said as a private practitioner, Section 379 is the proper section as it makes the person be given protection in rendering public service.
"In Sri Ram's case, he has no immunity as a public servant [in prosecuting Najib]. My appointment as a DPP in the Datuk Seri Anwar Ibrahim's sodomy II appeals [was] made under Section 379 of the CPC by then attorney-general Tan Sri Abdul Gani Patail.
"That should be the proper way (appointment under Section 379). Sri Ram is appointed completely under the wrong section. Sri Ram [is deemed] not to have a contract of employment. His appointment is neither here nor there. You cannot be under the direction and control of the public prosecutor (PP) unless you are properly employed by PP," he added.
If the appointment was proper, the senior lawyer said the person can be disciplined and subject to discipline.
"The letter of appointment is under Section 376(3) but it has to be read or accompanied under Section 379 the contract of employment," Shafee added.
Section 379 stipulates: "With the permission in writing of the PP an advocate may be employed on behalf of the government to conduct any criminal prosecution or inquiry, or to appear on any criminal appeal or point of law reserved on behalf of the PP. The advocate shall be paid out of the public funds such remuneration as may be sanctioned by the Minister of Finance and while conducting such prosecution or inquiry, or appearing on such criminal appeal or point of law reserved, shall be deemed to be a 'public servant'."
Shafee was submitting in Najib's judicial review appeal to disqualify Sri Ram from continuing in prosecuting the former premier in 1MDB-related cases due to questions surrounding his appointment by then attorney-general Tan Sri Tommy Thomas.
Hence, the senior lawyer added Sri Ram's continued action of leading the prosecution in the 1MDB trials should be considered ultra vires (beyond the power) and this court should consider it as null and void.
Shafee also said despite the then attorney-general saying in the letter that Sri Ram's appointment was to prosecute in 1MDB-related cases, one can see that he is also prosecuting Datin Seri Rosmah Mansor in a case that has nothing to do with 1MDB.
Prosecuting but also acting against the government
Meanwhile, counsel Harvinderjit Singh, who is representing Shafee in a similar appeal for judicial review, questioned Sri Ram's conduct as he offers his service to the government but continues with his private practice in acting against the government.
This includes Sri Ram's role in representing Anwar, who is suing the Malaysian government.
"So he is DPP on one day in the 1MDB [trials] and on another he is appearing on behalf of a private party in responding to a suit by Anwar against the government."
Harvinderjit also pointed to the conflict in what was said over Sri Ram's appointment, where the former Federal Court judge had said he was only involved in prosecuting, but in the letter of appointment and interview that Thomas had given to The Edge and Malaysiakini, it states that Sri Ram would have access to the investigation papers and also prepare the charges if any.
"This in itself shows his deep involvement in the investigations and at the same time to prosecute. We say the prosecution is mala fide," he said.
For the record, at present Sri Ram is not appearing for the prosecution in Shafee's RM9.5 million money laundering and income tax case, as it is being led by DPP Afzainizam Abdul Aziz and others from the Attorney-General's Chambers (AGC).
Decision deferred
Meanwhile, senior federal counsel Shamsul Bolhassan, who appeared with senior federal counsel Liew Horng Bin, said Section 376(3) CPC on the appointment of a senior DPP should be deemed that the person is also appointed as a DPP.
"A senior DPP brings the fact that he has been deemed or appointed as a DPP first.
"We (the AGC) say that Section 376 should be deemed broad and is not limited to those appointed from the judicial and legal service," he said.
When asked by Justice Yaacob whether that was the intention of the draftsman in drafting Section 376(3) that way, Shamsul said he will need time to consult with the parliamentary draftsman division in the AGC on this issue as that section had undergone amendments.
Justice Yaacob, who sat together with Justices Datuk Lee Heng Chong and Datuk Che Ruzima Ghazali, said they will need time to deliver their decision, and fixed Nov 8 as the date to deliver it.
He instructed Shamsul to provide written submissions to his query by Oct 4, and for Shafee and Harvinderjit to reply, if any, two days later.
On Aug 28 last year, High Court Judge Datuk Seri Mariana Yahya dismissed both Najib and Shafee's judicial review application to remove Sri Ram from prosecuting them on the grounds that the court must not interfere in the appointment unless it finds that the Attorney-General had misdirected himself in law or that his decision does not follow the statute.
"There is no evidence that the Attorney-General had misdirected himself in law. Hence, the court rules there should not be annullity in Sri Ram's appointment," Justice Mariana said.
However, that position on the Attorney-General's discretion had changed following the Federal Court decision in the Datuk N Sundra Rajoo case where the apex court ruled that the Attorney-General does not have "absolute and unfettered discretion". This was also highlighted by Shafee in his submissions today.
Get the latest news @ www.EdgeProp.my
Subscribe to our Telegram channel for the latest stories and updates