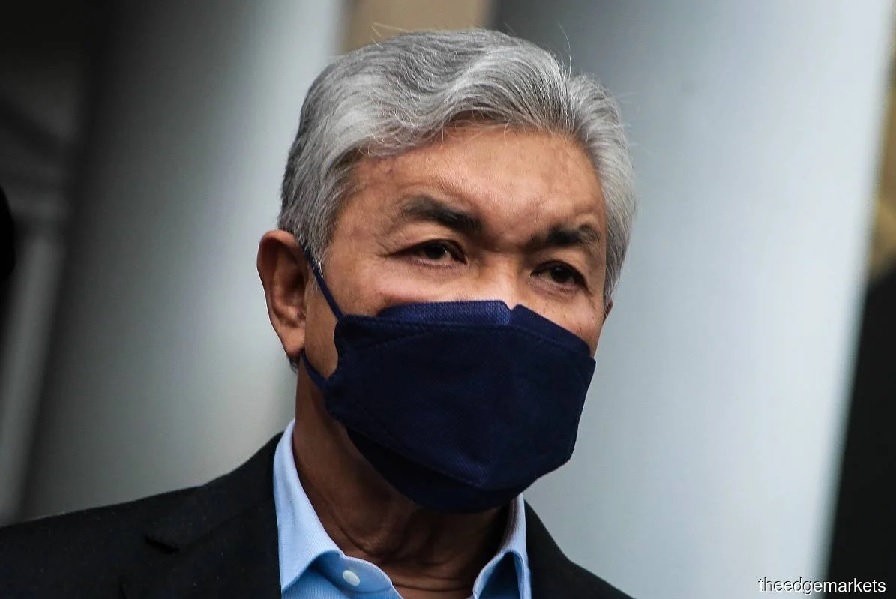 KUALA LUMPUR (Oct 14): Datuk Seri Dr Ahmad Zahid Hamidi (pictured) consciously opted to utilise Yayasan Akalbudi (YAB) funds to pay off his personal credit card payments and motor insurance policies and road tax and not use his own personal bank account, the High Court was told on Thursday.
Deputy Public Prosecutor (DPP) Datuk Raja Rozela Raja Toran contended that the Bagan Datoh member of parliament was fully aware of the use of YAB cheques in funding his personal expenses.
The lead prosecutor read out the testimony of Zahid's former secretary, Major Mazlina Mazlan, which said "the cheques were prepared upon the instruction and with the knowledge of the accused".
"Each month, credit card statements from the respective card issuers (AmBank [M] Bhd and Malayan Banking Bhd [Maybank]) were sent to [Zahid's] office.
"Mazlina would then prepare the cheques and afterwards submit them together with the card statements to [Zahid] for his approval," Raja Rozela said.
Additionally, Mazlina said that Zahid had never questioned her on the use of YAB cheques, nor had he ever asked her to use his personal cheques.
Along similar lines, according to Mazlina's witness statement, she had witnessed Zahid signing three separate cheques used to pay for motor insurance policies and road tax.
Even with a personal account available with Maybank to supplement his personal expenses, the UMNO president chose to utilise YAB's funds.
Raja Rozela stressed that Zahid had consciously and dishonestly misappropriated YAB funds for his own personal gain.
"The credit card bill payments and the purchase of motor vehicle insurance policies and road taxes benefitted only the accused and his wife.
"In other words, the funds in the YAB account were used for the personal enrichment of [Zahid] and for the benefit of a person or persons with whom Akalbudi has no connection or interest," she said.
Zahid was entrusted with YAB funds for a specific purpose — for the eradication of poverty and the enhancement of the welfare of the poor and to conduct studies and research relevant to the poverty eradication programme — but was instead used for a purpose other than what it was intended.
"[Zahid] committed the acts with the intention of causing wrongful gain to himself or wrongful loss to YAB," Raja Rozela said.
Zahid faces 47 charges — 12 for criminal breach of trust, eight for corruption and 27 for money laundering — involving tens of millions of ringgit belonging to YAB.
Raja Rozela did not finish her submissions on Thursday as scheduled and would continue to do so on Monday (Oct 18) before Justice Datuk Collin Lawrence Sequerah.
Earlier, she defended the case against the former deputy prime minister and contested the defence's remark in attacking the AG in instituting charges on their client.
The defence contended that the AG was as if being a law student in instituting so many charges.
"This is a ridiculous notion and we find [the defence's] contention as disrespectful," she added in defending the AG Chambers.
Get the latest news @ www.EdgeProp.my
Subscribe to our Telegram channel for the latest stories and updates