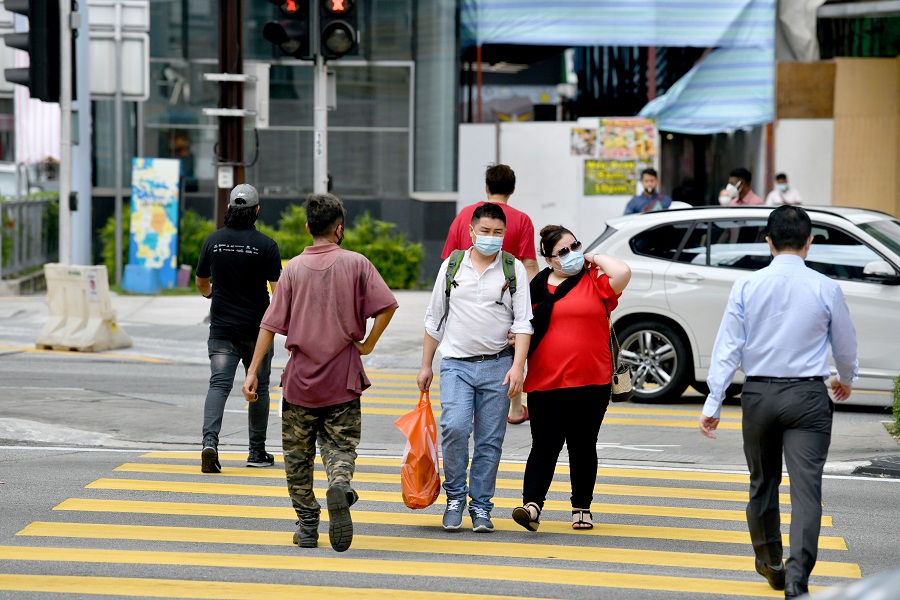 KUALA LUMPUR (Oct 2): Weekly Covid-19 cases in Malaysia dropped for the fifth straight week to 86,352 in the week of Sept 25 to Oct 1 — 16.89% from 103,905 in the past week — while active cases that are highly infectious also dropped as recoveries continued to outpace new infections.
98.3% or 84,882 cases of these new weekly cases showed mild or no symptoms at all (Categories 1 and 2).
The remaining 1.7% or 1,470 cases were in Categories 3 (patients with pneumonia), 4 (patients with pneumonia requiring oxygen therapy) and 5 (critical patients requiring assisted ventilation).
Weekly recoveries came in at 120,251, outpacing new infections, but down 5.48% from 127,219 seen in the week before. The highest weekly recoveries of 150,290 were recorded in the week of Sept 4-10.
To date, 2,070,715 people have recovered from the coronavirus in the country, representing a recovery rate of 91.7% of the cumulative 2,257,584 infections.
Meanwhile, patients warded in intensive care units declined 13.82% to 904, from 1,049 previously. At present, there are 1,545 ICU beds in government hospitals across the country.
10 states and 2 FTs saw declining cases
The fall in weekly infections came as 10 states saw declining cases, with Johor recording the biggest decline (down 4,189 to 9,124 from 13,313), followed by Selangor (down 2,986 to 10,979 from 13,965); Sabah (down 2,777 to 6,621 from 9,398); Penang (down 2,568 to 6,160 from 8,728); Perak (down 1,738 to 6,356 from 8,094); Kelantan (down 1,107 to 7,662 from 8,769); and Kedah (down 1,030 to 5,303 from 6,333).
These were followed by Sarawak (down 679 to 18,603 from 19,282); Terengganu (down 226 to 4,802 from 5,028); and Perlis (down 34 to 424 from 458);
Two federal territories (FTs) of Kuala Lumpur (down 596 to 1,827 from 2,423) and Labuan (down 14 to 20 from 34) also recorded declines.
Three states and the FT of Putrajaya, however, bucked this trend. Among these three states, the biggest jump in weekly cases was seen in Melaka (up 395 to 2,297 from 1,902), followed by Negeri Sembilan (up 27 to 1,056 from 1,029), and Pahang (up 2 to 4,990 from 4,980). Putrajaya recorded 11 more cases to 180, from 169 previously.
Weekly active cases, deaths decline
Active cases declined 17.02% to 164,536 on Thursday (Sept 30), from 198,281 last Thursday (Sept 23).
Of the latest active cases, 136,436 have been home quarantined, 18,263 people are being treated in Covid-19 Quarantine and Low-Risk Treatment Centres (PKRCs), 8,913 patients have been hospitalised, while 924 patients are being treated in ICUs.
Weekly reported Covid-19 deaths declined 28.89% to 1,654 from 2,326 previously. Fatalities linked to the coronavirus now totalled 26,335.
2.12 million vaccine doses given out for the week
A total of 2.12 million doses of Covid-19 vaccines were given out this week, with 200,000-300,000 doses administered per day.
This is the third consecutive increase in weekly doses administered — up from 1.93 million in the past week, and 1.7 million in the week before.
So far, 23.54 million people or 72.1% of the nation's population had received at least one vaccine jab, including 20.25 million persons or 62% of the population who had been fully vaccinated.
Get the latest news @ www.EdgeProp.my
Subscribe to our Telegram channel for the latest stories and updates