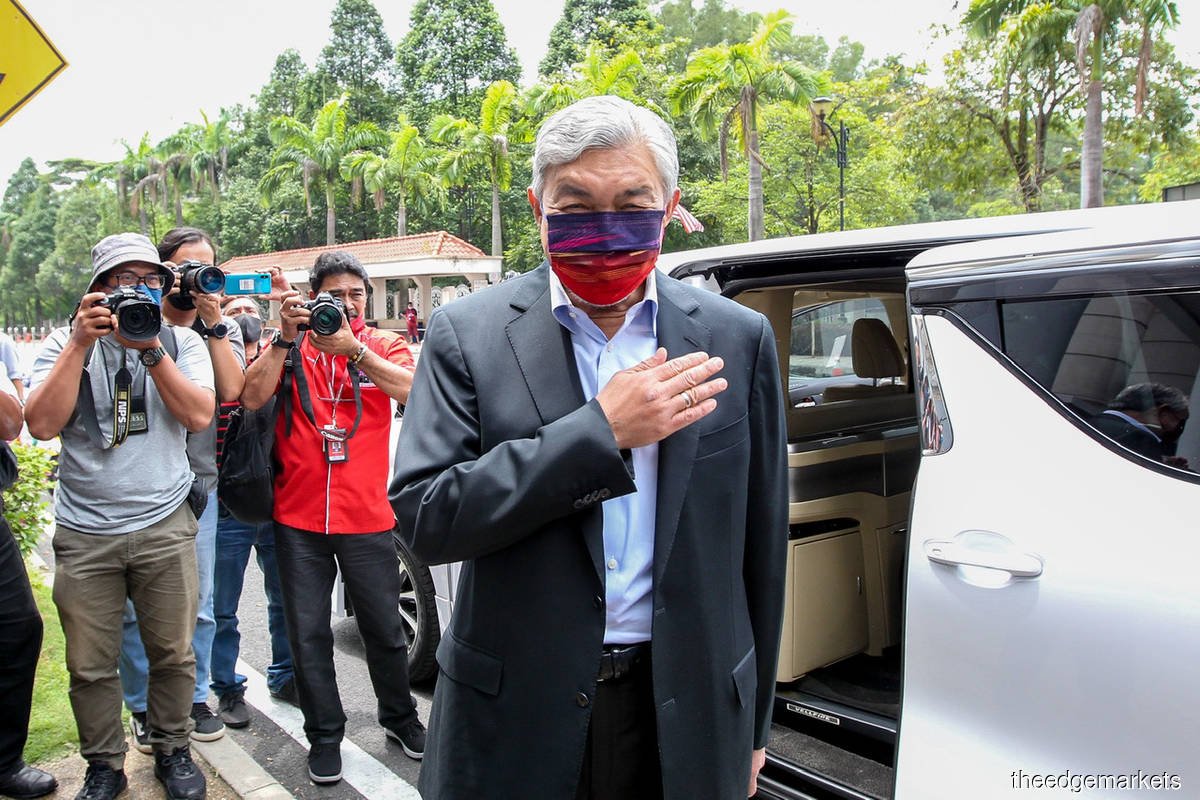 KUALA LUMPUR (Oct 13): Umno president Datuk Seri Dr Ahmad Zahid Hamidi allegedly misappropriated more than RM13.1 million of family-run charitable foundation Yayasan Akalbudi (YAB) for credit card payments, motor insurance policies and road tax, and various others.
Lead prosecutor Datuk Raja Rozela Raja Toran said that a total of 50 cheques were issued between 2014 and 2016 from YAB's account — involving a sum of RM13,129,547.36.
It was asserted that Zahid misappropriated the YAB funds as he used the monies for his own personal use and not for the foundation.
Of the 50 cheques, Raja Rozela added that 43 cheques were used for the payment of credit cards, followed by another three cheques for the purchase of motor insurance policies and road tax, two as donations to TS Consultancy & Resources (TSCR), one as a donation to the Polis Diraja Malaysia (PDRM) Football Club and one as a "loan" to Armada Holdings Sdn Bhd.
Zahid held several credit cards and one charge card issued by AmBank (M) Bhd and Malayan Banking Bhd (Maybank), two of which were issued to his wife.
According to the testimony of AmBank senior vice-president Yeoh Eng Leong, the total amounts of credit card payments the bank received were RM534,412.52 (2014), RM708,134.47 (2015) and RM54,168.99 (2016).
Likewise, Maybank vice-president in charge of fraud and dispute Anoop Singh verified the receipts of six credit card payments totalling RM30,771.19 (between February and October 2014), a payment in March 2015 for RM3,914.84 and another in July 2015 for RM30,635.80.
Raja Rozella stressed that all of the credit card payments were drawn out from YAB cheques.
Meanwhile, Zahid bought and paid several motor insurance policies and road tax for 20 motor vehicles, which totalled RM107,509.55.
"None of the vehicles belonged to Akalbudi. The facts show that at all material times, the registered owners were [Zahid] and three others, [his wife], BZ Motors and Juhari Janan," she added.
Zahid also gave two cheques from YAB totalling RM360,000 to TSCR, a firm offering services to hold training and motivation courses.
"In reality, however, TSCR was a political arm of the Barisan National coalition party, established specifically to assist the then ruling government on matters relating to registration of voters in certain areas," the lead prosecutor said.
Additionally, the PDRM Football Club also received a cheque from YAB worth RM1.3 million, "courtesy" of Zahid, and another RM10 million cheque was given to Armada Holdings as a "loan".
Raja Rozela contended that these were gross acts of misappropriation as the monies were to be used for the eradication of poverty and enhance the welfare of the poor, not for Zahid's personal use.
The Umno president faces 12 criminal breach of trust (CBT) charges — along with eight for corruption and 27 for money laundering — involving tens of millions of ringgit belonging to YAB.
Loan to Armada Holdings not an investment, but moneylending
Likewise, the lead prosecutor said the RM10 million loan Zahid had provided to Armada Holdings through the utilisation of Yayasan Akalbudi's funds is also an act of criminal breach of trust.
Zahid and Armada Holdings chief executive officer Datuk Wasi Khan had mutually agreed that the money was a "loan", to be payable within a month from the date of receipt. Wasi had kept his promise to repay the loan.
Zahid's defence had submitted that the RM10 million given to Armada Holdings was a loan cum "investment" for Yayasan Akalbudi.
Raja Rozela said that according to the defence, this was corroborated by the return of the investment of RM10 million together with abnormally high interest.
"That is not an investment, that is a money-lending business. Armada [Holdings] itself does not have anything to do with the eradication of poverty or improving the wellbeing of the poor," Raja Rozela stressed.
Armada Holdings, an importer and supplier of coal fuel to Tenaga Nasional Bhd (TNB), had required RM10 million in order to bid for a supply contract in Indonesia.
"We know and it is not challenged that the business was set up to supply coal fuel to TNB and has absolutely nothing to do with helping the poor.
"The foundation cannot give a loan to a business entity, it does not sync with the object and establishment of Yayasan Akalbudi," she added.
The hearing continues on Thursday, with Raja Rozela slated to end her submissions in front of Justice Datuk Collin Lawrence Sequerah.
Get the latest news @ www.EdgeProp.my
Subscribe to our Telegram channel for the latest stories and updates