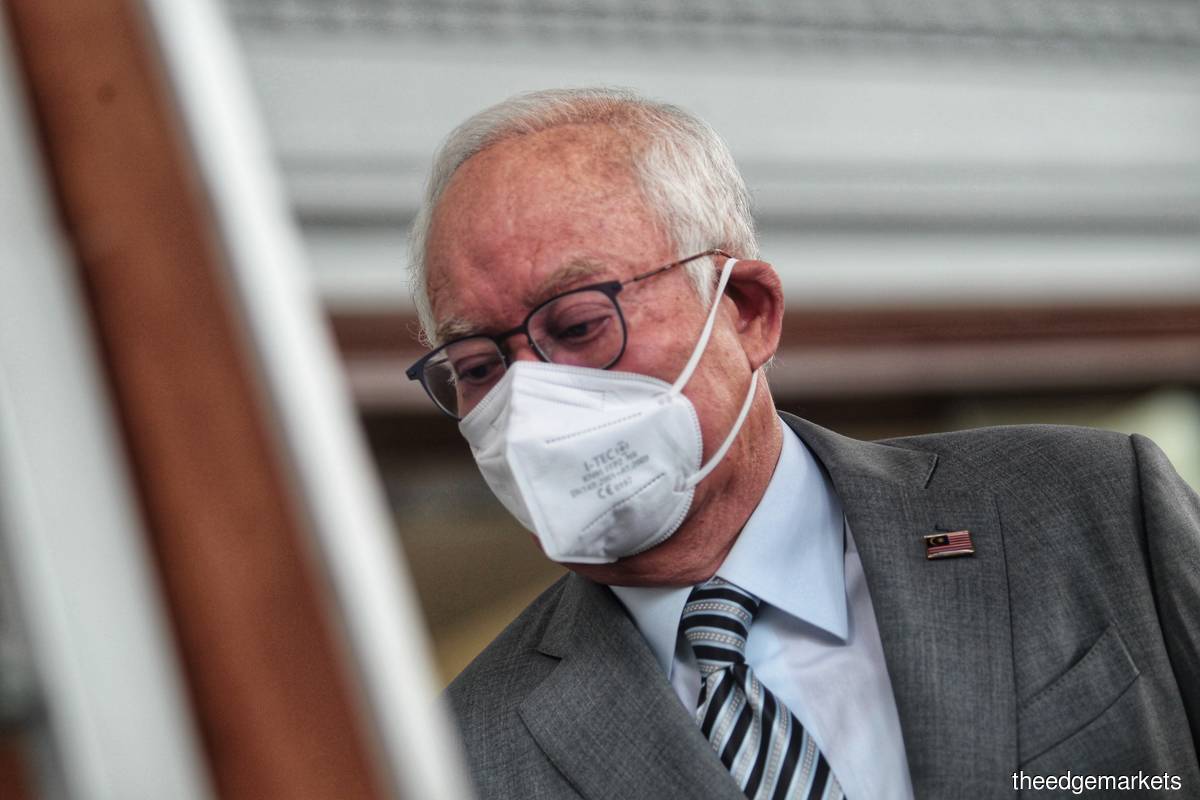 PUTRAJAYA (Nov 11) : A week from now (Nov 18), it would be exactly six months the Court of Appeal has yet to deliver its decision over former premier Datuk Seri Najib Razak's appeal over his conviction and 12 years jail and RM210 million fine with regards to SRC International Sdn Bhd.
The bench led by Justice Datuk Abdul Karim Abdul Jalil had heard the Pekan member of Parliament's submission and reply by the prosecution for a total of 15 full days that began on April 5, before deciding to reserve its judgement on May 18 several days after Hari Raya Aidilfitri.
The other two members of the bench comprised of Justices Datuk Has Zanah Mehat and Datuk Vazeer Alam Mydin Meera.
A check of the COA cause list for next week revealed there is still no signs of the bench delivering its decision, although this could be updated.
Contacts by theedgemarkets.com with the prosecution and Najib's defence team also showed they are in the dark over when the appellate court would deliver its verdict.
Normally, as with court practise directions and recommendations, the courts are asked to deliver its decision within two months. However, in complex cases like the SRC or others, they are given leeway in giving its decision.
Former High Court judge Datuk Syed Ahmad Idid Syed Abdullah who authored 'Writing of Judgements : A Practical guide for Courts" had in an interview with a local online news portal, said that ideally judges should write judgements within two months when the case is still fresh in the mind after a trial.
The High Court had on July 28, last year found Najib, the highest political executive of the nation, to be guilty of abuse of power with regards to the RM4 billion Retirement Fund Inc (KWAP) loan that was given to SRC between 2011 and 2012.
Justice Mohd Nazlan Mohd Ghazali, an Oxford graduate, who presided the trial in calling it "among or near the worst case of abuse of power and betrayal of trust" also found Najib guilty of three criminal breach of trust and hence also money-laundering of SRC funds which he obtained in three tranches totalling RM42 million between Dec 26, 2014 and Feb 10, 2015.
For this, Justice Nazlan sentenced the former Umno president to 12 years jail and RM210 million fine. Najib was allowed a stay of the jail sentence and payment of the fine but his bail was raised.
The defence had filed its appeal to set-aside the conviction and sentence. The prosecution also filed a cross-appeal over the sentence.
However, the prosecution did not take it up on appeal hence, the appeallate court only heard submissions to set-aside the conviction and sentence while the prosecution led by ad-hoc prosecutor Datuk V Sithambaram defended the judgement and sentence.
Najib hopes to clear his name
His defence team led by counsels Tan Sri Muhammad Shafee Abdullah along with Harvinderjit Singh had posted 307 grounds of appeal in attacking Justice Nazlan's more than 500 pages of judgement including shifting the blame on Jho Low and the AmBank staff.
Shafee had in his submissions attacked on Justice Nazlan's legal acumen and experience in presiding the criminal trial and remarked the judge had "poisoned the judgement" and was "hopelessly incompetent". This comments resulted in Justice Abdul Karim to remind the senior counsel to use appropriate or polite language.
Sithambaram meanwhile, in defending the verdict and sentence said while Najib had claimed he thought the money in his accounts were donation from the Arabs, the prosecution maintained that in fact it was the former premier's partner in crime Low Taek Jho who had pretended to be the donor.
The prosecution also said there were many afterthoughts in Najib's defence when he gave his testimony and that Najib had pushed for the RM4 billion loan but seemed disinterested in the outcome of getting or ensuring the funds are returned.
At the conclusion of the hearing of the appeal, the former premier hopes to clear his name.
Najib, who is also a former finance minister, said he hopes to clear his name with this appeal.
"I pray that justice is done and I get the opportunity to clear my name," he said after thanking his legal team for all the hard work they have put into the case.
"This present period is a test to my family and I pray that what we hope for will come true," he had said.
Throughout this week and next, Najib, 68, is still facing his on-going 1Malaysia Development Bhd trial before Justice Datuk Collin Lawrence Sequerah, while also helping out Barisan Nasional and Umno with the Malacca elections where he is the coalition's director.
Following the conclusion of the Malacca elections on Nov 20, Najib will join his wife Datin Seri Rosmah Mansor to be with their daughter Nooryana Najwa in Singapore who is expecting her second child.
Get the latest news @ www.EdgeProp.my
Subscribe to our Telegram channel for the latest stories and updates