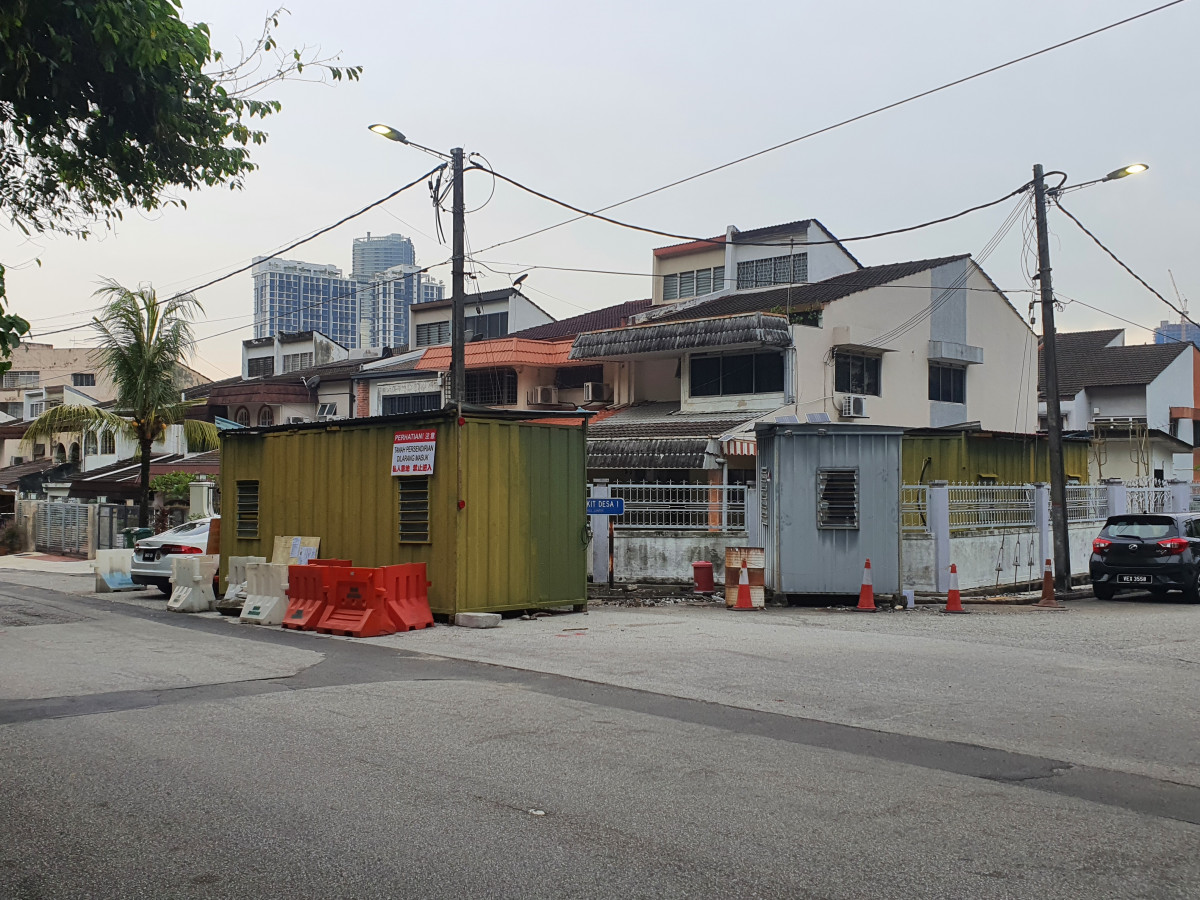 TAMAN DESA (March 23): A landowner in Taman Desa took matters into his own hands by placing a 10 ft by 20 ft steel container and cement blocks, to express his frustrations on the unresolved land encroachment issue of his property since filing a complaint four years ago with Kuala Lumpur City Hall (DBKL).
The landowner had placed the steel container and cement blocks to mark the supposedly original boundaries about two weeks ago, reported The Star, which had caused traffic obstruction on Jalan Bukit Desa.
It was noted that residents in the area had lodged public complaints to DBKL and Seputeh MP Theresa Kok as the traffic obstruction has caused inconvenience to the residents nearby.
Justifying his reasons, the landowner shared that he had discovered that the residential unit he bought four years ago had been measured wrongly.
Realising that the 430 sq m land he had bought looks smaller compared to his neighbours, he hired a land surveyor and found out that 93.74 sq m of land is on a public road.
The landowner then filed a complaint to DBKL together with a proposed solution. Yet, no actions were taken to solve the issue for four years.
DBKL officers along with their land surveyors arrived at the site on March 18 (Friday) to investigate the matter and acknowledge that part of the landowner's land is on the public road.
The officers had asked the landowner to remove the obstructions for the ease of the public; however the landowner refused to do so until the issue was resolved.
"I want to make myself clear here, I only put the steel container there to prove a point to them (DBKL) as I have waited four years since submitting my complaint to them," said the landowner quoted by The Star.
As of March 22 (Tuesday), the cement blocks had been removed while the steel container remained when EdgeProp visited the site.
Get the latest news @ www.EdgeProp.my
Subscribe to our Telegram channel for the latest stories and updates