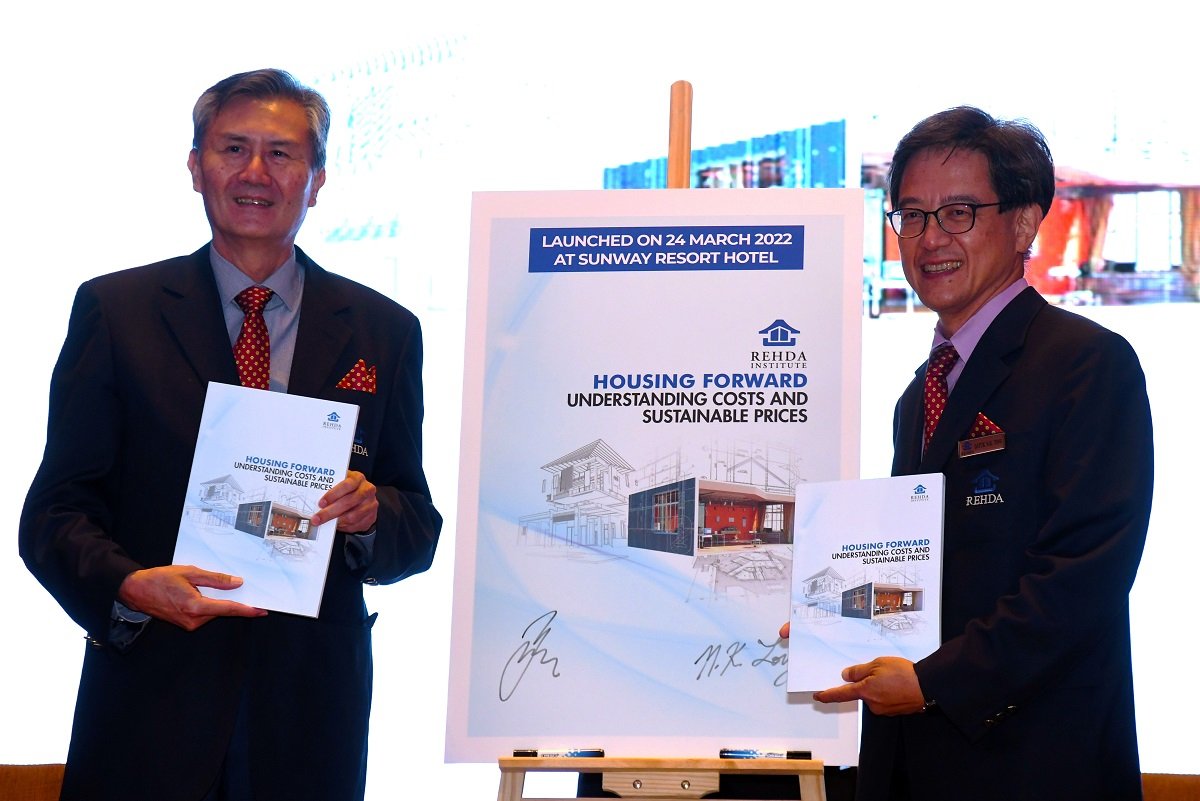 PETALING JAYA (March 24): The Real Estate and Housing Developers' Association (REHDA) Institute launched its "Housing Forward — Understanding Costs and Sustainable Prices" research report at its Regional Housing Conference held at Sunway Resort in Bandar Sunway on Thursday (March 24).
The objectives of the report were to find out what the costs contributing to the overall increase in development costs and prices were, and to provide practical solutions and recommendations to reduce costs so that house prices will be affordable for the rakyat.
Said REHDA Institute chairman Datuk Jeffrey Ng Tiong Lip at the media briefing, "This report is based on a thorough understanding of what causes house prices to move up because of the cost, in particular, compliance costs, which is part of the overall costs."
The report highlighted four compliance costs issues, which are over-regulation that adds to cost but not necessarily to the value of houses, overzealous planning requirements that reduce sellable lands, cross-subsidies that create price distortion, and lengthy approval process that is unproductive, resulting in costly delays and creating uncertainty.
Ng said that all levels of the government should work together with developers and NGOs to better understand how the increase in compliance cost actually leads to higher house prices.
"What is important at the end of the day is that, if we can mitigate the compliance cost impact, then there is a higher chance that, moving forward, house prices can be kept at a more sustainable level in terms of price increase," added Ng.
He suggested that the government should do a cost-benefit analysis by involving all stakeholders — property developers, professional consultants and so on — in a discussion before imposing any new compliance cost, to ensure the cost imposed will not ultimately impact house prices.
Ng gave the example that in Australia, house supply is limited but demand is high, hence the house prices increase.
"In Malaysia, we have no shortage of supply. Our demand has been steady but house prices are slightly declining. So one has to wonder, why is Malaysia having affordability issues compared to Australia, where prices are driven up by the dynamics of supply and demand?"
He added that the majority of the overhang in Malaysia are houses priced RM300,000 and below.
"So one has to ask, what are the real structural problems that are causing the situation that we have today? If we can understand the root causes, then we can get out of this dilemma that has lasted for many years," Ng said.
Some other recommendations to reduce compliance costs, which total 21 in the report, include the government taking over social housing development.
Ng said that if the government takes over the development of social housing, then houses can be built on lands owned by the government that are close to public transport like the LRT, MRT and buses, and this will allow developers to focus on developing products for the open market.
He also suggested that private developers could contribute a sum, which the government can use to build social housing on lands that the government owns.
Another recommendation was for a standardised and transparent bumiputera unit release mechanism for unsold bumiputera units to be released back to the developer. The report revealed that as at June 2020 there are 6,121 unreleased bumiputera units surveyed from 136 developers, which translates to RM3.8 billion in tied up resources and RM4.6 billion in holding costs.
Ng suggested that a digital mechanism be implemented so that these homes can be released back to the developer and sold on the open market. Currently, the release mechanism differs from state to state and some developers have held on to unreleased bumiputera units for over five years.
Also at the launch of the report was REHDA Malaysia acting president Datuk N K Tong, who said, "This report will be a fantastic blueprint for the industry, government, and all stakeholders to look into. It is also very timely that REHDA Institute is coming up with this report, as this report was two years in the making and it just so happens that now the government is seriously questioning how we can lower construction costs.
"If all stakeholders involved take a serious look at this and implement some, if not all, the recommendations, we will have a chance to turn the tide. Having said that, as this report was two years in the making, it does not include the inflation that we are experiencing in the last couple of months that has been further exacerbated by the current global tensions."
Edited by Chai Yee Hoong
Get the latest news @ www.EdgeProp.my
Subscribe to our Telegram channel for the latest stories and updates