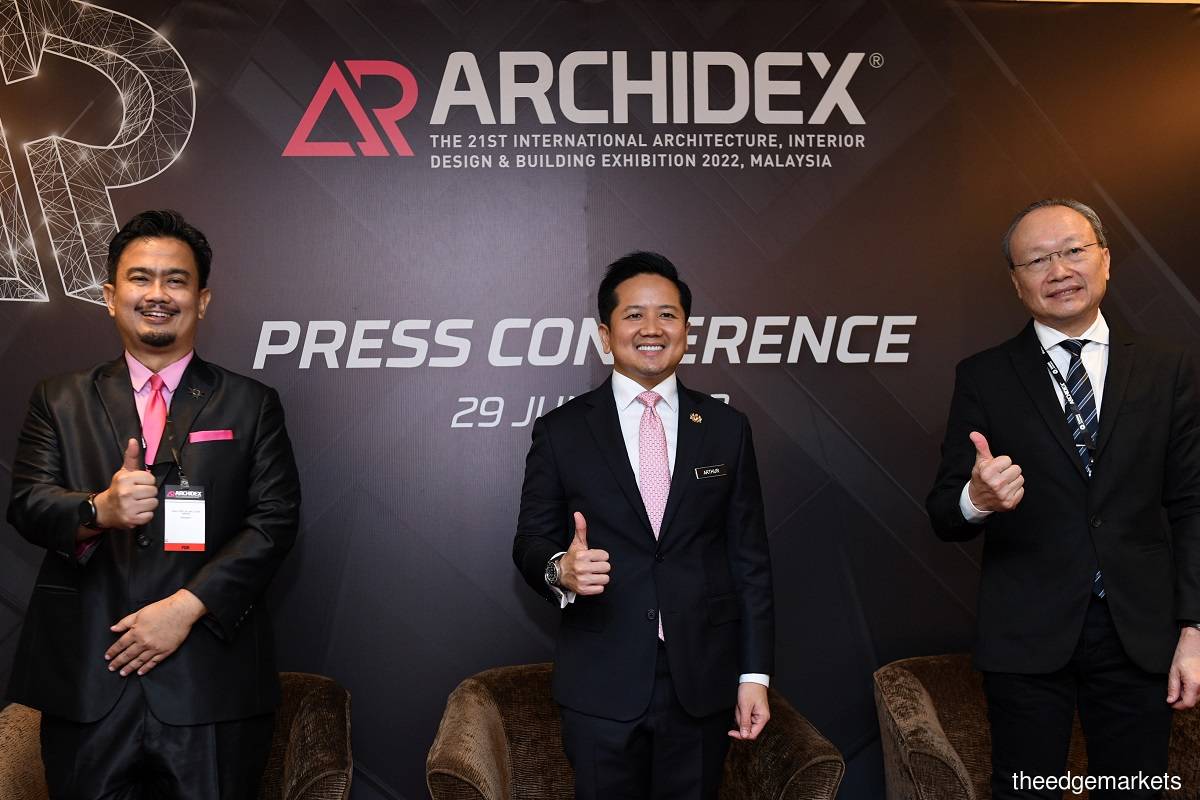 PETALING JAYA (June 29): The 21st Architecture, Interior Design and Building Exhibition (ARCHIDEX) was officially launched at the Kuala Lumpur Convention Centre on Wednesday (June 29).
Jointly organised by the Malaysian Institute of Architects (PAM) and C.I.S Network Sdn Bhd, the physical exhibition of ARCHIDEX will be held from June 29 to July 2. Meanwhile, the online official platform called ARCHIDEX Online will be held until July 29 and it requires one to register upon entry. The exhibition is expected to welcome about 37,000 visitors both on-site and on its online platform.
ARCHIDEX is an event for architectural industry captains and built professionals, serving as a platform to rebuild stronger and better for businesses in the post-pandemic era. "ARCHIDEX is a multidimensional business platform and marketplace for every member of the architecture, interior design and building community to connect, collaborate and create new business ventures and bridges, as well as to advance our economy and society further," said C.I.S. president Datuk Vincent Lim during the launch of ARCHIDEX.
The annual exhibition will feature 400 exhibitors with various opportunities to facilitate business growth and transformation, including forums, talks, product launches and business networking events. Also held concurrently is the DATUM Conferences, which is specially curated for architects and building industry professionals, highlighting critical issues, trends, solutions and opportunities that are aimed at inspiring participants and fostering the exchange of ideas.
PAM president Sarly Adre Sarkum said: "We believe that the architectural community will relish the ability to once again congregate for DATUM:KL and ARCHIDEX. These events have not only become a design and technical highlight but have also become a sort of social reunion for many in the profession and in the industry.
"I hope that this feeling of togetherness will spur many opportunities for the future. Recovery is definitely on everyone's mind and there will be a momentum towards prosperity, along with strong government support. The impetus of this will lead to a sustained period of recovery for everyone in the industry, especially architects," added Sarly.
A new theme and highlight at this year's ARCHIDEX is Future City, which will be a new future-focused concept of sustainability, infrastructure and buildings, society, future energy, smart mobility and smart economy. This showcase will be a sourcing platform for architects and designers seeking advanced materials and collaborations.
Another concurrent activity is The Forum @ PAM Pavilion, which will feature speakers who share their experiences and thoughts on topics such as air taxis, non-fungible tokens (NFTs), the metaverse and blockchains.
Other highlights throughout the exhibition include the Future City Ideas Competition, the ARCHITALENT Competition (ASEAN level), featuring 10 finalists, of which seven are local institutions and the rest international institutions, business networking and cocktail sessions, product launches, and business talks and conferences.
"As we gradually move into the endemic phase of Covid-19, an exhibition like ARCHIDEX is important because architects have been playing an important role in the construction sector where they are accountable for design and project planning, as well as the visual appearance of structures and constructions. The construction sector is also considered to be one of the main sources that contribute to the country's economic growth," said Deputy Works Minister Datuk Arthur Joseph Kurup.
Arthur added: "Every ringgit that we invest in the construction sector can create up to a three-time multiplier effect because when the construction of a project starts, there is an entire chain of suppliers involved, including architects, designers, steel and cement. This is where we have to ensure that the construction sector remains vibrant so that architects, designers and suppliers will always have a lot of projects and demand."
In addition, together with ARCHIDEX premier partner Taiwan Excellence, the exhibition will showcase 10 award-winning brands for Malaysian business players to have a closer look at products that improve user quality and safety. ARCHIDEX will also feature strategic partners such as Milwaukee Tool Malaysia, Topmix Resources Sdn Bhd, Ideal Standard and Armitage Shanks, and x'traseal.