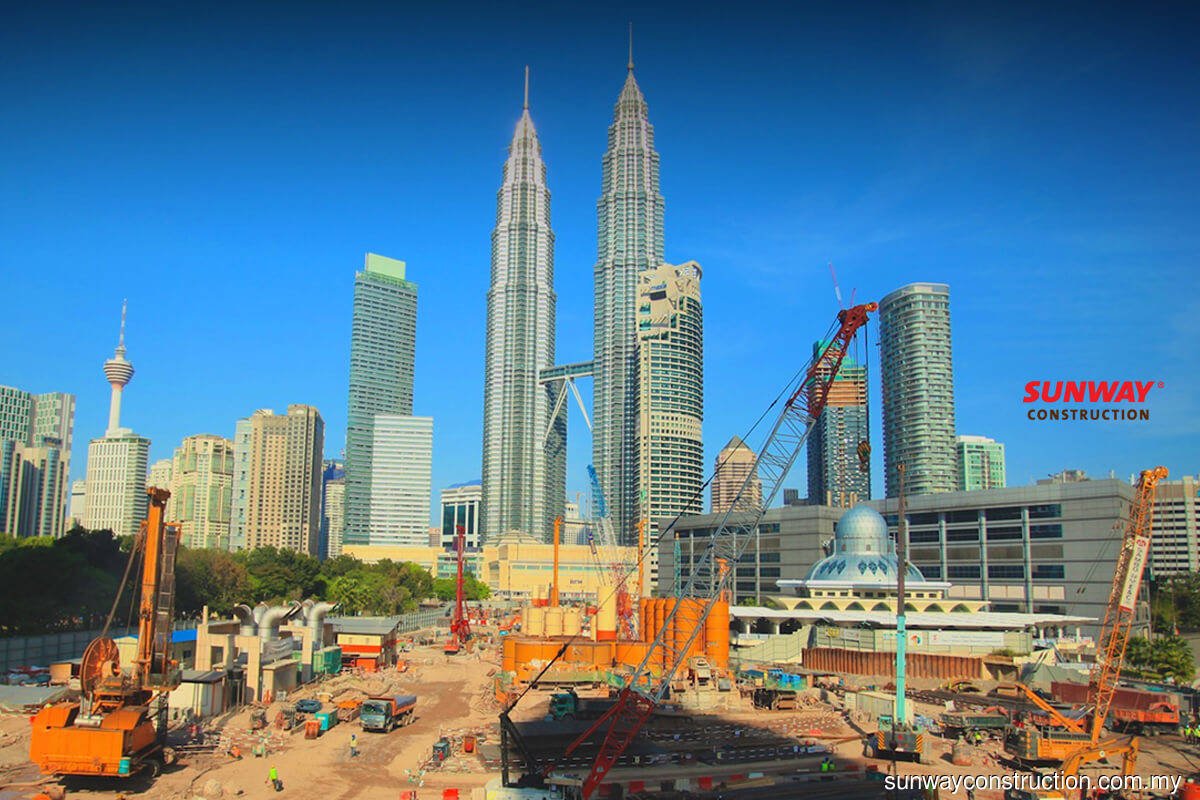 According to HLIB, SunCon hopes to increase its existing RM4.2 billion order book with multiple MRT3 bids and precast wins due to a strong pipeline.
KUALA LUMPUR (Oct 18): Sunway Construction Group Bhd (SunCon) could be poised for a better financial year in 2023 if it is able to augment its existing RM4.2 billion order book with multiple Mass Rapid Transit 3 (MRT3) bids as well as precast wins, riding on a strong pipeline, said Hong Leong Investment Bank (HLIB) Research.
The research house said in a report on Tuesday (Oct 18) that it expects a weaker second half ending Dec 31, 2022 (2HFY2022) for SunCon, as several projects from 1HFY2022 are approaching the tail end and releasing buffers to the profit and loss statement.
It said that with newly secured projects still ramping up, the earnings recognition cycle still not strong, and labour supply issues affecting the sector, there will be a weaker sequential top line and slight marginal deterioration.
"We have tweaked our FY2022/23 forecasts down by 5.4%/1.3%, but increased our FY2024 forecast by 4.5%, because of a delay in order book replenishment next year and slower contributions from the integrated construction and prefabrication hub (ICPH) plant.
"However, we maintain 'buy', with a target price of RM1.86 from RM1.90," it said.
HLIB also expects the ICPH plant to ramp up and start contributing positively by early 2023, as the plant is undergoing a commissioning process and could start before year end.
"The ICPH plant is a fully robotic automated precast plant, and with this, SunCon's precast product range expands to comprise large panel slabs, precast walls and tunnels for infrastructure projects, versus current prefab bathroom units", it said.
The research house also pencilled in total wins worth RM3.2 billion in FY2023, with RM2 billion from MRT3 and the balance from combining internal, precast, Light Rail Transit 3 (LRT3) and external jobs.
According to HLIB, SunCon hopes to increase its existing RM4.2 billion order book with multiple MRT3 bids and precast wins due to a strong pipeline.
HLIB noted key tender developments from SunCon, as it bids for the MRT3's CMC301 and CMC302 packages, undertaken through a joint venture/consortium with SunCon holding major stakes.
Outside of the MRT3, the group could secure roughly RM200 million to RM300 million from a residential project, as well as benefit from an increased scope of the LRT3 (an additional RM1 billion) should it materialise next year.
HLIB added that awards of these packages could come in the first quarter of 2023 if there are no drastic policy changes post 15th general election (GE15).
In the labour sector, SunCon has been receiving more workers, and expects roughly another 250 foreign workers by the end of October, bringing its tally of direct foreign hires to 400-500.
This still falls below its pre-pandemic level of 600-800, and it is reasonable to expect higher labour requirements with order book levels likely to go up next year, HLIB said. "We think that the number should gradually go up, but inflated daily wage rates are likely to persist as rates for general workers have surged by 30%-50% this year, while skilled rates have gone up further.
"Apart from that, the implementation of a multi-tier foreign levy could result in a blended 20%-30% increase in levies, and this does add to the sector's inflationary cost burden, though marginal," it added.
"SunCon is well positioned to partake in various infrastructure roll-outs ahead, and if there are no major policy changes post GE15, the current share price weakness leads us to see it as a good entry point," HLIB concluded.