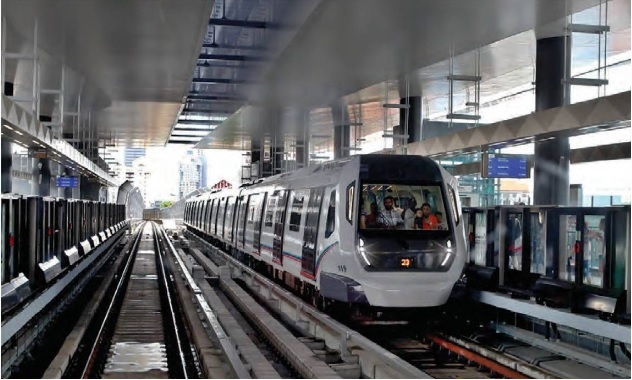 "Rapid Rail Sdn Bhd, a subsidiary of Prasarana, as the operator, and MRT Corp, as the asset owner, are currently running extensive testing of the service."
KUALA LUMPUR (Jan 10): Prasarana Malaysia Bhd is projecting an increase in average daily ridership across all its rail and bus services from 722,000 last year to 1.2 million in 2023, with the full opening of the Mass Rapid Transit (MRT) Putrajaya Line in March.
President and group chief executive officer Mohd Azharuddin Mat Sah said an estimated 100,000 people will benefit daily in the first year of the full opening, and demand is expected to increase year-on-year.
"The opening of the entire Putrajaya Line will be one key milestone for Prasarana this year," he told Bernama in an interview.
Phase 1 of the MRT Putrajaya Line, which runs 17.5km and comprises 12 stations, was launched on June 16, 2022.
The entire Putrajaya Line will span 57.7km, with 36 stations from Kwasa Damansara to Putrajaya, covering key, high-density areas such as Bandar Sri Damansara, Kepong, Batu, Jalan Sultan Azlan Shah, Jalan Tun Razak, Persiaran KLCC, Kuchai Lama, Seri Kembangan, Cyberjaya, and Putrajaya.
Asked on the opening date for Phase 2, he said the exact date would be announced by Mass Rapid Transit Corp Sdn Bhd (MRT Corp), the rail contractor and developer.
"Rapid Rail Sdn Bhd, a subsidiary of Prasarana, as the operator, and MRT Corp, as the asset owner, are currently running extensive testing of the service," he said.
Mohd Azharuddin explained that it was one of the prerequisites set by the authorities to test and measure the effectiveness of the system before approvals to fully open can be given by the Land Public Transport Agency.
"It is important to note that Prasarana as the rail operator will assume our task after MRT Corp hands over the assets to us," he said.
He also said the full opening of the MRT Putrajaya Line will provide better opportunities to small businesses and industry owners, as was seen by the extension of the Light Rail Transit (LRT) network to Putra Heights.
Elaborating more on the focus for 2023, he noted Prasarana aims to increase service reliability, especially for the rail systems, and public transport users could expect improved peak-hour headway, as train frequencies are increased to more acceptable levels.
"For the LRT Kelana Jaya Line, most trains on this line are currently undergoing a special inspection and overhaul programme," he said, adding that only fit and safe trains would be released for service.
Coupled with the addition of new trains, he expects the frequency to be increased to three minutes by September 2023, while for the MRT Kajang Line, the peak-hour frequency would be increased to four minutes by August 2023.
"This is the result of progressive wheel replacements from June 2022 to December 2024 due to earlier-than-expected wheel deterioration," he said.
Mohd Azharuddin also noted that the frequency of KL Monorail would be increased to five minutes in the fourth quarter of 2023.
"Since May 23, 2022, we have been using four-car trains in service. Continuation of this effort this year will result in higher efficiency and better reliability," he added.