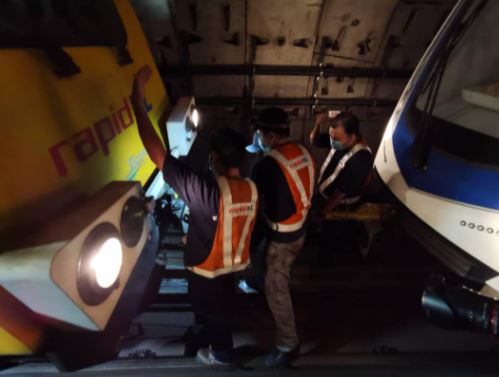 All of them claimed to have suffered physical injuries and other losses as a result of the crash.
KUALA LUMPUR (March 27): Eight individuals who claimed to have been involved in the Kelana Jaya Light Rail Transit (LRT) crash in May 2021 have filed a lawsuit against Rapid Rail Sdn Bhd and Prasarana Malaysia Bhd for alleged negligence over injuries sustained.
The plaintiffs are Tengku Amalie Tengku Alauddin Shah, 47, Marvena Jitol, 28, Riezariel Haeqal, 23, Rozita Che Rus, 28, Ng Siow Nee, 36, Siti Nuraliah Hashim, 26, Nurul Athirah Mohd K Jabayee, 36, and Muhammad Firdaus Mohd Saleh, 35.
They filed the suit through Messrs Vin Partnership at the High Court here last March 9, naming Rapid Rail and Prasarana Malaysia as the first and second defendants.
Based on the statement of claim, all the plaintiffs said they were physically and mentally healthy prior to the incident.
They claimed to be on the Kelana Jaya LRT train before it collided with another train between the Kampung Baru LRT Station and the KLCC LRT Station and that the crash occurred due to the negligence of the two defendants.
All of them claimed to have suffered physical injuries and other losses as a result of the crash.
The first and second defendants failed and were negligent in ensuring the safety of passengers, as well as the safe use of the train by passengers, they said.
The plaintiffs also referred to remarks on the crash by then Prasarana non-executive chairman Datuk Seri Tajuddin Abdul Rahman at a press conference, accusing him of being cynical.
Tajuddin had joked during the press conference by saying the trains 'kissed each other'.
The plaintiffs are seeking more than RM860,000 in special, general and exemplary damages, as well as 5% interest, costs and other relief deemed fit by the court.
Checks on the judicial website, found that the matter is set for case management Deputy Registrar Mohamad Hafizul Awang on April 11.
In the accident at 8.45pm on May 24, 2021, a total of 47 train passengers were reported to be seriously injured, while 166 suffered minor injuries when a head-on collision occurred between a manually-driven empty train and an automated train carrying passengers on the Kelana Jaya line between Kampung Baru and KLCC stations here.