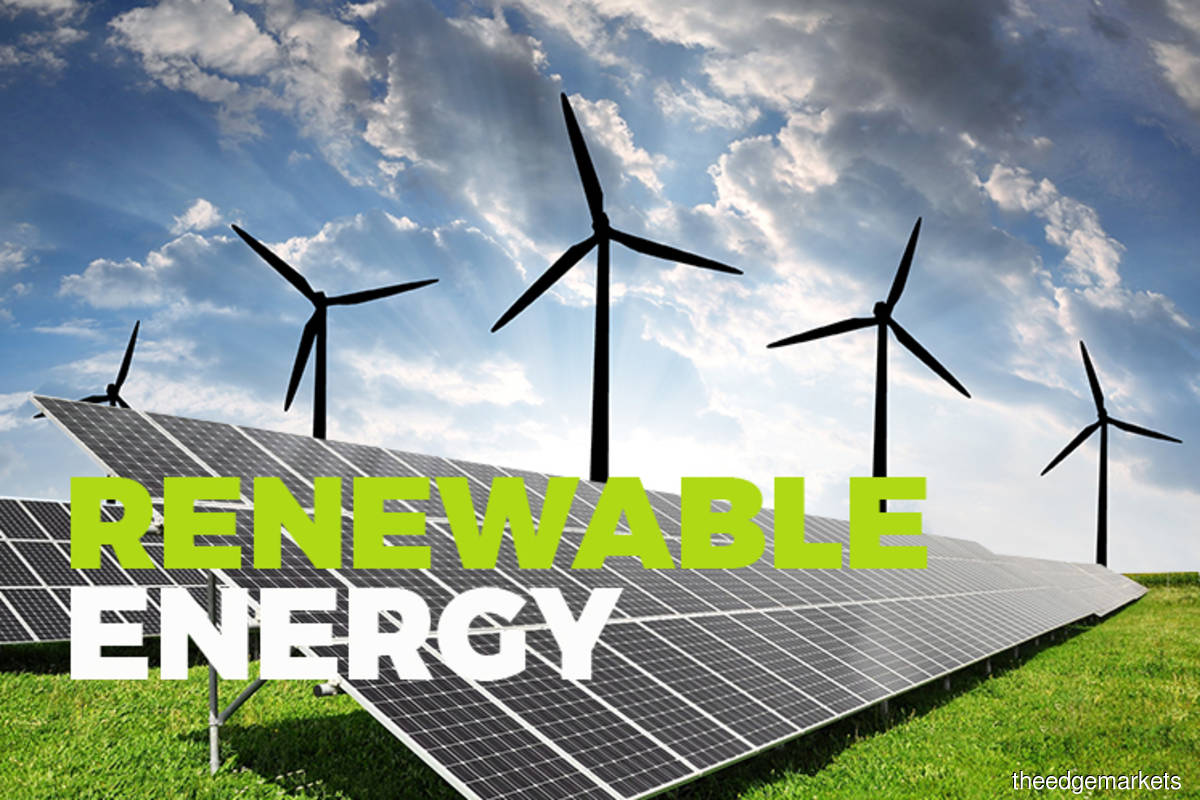 The "cross-border RE sale will be conducted via an electricity exchange system to be set up by the government", Rafizi said.
KUALA LUMPUR (May 9): The government has lifted the ban on exports of renewable energy (RE), as part of a policy review to enable debottlenecking of the growth in the energy industry, said Economy Minister Mohd Rafizi Ramli.
At a joint press conference with Natural Resources, Environment and Climate Change Minister Nik Nazmi Nik Ahmad, Rafizi said the government is also committed to introducing "more RE programmes based on a willing buyer, willing seller basis" to induce private-sector participation.
The "cross-border RE sale will be conducted via an electricity exchange system to be set up by the government", Rafizi said.
The policy updates were decided by the Cabinet last week, taking into account rising demand for RE in the region, Rafizi added.
Along with the RE export ban lift, the government is also raising its 2050 RE generation capacity target to 70% of the nation's total, Nik Nazmi said, compared with its previous target of 40%.
This means that Malaysia will essentially need to more than double its future RE installation in the period, compared with previous projections. Malaysia currently has 20% of its energy generation capacity coming from RE, such as solar and hydro.
"The government's decision to allow RE exports comes with certain regulations," Nik Nazmi said.
"For example, Malaysia already purchases hydro power from Laos. This [policy] will allow Malaysia to become a regional RE generation hub," he added.
He pointed to Malaysia's position at the centre of Asean, which has continuously revisited the idea of the Asean power grid, where electricity sale is conducted across countries to optimise resources.
With the announcement, it will be interesting to watch the mechanism to sanction future RE projects.
Over the years, the government has used a reverse bidding mechanism under large-scale solar (LSS) awards for installation of solar plants above 10MW, and up to 100MW. The last LSS round was awarded in March 2021, covering 823.06MW.
In the last year, the government has introduced more RE-related programmes, such as the Corporate Green Power Programme (CGPP) to encourage solar power producers and commercial power consumers to partner up to commission new RE power generation capacity at up to 30MW per project, including non-solar RE.
Demand for RE is rising among environmental, social and governance (ESG)-conscious companies in the region, which leads to countries looking to secure more RE investments and supply. Land-scarce Singapore, which has a target to secure RE capacity of up to 4,000MW by 2035, is seeking to import RE from neighbouring countries.
The RE export ban lift follows a review, which was initiated two months ago on March 9. The export ban was imposed in October 2021 by then energy minister Datuk Seri Takiyuddin Hassan.
At the time, the Datuk Seri Ismail Sabri Yaakob-led government allowed exports of up to 100MW of conventional energy to Singapore. It also allowed exports of conventional power to Thailand, but required the exporter to build a new dedicated interconnection for the purpose.
Meanwhile, Rafizi said the government is allocating RM50 million to install solar panels on government buildings in the second half of the year, with more allocations to be provided under development expenditure in the future.
It is also looking at expanding the self-consumption model, he added.
Recall that the government has allocated a 100MW quota under the current net energy metering (NEM) programme ending this year for government buildings, of which just 34MW has been taken up.
In March, Nik Nazmi also introduced an additional quota of 630MW across CGPP and NEM programmes as part of efforts to increase take-up.
The policy updates are part of "a long-term plan to loosen the dependency on electricity generation that relies on feedstock", the ministers said.