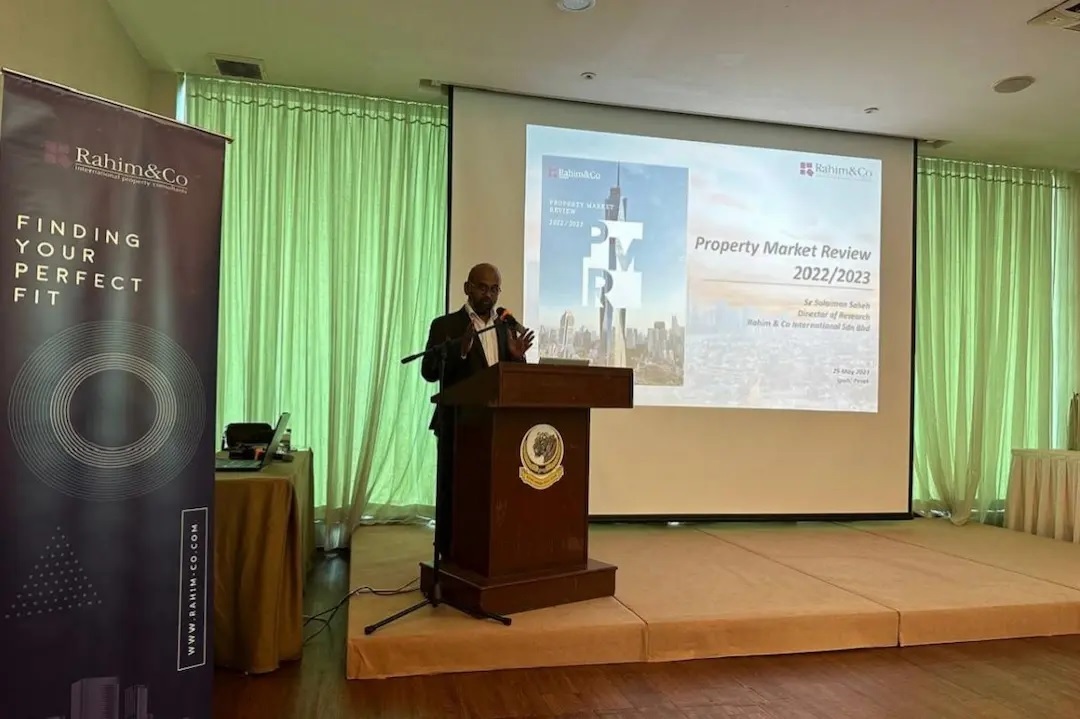 The firm's director of research Sulaiman Saheh highlighted that there were 89,179 transactions worth RM42.31 billion in 1Q2023 compared to 1Q2019, which had 84,424 transactions worth RM36.97 billion before the pandemic.
IPOH (May 26): Rahim & Co International Sdn Bhd, in its 1Q2023 Property Market Review event on May 25 (Thursday), stated that although the property market witnessed a momentary slowdown in 1Q2023 as the volume of transactions fell by 5.7% compared to 1Q2022, the numbers remain higher than pre-pandemic levels corresponding to the first quarter performance. The value of transactions, on the other hand, increased by 0.8% against 1Q2022.
The firm's director of research Sulaiman Saheh highlighted that there were 89,179 transactions worth RM42.31 billion in 1Q2023 compared to 1Q2019, which had 84,424 transactions worth RM36.97 billion before the pandemic.
For background, Rahim & Co held a launch event for its Property Market Review Report 2022/2023 on Feb 9 and provided an outlook that the residential and industrial property subsectors showed signs of positive growth while others were poised to follow suit but at a slower pace for 2023.
Similarly, Sulaiman pointed out that the industrial subsector has been taking the lead by showing positive growth in the first quarter. Although the subsector's volume of transactions dipped by 4.2% in 1Q2023 in comparison to 1Q2022, its value of transactions had increased by 8.6%.
"We generally use transaction activities as indicators only. The total value of industrial transactions has increased so the demand for industrial properties is still going strong but it's important to note that it's growing strong towards different niches such as highly efficient manufacturing facilities as well as fully integrated industrial parks and logistics hubs.
"It is not the regular terraced factory units, but rather custom-built units and managed industrial parks that are seeing the demand. The aspect of environment, social and governance (ESG) has become a huge criterion for multinational companies and larger organisations when selecting an industrial property in Malaysia. Although [the] industrial [subsector] is showing strong growth, developers should be prudent about wanting to set up industrial properties everywhere. It's important to understand the market and its niche," Sulaiman added.
Some upcoming major industrial developments include the Batu Kawan Industrial Park 2 and Silver Valley Technology Park (SVTP) in Perak as well as the Kertih Terengganu Industrial Park in Terengganu.
Sulaiman added that recently, the Perbadanan Kemajuan Negeri Perak had signed an agreement with Jinjing Silicon Technology Sdn Bhd to develop a built-to-suit mineral processing plant on a 4.81ha site in SVTP. The RM40 million zero-waste processing plant is expected to begin operations by 3Q2024.
Meanwhile, the residential subsector witnessed a 6.6% decrease in volume of transactions as well as a 9.1% dip in value of transactions for 1Q2023 compared to 1Q2022. Sulaiman believes the reduced number of new launches, inflation worries and overnight policy rate (OPR) hikes from last year have affected buyer sentiments.
Sulaiman added that the hike in OPR since last year has also shown a slowdown in loan applications among borrowers.
"Between August 2022 to January this year, the number of loans applied for residential property purchases had consistently dropped from RM41.78 billion in August 2022 to RM26.69 billion in January 2023. But a quick rebound was seen for February and March this year, up to RM36.38 billion [for February] and RM45.22 billion [for March]," he said, adding that this is most likely in response to the pause in OPR hike during that time.
"But after this hike, we expect things to slow down momentarily but we also foresee the market to continue. We do expect another hike from 3% to 3.25% and when that happens the market will be on a reflex basis and slow down a little. We do expect a momentary slowdown but it will eventually stabilise.
"Another impact that we may see is people rushing to buy properties because they might be afraid that there will be more hikes moving forward," he shared.
For the office and retail subsectors, Sulaiman explained that it would remain a challenge for the subsectors to return to pre-pandemic levels.
"The office [subsector] continues to face a saturated environment of high supply against a stagnant rental demand and there are growing trends in decentralised locations. Rental and occupancy rates are still under pressure as they are influenced primarily by relocation activities rather than brand-new tenancies.
"For retail supply, the sector is still facing occupancy pressure although demand by consumers is normalising. However, with e-commerce and digital lifestyle trends making waves, I foresee it encouraging more retail players to re-strategise to provide better offerings," Sulaiman shared.