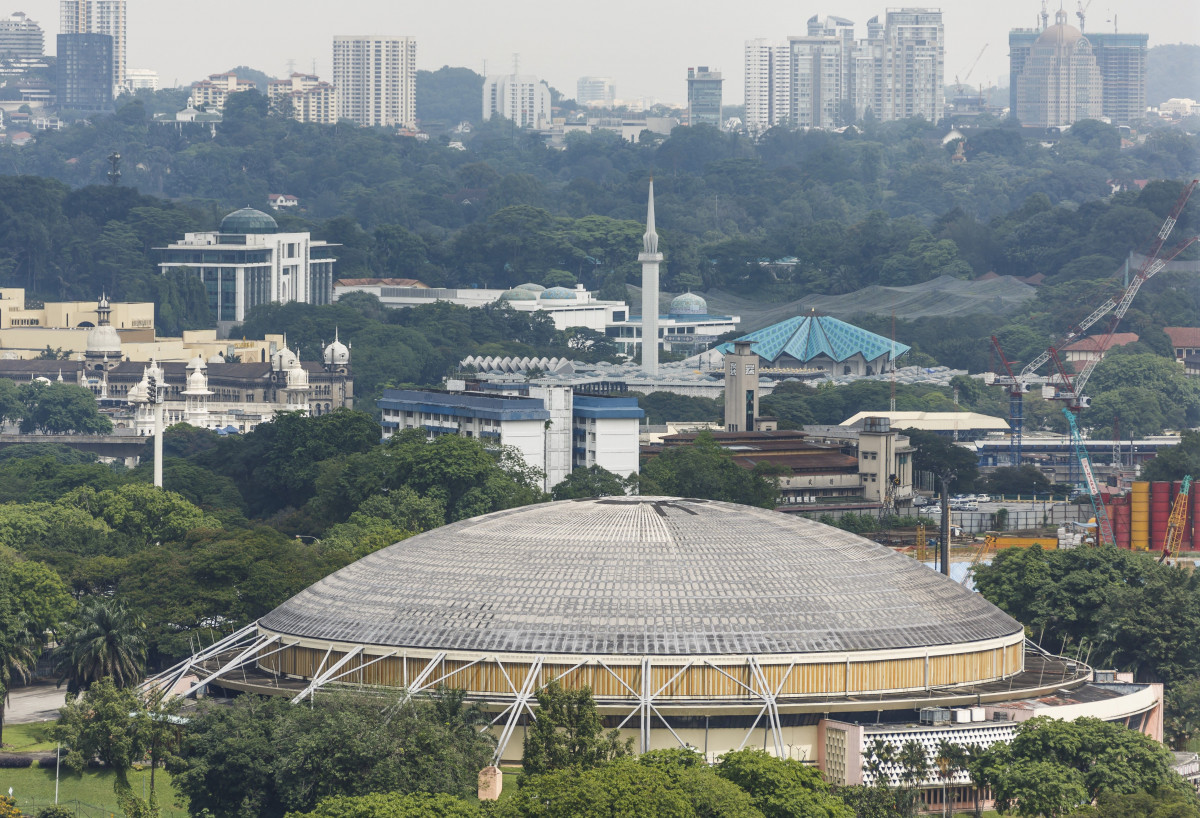 Post-Merdeka, Malaysia's architectural landscape underwent a transformative journey that marked the nation's aspirations and echoed its newfound democratic spirit.
The transition from colonial rule brought forth a pressing need to redefine national values, language, and education, all while nurturing a sense of unity. Led by Malaysia's first Prime Minister or Bapa Kemerdekaan, Tunku Abdul Rahman Putra Al-Haj, the nation was guided towards a future of freedom, stability and prosperity.
A multitude of structures emerged in the years following our independence, both to fulfill public needs and to represent the vision of a young democratic country. The most evident shift, particularly within the capital, was the departure from neo-classical designs to modernist architecture.
Here is a chronology of the buildings that came post-independence – each an urban landmark to remind us of the nation's resilience and progress.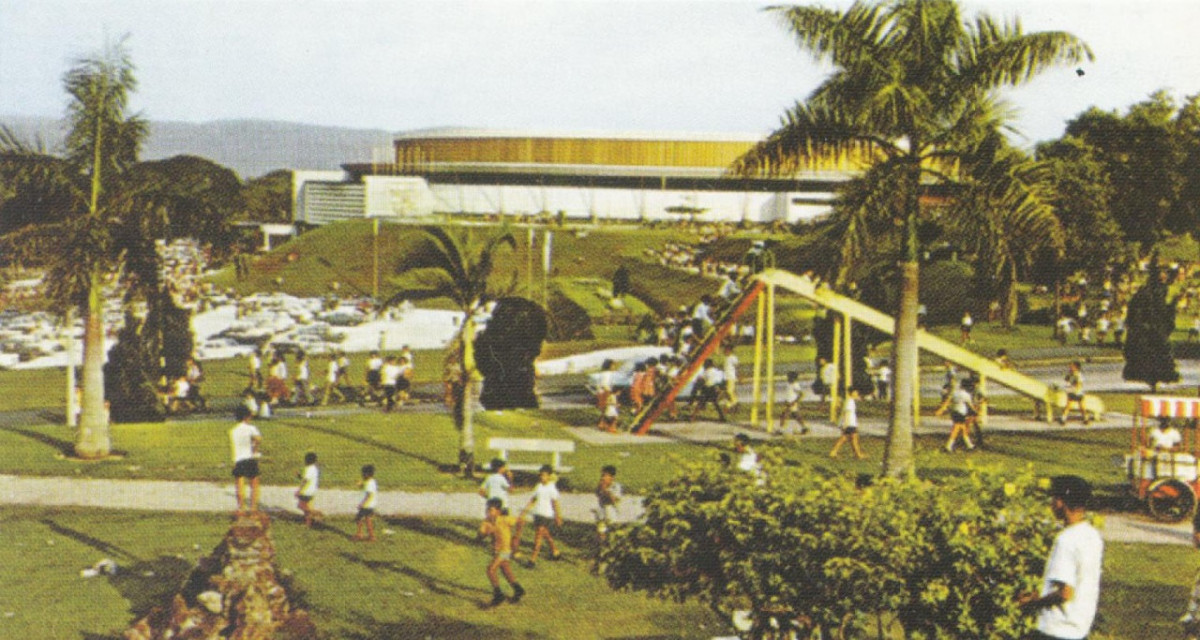 Then: Merdeka Park, 1958
Now: Merdeka 118
Merdeka Park was established not long after the nation gained independence. Originally named after the first PM, Tunku Abdul Rahman Park, it was later renamed to Merdeka Park. "Shortly after independence, the late Tunku Abdul Rahman made an emotive statement and commissioned a plan to design a park for all people and all times, which was Tunku Abdul Rahman Park or Merdeka Park (opened in 1958)," said Robert Powell, author of New in the Old: Chinatown Kuala Lumpur, in a media report.
Read also:
Ride at eight metres per second to reach The View at 118
YPLab gets young people to propose future city plans that leave no one behind
Old areas around Merdeka 118 to be reimagined from young minds through YPLab
The park served as a sports ground for football, hockey and rugby, and featured miniature caves alongside the iconic Merdeka Sundial. It was a beloved spot for kids, families and friends then. Despite plans for a grander development in the 1990s, the park had remained a carpark for years until the construction of the towering landmark, Merdeka 118.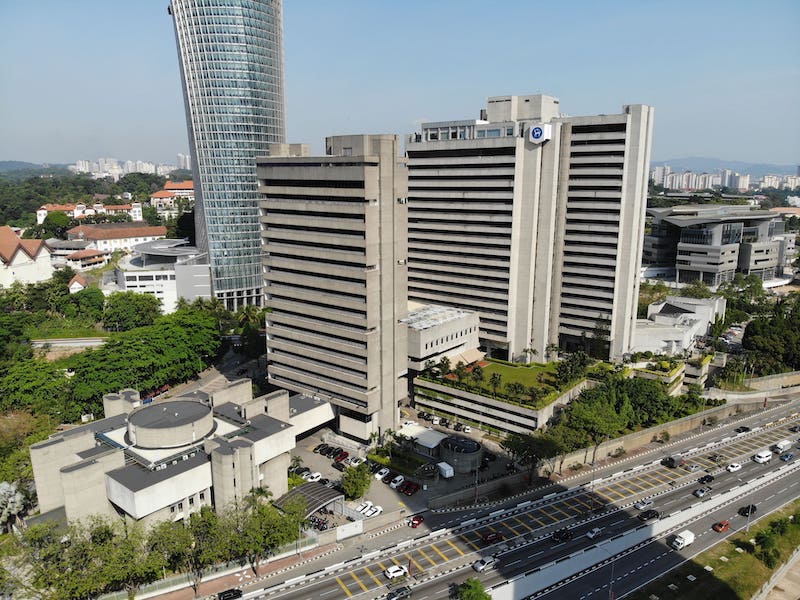 Then and now: Bank Negara Malaysia, 1959
In 1955, the World Bank issued a report suggesting the establishment of a central bank in Malaya. This led to the birth of Bank Negara Tanah Melayu, which began operations on Jan 26, 1959. It later changed its name to what we know today as Bank Negara Malaysia in 1963. Designed by Nik Mohamed Mahmood of the Public Works Department (PWD), the bank headquarters predominantly embraced the Brutalist architectural style and symbolised the strength and stability of the Malaysian economy. The new headquarters opened its doors on May 15, 1971.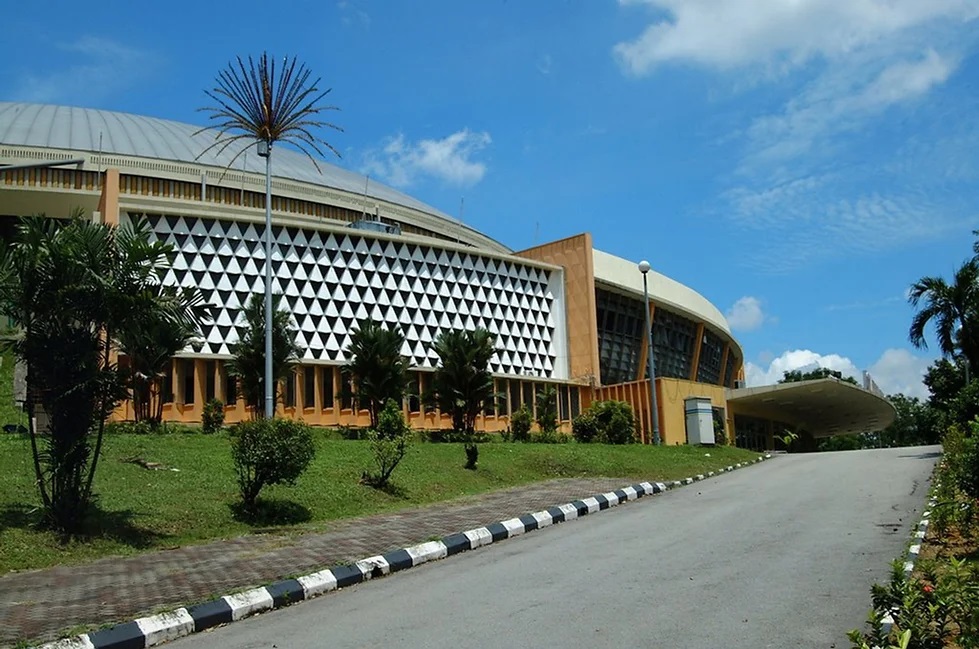 Then and now: Stadium Negara, 1962
Malaysia and Southeast Asia's first indoor stadium, it stands as one of the nation's largest purpose-built indoor venues, capable of accommodating over 10,000 visitors. Opened on April 19, 1962, the stadium was designed by architect Stanley Jewkes. It was one of the earliest examples of modernist architecture in Malaysia after Merdeka that hosted significant events including those featuring the legendary boxer Muhammad Ali. Prior to his monumental fight at Stadium Merdeka, Ali conducted his practice sessions at Stadium Negara and drew hundreds of fans.
In 1982, the stadium underwent renovations. It later hosted the prestigious Thomas Cup in 1992, which Malaysia won, and concerts featuring international acts like Kanye West, Bon Jovi, Kylie Minogue and many more. In October 2005, Stadium Negara became a National Monument under the National Heritage Act 2005.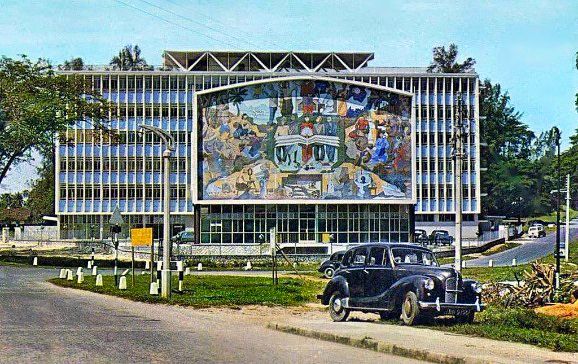 Then: Dewan Bahasa dan Pustaka, 1962
Now: Wisma DBP
Initially located in a former hospital ward building on Jalan Young, Kuala Lumpur, Dewan Bahasa dan Pustaka (DBP), the government body entrusted with overseeing the use of Bahasa Malaysia, moved to its current facility on Jalan Lapangan Terbang Lama (now Jalan Dewan Bahasa) on 31 January 1962.
This shift marked DBP's commitment to elevating Bahasa Malaysia to the status of the nation's official language post-independence, as well as catering to the agency's expanding requirements. Designed by the renowned local architect Dato' Y.T. Lee, the building stands as a marvel of modernist architecture with a striking 65 by 25-foot glazed mosaic mural designed by Ismail Mustam. It is now known as Wisma DBP.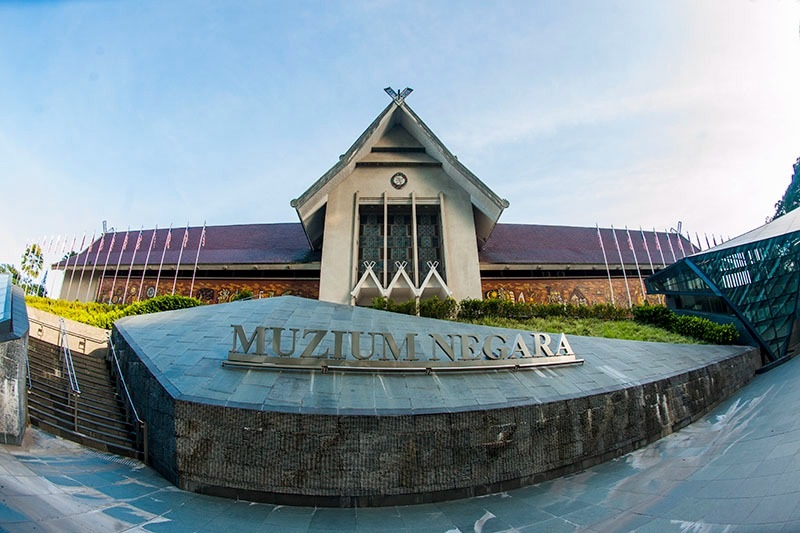 Then and now: Muzium Negara, 1963
Muzium Negara preserves the nation's rich historical heritage in the heart of Kuala Lumpur. Initiated by Tunku Abdul Rahman, the idea emerged from a desire to offer Malaya (at that time) a distinct national museum encompassing culture, heritage and nature aspects. It was erected on the former grounds of the Selangor Museum, which had been destroyed during World War II in March 1945.
The building's design was crafted by the appointed architect, Ho Kok Hoe, who drew inspiration from the architectural traits of Malay Kings' palaces. A distinctive feature of its era, Muzium Negara stood as the sole government building aligned with traditional Malay architecture. The facade boasts two grand murals crafted from Italian glass mosaic – one side illustrating pivotal historical moments, the other showcasing Malaysia's craftsmanship.
On Aug 31, 1963, the museum officially opened its doors to the public, and in August 2015, it received the National Heritage Building recognition under the National Heritage Act 2005.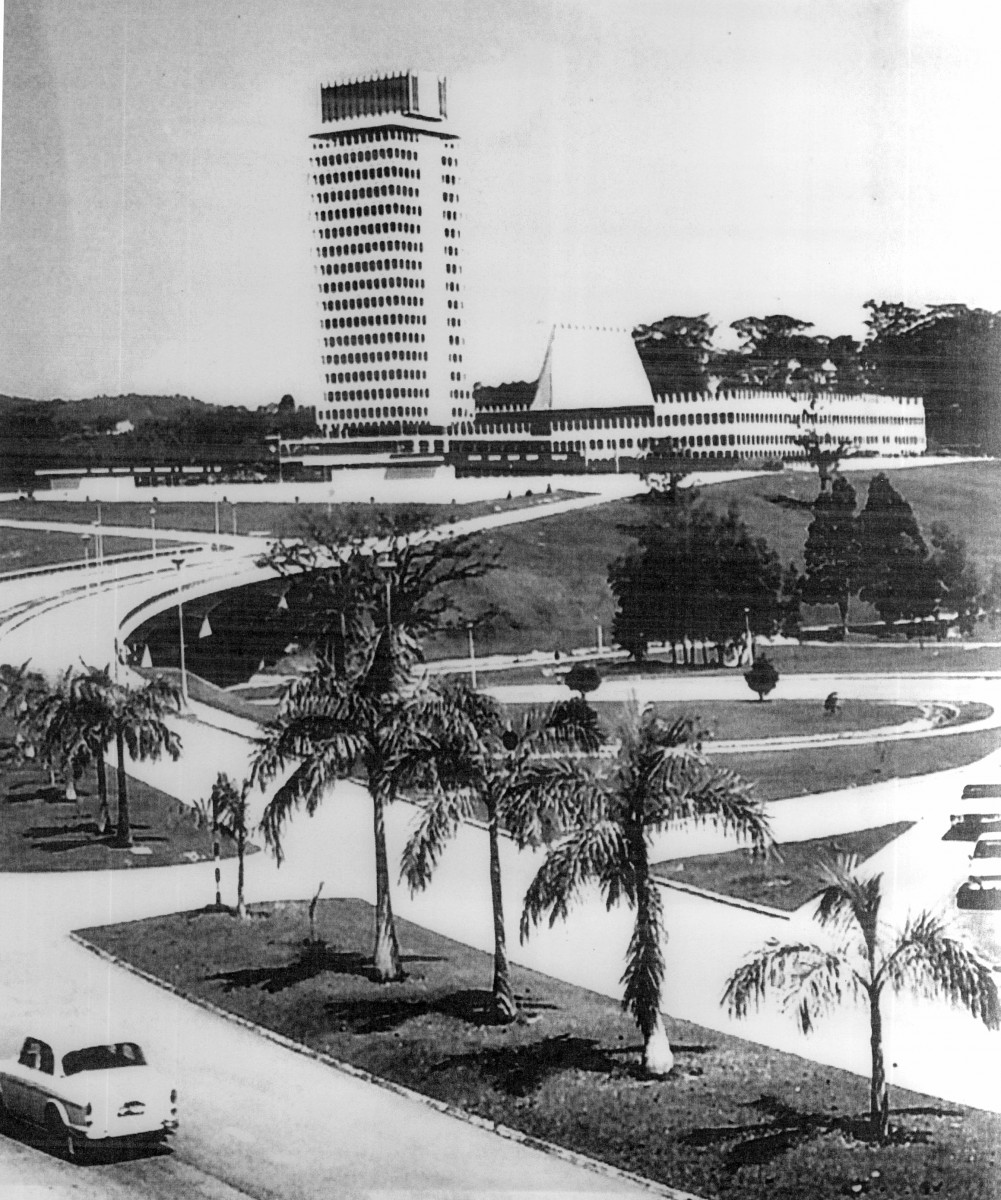 Then and now: Parliament Building, 1963
The Malaysian Houses of Parliament serve as the assembly place for Dewan Rakyat and Dewan Negara. The construction of the Parliament Building was conceived by Tunku Abdul Rahman, who wanted a dedicated building for Parliament.
This led to a 16.2-hectare site near Lake Perdana, KL chosen in 1959 because of its strategic hillside location and near to the city centre. One of Malaysia's earliest modernist structures, it consists of a 3-storey main building and a 17-storey 77m tall tower, and is connected to KL via a bridge. Once the city's tallest building, the Parliament Building was gazetted as National Heritage Building in 2007 under the National Heritage Act 2005.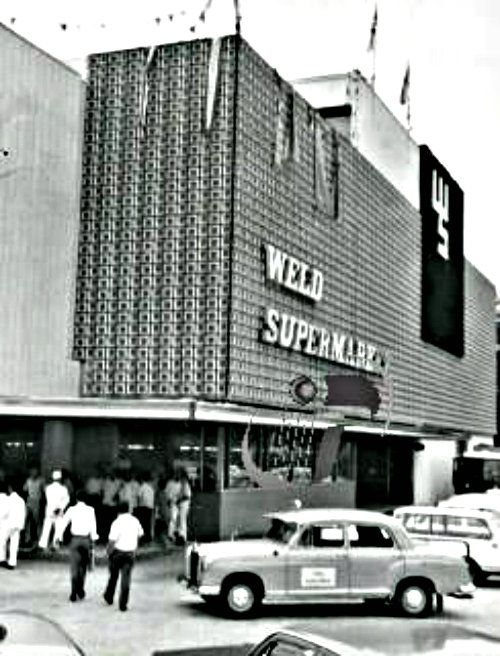 Then: Weld Supermarket, 1960s
Now: The Weld Shopping Centre
Supermarkets came into existence around 1963 after Merdeka, a time when electricity became readily available for retailers. This allowed for the introduction of refrigeration. It gave birth to Weld Supermarket, the city's first supermarket which opened during the 1960s. The patrons of supermarkets were mainly Europeans and expatriates at that time. In the late 1980s, the original supermarket was demolished and replaced by The Weld Shopping Centre, which later saw the addition of an office tower in 1994.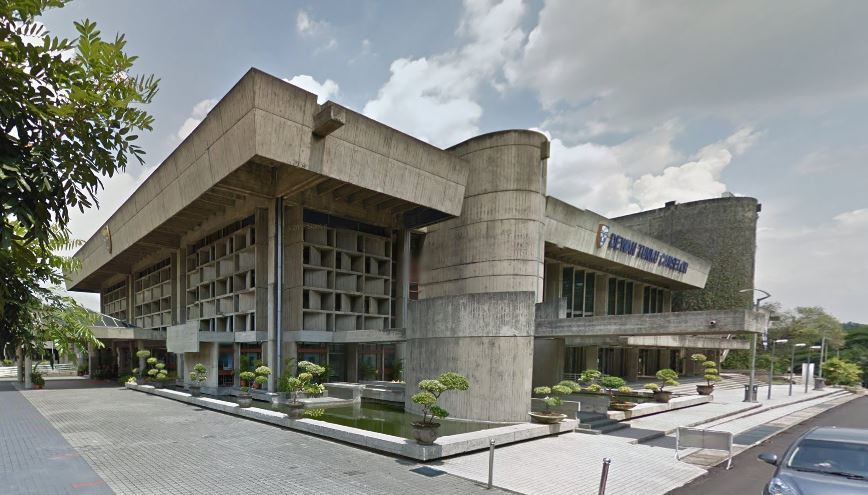 Then and now: Dewan Tunku Canselor, Universiti Malaya, 1965
Universiti Malaya (UM), the first university of the nation, was established on Jan 1, 1962 at its current location, a 750-acre campus in the southwest region of KL. The university's master plan consisted of various structures including lecture halls, faculty and administrative buildings, student hostels, facilities as well as Dewan Tunku Canselor (DTC).
Built in 1965, DTC stands as an iconic structure within UM with its brutalist and modernist architectural styles. The 2.5-storey hall was designed by renowned Malaysian architect Datuk Kington Loo, along with Chris Bailey from the architectural firm Boothy, Edwards and Partners. It was officially opened by the first PM and the first chancellor of the university, Tunku Abdul Rahman on June 25, 1966.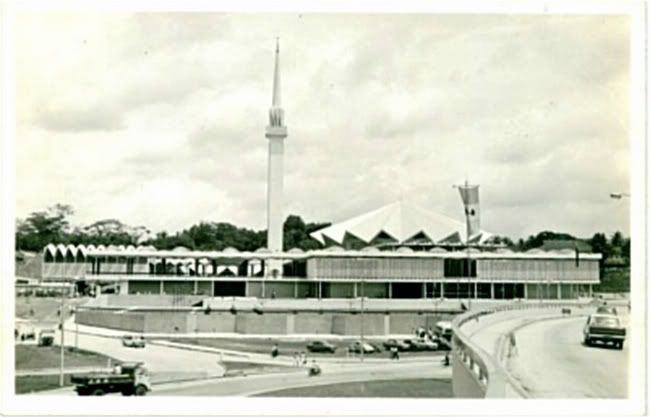 Then and now: Masjid Negara, 1965
The idea to construct Masjid Negara emerged from Tunku Abdul Rahman during a Federal Executive Council meeting on July 30, 1957. With Merdeka just a month away, he believed a national mosque could symbolise the nation's peaceful independence achievement. A year later, the notion of naming the mosque after Tunku Abdul Rahman arose in recognition of his nation-building efforts. Humbly, he declined, and instead named it Masjid Negara as a homage to the nation itself.
Masjid Negara officially opened on Aug 27, 1965 and quickly gained fame as the largest mosque in the country, encompassing a two-hectare compound. Its modernist architecture, a refreshing departure from the western-designed colonial buildings of the 1960s in KL, was designed by architects Baharuddin Abu Kassim, Hisham Albakri and Howard Ashley.
Unlike traditional domed mosques, Masjid Negara's roof design mirrors an open umbrella, symbolising Malaysia's sovereignty under the Yang di-Pertuan Agong. Simultaneously, the 75m-high minaret's top resembles a closed umbrella, signifying the unity and strength of the people.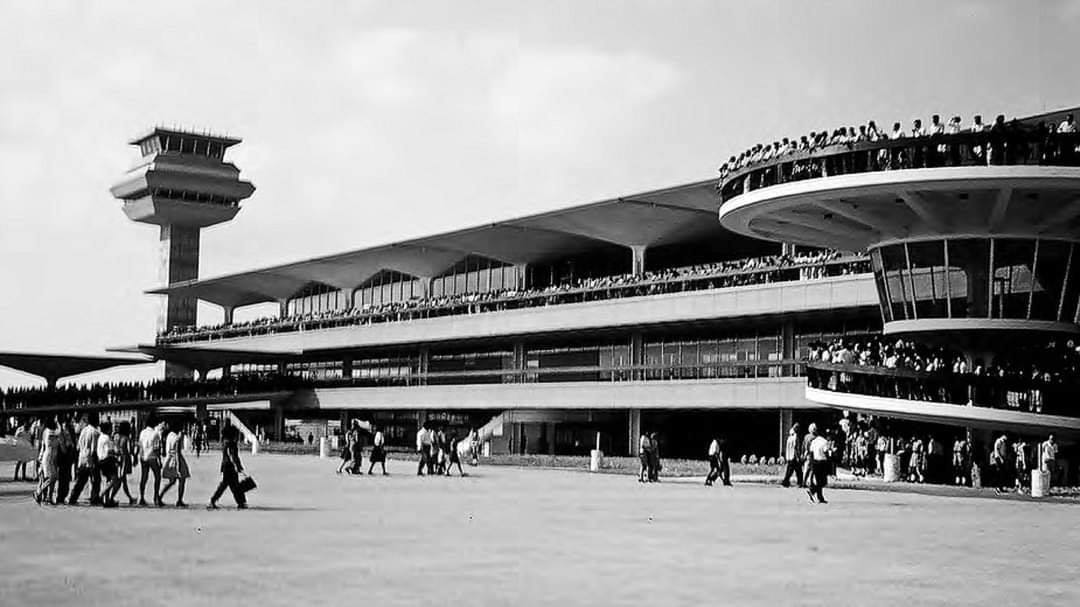 Then: Subang International Airport, 1965
Now: Subang SkyPark Terminal
The Subang International Airport was not the Klang Valley's first international airport. KL actually already had its first international airport in Sungai Besi in the early 1930s, but it only achieved its international status on Aug 1, 1956. Due to rapid post-Independence growth in the surrounding areas and a runway aligned with a mountain range, the airport development was hindered. This prompted Tunku Abdul Rahman to initiate plans for a new airport.
A location 19km from the city, situated between the Subang water catchment area and the Sungai Buloh Forest Reserve was picked. On Aug 30, 1965, the new airport in Subang was officially opened and boasted the longest runway in Southeast Asia then, measuring 3.5km in length and 45m in width.
This modernist architecture airport suffered from a few deadly fires in the early 1990s. Burdened by overwhelming demand, the government began to explore another location for a more appropriate international airport, which led to KL International Airport in Sepang, Selangor. Meanwhile, its Subang counterpart is now known as Subang SkyPark Terminal. This airport serves as the primary hub for Firefly, Malindo Air, and Berjaya Air, in addition to private and corporate aircrafts.
Fun fact: Subang International Airport was built with the runway engineered to endure the existing and future aircraft types such as the supersonic models.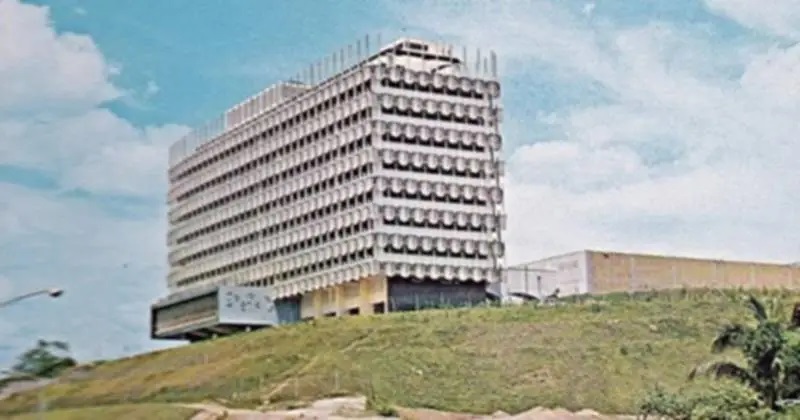 Then: Angkasapuri, 1968
Now: Angkasapuri Kota Media
The Angkasapuri building serves as the headquarters of Radio Television Malaysia (RTM). It was designed by Canadian architect Nicholas James Pappas, combining brutalist and international styles in its architecture. Named Angkasapuri, it was inaugurated by Tunku Abdul Rahman on Jan 17, 1968. The Angkasapuri complex marked the onset of rapid advancements in broadcasting for both radio and television.
The National Radio Channel (Rangkaian National) started its first 24-hour radio services to cater for night-shift employees. This was followed by the first colour TV transmission during the broadcaster's 15th anniversary. Last October, the ninth PM Datuk Seri Ismail Sabri Yaakob launched Angkasapuri Kota Media (Angkasapuri Media City), a new building within the complex intended to be the national broadcasting icon.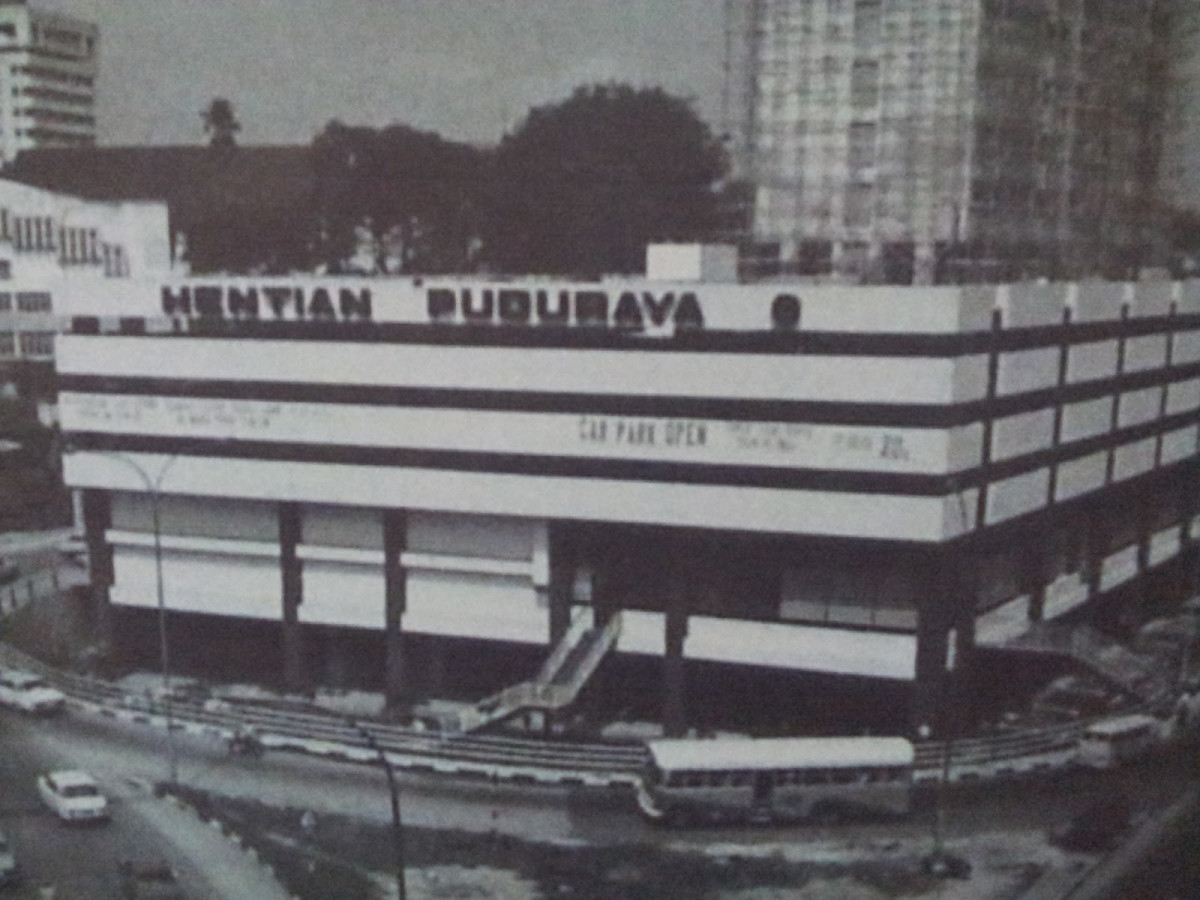 Then: Hentian Puduraya, 1976
Now Pudu Sentral
Hentian Puduraya, also known as Puduraya station, is KL's earliest and primary bus terminal. It was inaugurated in 1976 by the third PM, Tun Hussein Onn. Previously a dam, the hub serves as the departure and arrival point for long distance buses traversing Peninsular Malaysia, in addition to routes to Singapore and Thailand.
Puduraya experienced extreme busyness, particularly during public holidays and festive seasons. To alleviate severe congestion in the area, the Terminal Bersepadu Selatan (TBS) was opened in 2011 in a different part of the city. After undergoing a massive renovation, Puduraya reopened on Aug 27, 2011 and was subsequently renamed Pudu Sentral because of its modern and advanced amenities.
Fun fact: According to former PM Datuk Seri Najib Razak, the new name "Pudu Sentral" was a suggestion from one of his Twitter followers.
Malaysia continues to see rapid development and transformation for its capital city KL from the 1980s up till now, particularly under former PM Tun Dr Mahathir Mohamed's first tenure. Iconic skyscrapers such as KL Tower and Petronas Twin Towers were built in the 1990s, when the latter were once the world's tallest buildings when they were completed in 1996. In 2016, Najib launched the highly anticipated Merdeka 118 megatall skyscraper that is set to be the world's second tallest tower once it is ready.
Looking to buy a home? Sign up for EdgeProp START and get exclusive rewards and vouchers for ANY home purchase in Malaysia (primary or subsale)!