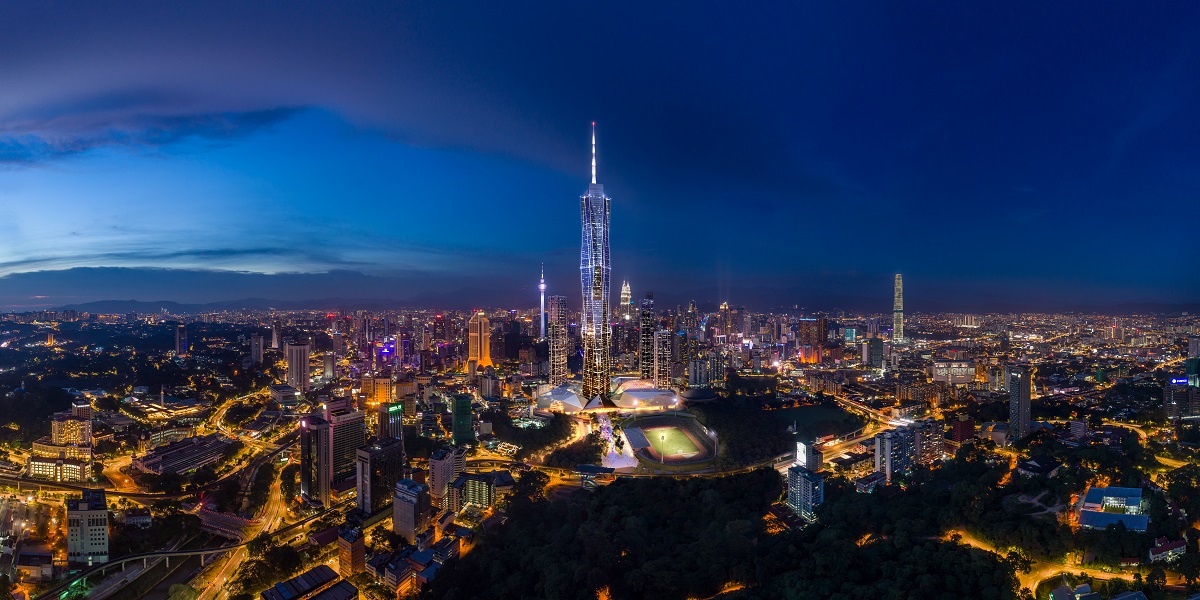 Sitting 500m above the ground, The View at 118 is the highest observation deck in Southeast Asia, offering a stunning panoramic vista of Kuala Lumpur.
KUALA LUMPUR (Aug 30): It only takes 65 seconds to get up to The View at 118, the observation deck of Merdeka 118 from the ground floor, according to Tengku Datuk Ab. Aziz Tengku Mahmud, chief executive officer of PNB Merdeka Ventures Sdn Bhd at the media familiarisation trip to the world's second tallest tower yesterday.
The lift, designed with a glass panel, offers you the sight of Kuala Lumpur as you ascend to the observation deck. "Going up, the speed is set at eight metres per second. On the way down, we reduce the speed to six metres per second," said Tengku Aziz.
Standing 500m above the ground, The View at 118, located at level 115 and 116X, is the highest observation deck in Southeast Asia, offering you a stunning panoramic vista of the capital city, especially at night.
Apart from the observation deck, there's the Edge Walk at level 116X that will excite any thrill seeker. You'll be walking on a glass floor from one end to another, outside of the building with only a safety harness attached.
On one side of the facade, there's an enclosed glass box that allows you to step out of the building onto a glass floor, offering a view of the cityscape beneath your feet.
The 40-storey spire was initially meant to be the antenna for broadcasting, but was later turned into another tourist attraction. Within it, there is a spiraling staircase where you can climb up another 60m, which is almost a third of the way up, revealed Tengku Aziz.
Occupancy rate is nearly 70%
With Permodalan Nasional Bhd (PNB) scheduled to move in by the end of this year, followed by Maybank within the next 12 months, and Park Hyatt Kuala Lumpur set to begin operations middle of next year, the occupancy rate of the Merdeka 118 tower stands at nearly 70%, said Tengku Aziz.
Soaring to a height of 678.9m, Merdeka 118 showcases premium Grade A office spaces from Levels 8 to 96. Within the future-ready tower, PNB will utilise 17 floors, while Maybank will occupy 33 floors.
"The fact that we are a sustainable building, I think we set the industry benchmark for sustainability features. So, any international and Malaysian companies looking to fulfill their ESG aspirations should consider (Merdeka 118), and we are here to cater to those aspirations," said Liza Karim, PNB Merdeka Ventures' vice-president of communication.
Merdeka 118 is the first tower in Malaysia striving to achieve a triple green platinum rating with international sustainability certifications. Among its sustainability features, the tower employs 100% LED lighting, stores rain water and grey water for non-potable use, has solar panels fitted on the rooftop which provide hot water for the hotel, and placed diffusers on the office floor to allow natural cool air to fill up the space.
Currently 97.8% completed, Tengku Aziz added that Kuala Lumpur's new icon is expected to receive about 10,000 employees daily, and comes with approximately 8,000 parking spots and 89 elevators.
The mega tower is part of Merdeka 118 development, which consists of Stadium Merdeka, Stadium Negara, 118 Mall, Masjid Merdeka, Merdeka Boulevard at 118 linear park, Little M (a PNB childcare centre), Merdeka Textile Museum, two Merdeka Residence residential towers, and Oakwood Premier Kuala Lumpur serviced residence tower.
Looking to buy a home? Sign up for EdgeProp START and get exclusive rewards and vouchers for ANY home purchase in Malaysia (primary or subsale)!