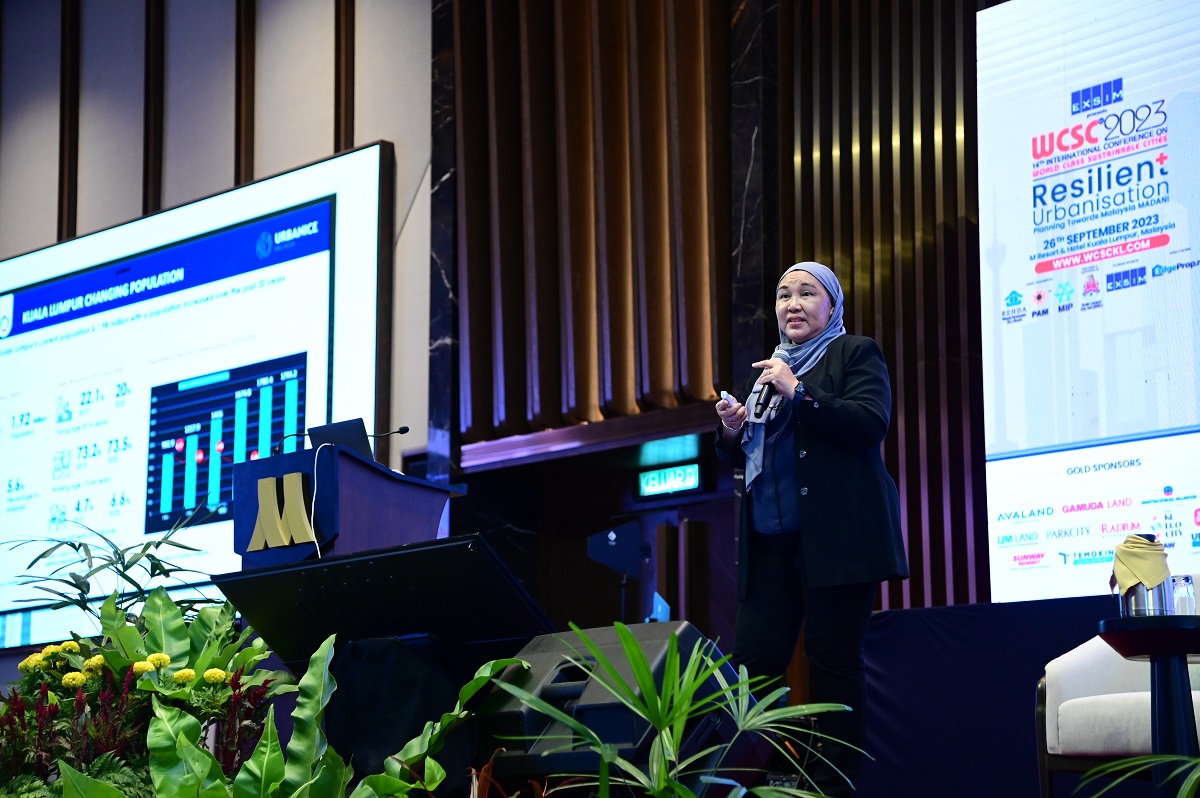 Norliza Hashim, URBANICE Malaysia CEO: For Malaysia, we are already an urban nation. Since 1991, we have surpassed the 50% mark. Now we are at 78%, with 26 million Malaysians now living in urban areas.
KUALA LUMPUR (Sept 27): Rapid urbanisation is happening, and it's happening very fast. Up to 4.4 billion of the world's population now live in cities, and the number of people is 26 million for Malaysia according to TPr Ts Norliza Hashim, URBANICE Malaysia chief executive officer, when presenting her paper titled "Urban Resilience: Challenges for KL in Achieving Sustainable Development Goals (SDG) by 2030" at the 14th International Conference on World Class Sustainable Cities (WCSC) 2023 yesterday.
"For Malaysia, we are already an urban nation. Since 1991, we have surpassed the 50% mark. Now we are at 78%, with 26 million Malaysians now living in urban areas, expecting urban services, and requiring facilities that urban areas need to give," revealed Norliza.
Despite having the biggest growth, she stated that Malaysia is experiencing all kinds of climate change phenomena, while almost 65% of the country's GDP comes from urban activities. Not only are urban activities a major contributor to climate change, it will also lead to disparity between urban and rural growth in the country.
Read also
WCSC 2023 drives proactive urban development practices to achieve resilient cities
WCSC expert insights: Shaping future cities that are safe, resilient and inclusive
A challenge to walk … in the city
EdgeProp presents: Resilient urbanisation — do we have what it takes?
Prasarana CEO emphasises public transport ecosystem optimisation for Kuala Lumpur's resilience at WCSC 2023
According to Norliza, climate change and sustainable development are two sides of the same coin. The development agenda is closely interlinked with the climate agenda -- it has been estimated that as many as 154 of the 169 Sustainable Development Goals (SDGs) targets are aligned with climate actions.
Kuala Lumpur's dedication to achieving SDGs
URBANICE Malaysia, a centre that advocates sustainable cities, has conducted a few series of work progress for Kuala Lumpur City Hall (DBKL). From auditing to rapid assessment to understand if its policies, projects and programmes are aligned with the goals, the centre also came out with a roadmap and reported DBKL's progress.
"Kuala Lumpur, in July this year, submitted its first Voluntary Local Review to the United Nations. I hope DBKL keeps doing so from this year onwards because the progress reporting is never one off," said Norliza.
Based on the report card of Kuala Lumpur, only nine out of 17 SDGs are very aligned with what DBKL is doing today. In the URBANICE Malaysia audit, they also identified goals 11 (Sustainable Cities and Communities), 8 (Decent Work and Economic Growth), and 12 (Responsible Consumption and Production) as the most aligned, while the least aligned are SDG 5 (Gender Equality) as well as SDG 14 (Life Below Water).
"Of course, there are challenges, mainly in the policies and management. There are policies which are not yet aligned, this is something that we need to do. Social challenges which they are facing are very dynamic for a city like Kuala Lumpur. Urbanisation and growth itself, and infrastructure and utilities which need to be upgraded," she shared.
The next step for Kuala Lumpur
Shaping the way forward, Norliza stressed the need to involve all stakeholders from all walks of life in Kuala Lumpur, and understand what they want, what are their perceptions, and what are their needs, in order for the centre to try to bridge the gap for the city.
URBANICE Malaysia has also identified four urgent actions for Kuala Lumpur: 1) to mainstream SDGs agenda at all levels; 2) to have a robust data and monitoring system for the SDGs; 3) to empower and support local ownership; 4) to have more work targeted and very focused intervention.
These four actions are designed to address sustainability challenges such as urban poverty, homelessness, and resilience, all with the overarching goal of fostering equitable and inclusive urban development and progressing towards the 2030 Agenda.
In order to overcome the challenges in localising the SDGs, the centre has established Kuala Lumpur SDG Centre in collaboration with DBKL.
"It's a focal point or a touch point with the community. It's also a centre that collects information, so that we have a digital platform and setup. People can also share what they are working on, so that the city can collate this information and understand what others are doing in Kuala Lumpur," she explained.
Norliza also conveyed that the role of the city's stakeholders including businesses and the private sector are crucial and ESGs should aspire to fulfill the SDG targets, where sustainable investments are outcome oriented.
Looking to buy a home? Sign up for EdgeProp START and get exclusive rewards and vouchers for ANY home purchase in Malaysia (primary or subsale)!