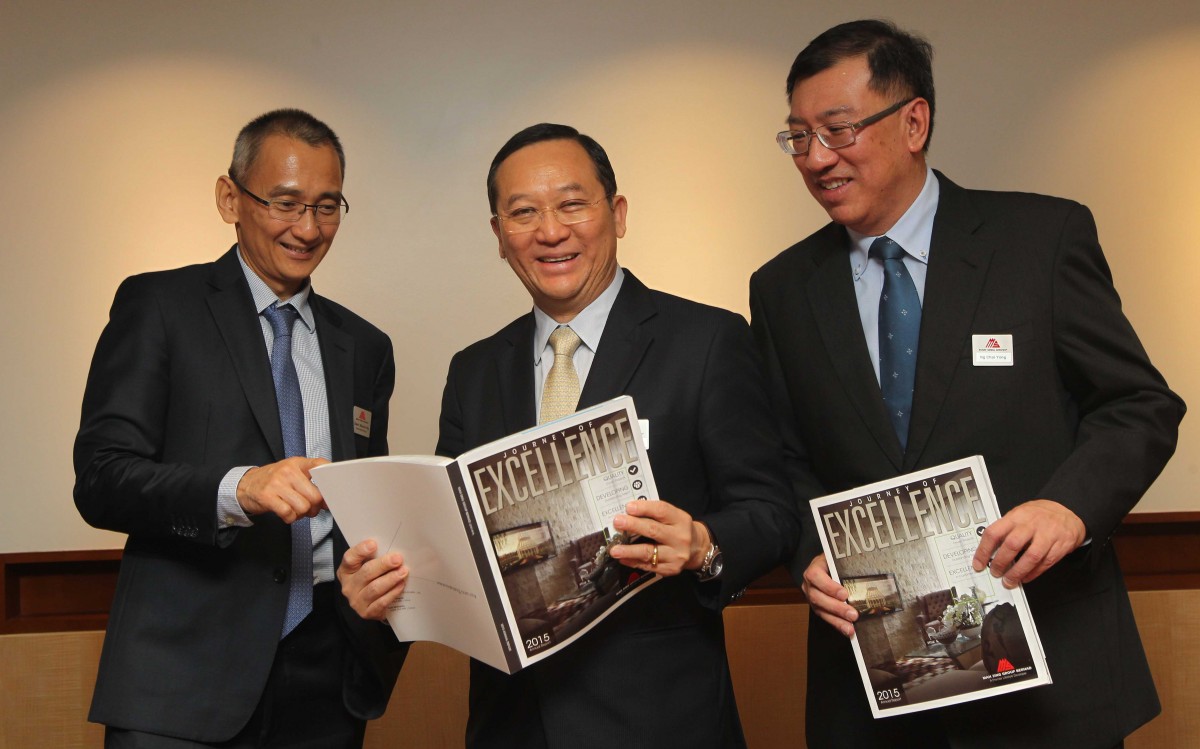 KUALA LUMPUR (June 16): Mah Sing Group Bhd will be launching RM1.8 billion worth of properties — mostly in the affordable category — in the second half of this year.
"We have launched properties worth about RM200 million GDV in 1H2016. We will be launching more properties in 2H2016. We should be launching properties worth RM2 billion [in total] this year," said managing director Tan Sri Leong Hoy Kum to reporters after the group's annual general meeting (AGM) here today.
Mah Sing also aims to sustain its RM2.3 billion sales target this year.
"We will maintain the sales target this year, which is RM2.3 billion. In the first four months of this year, we have achieved RM536 million. We are intensifying efforts to reach this sales target with more upcoming launches within this year," said corporate and investment executive director Datuk Steven Ng Poh Seng.
Cerrado serviced apartments in Southville City @ KL South is one of the six upcoming launches. It comprises two phases with 1,616 units offering two types of layouts with built-ups from 565 sq ft to 825 sq ft. Units are indicatively priced from RM388,000.
The second one is the final block in D'sara Sentral at Sungai Buloh. It will have 197 units with built-ups from 781 sq ft to 1,385 sq ft. Indicative selling prices are from RM580,000.
Lakeville Residence at Taman Wahyu will also see its final tower released soon. Built-ups range from 977 sq ft to 1,345 sq ft while indicative prices start from RM595,000.
Mah Sing will be launching the last phase of M Residence 2 soon. Indicatively priced from RM660,000, the 120 units have built-ups from 2,205 sq ft.
In Penang, 478 resort condo units in Ferringhi Residence 2 in Batu Ferringhi will be selling from RM775,000 (estimated price) for units that have built-ups from 1,208 sq ft to 2,910 sq ft.
Lastly, Mah Sing will be launching The Greenway @ Meridin East Township in Pasir Gudang. It comprises 492 double storey link homes with built-ups from 1,595 sq ft to 1,648 sq ft. Units are priced from RM356,000.
Besides launching more projects, Mah Sing is also actively looking for land in Greater KL and Penang, as well as places that have high demand potential.
"Mah Sing has approximately RM1.1 billion of cash and bank balances, as well as low net gearing of 0.09 times. We are able to buy more land. In fact, we have been actively looking for potential land acquisitions in Malaysia to expand our business," said Leong.
Mah Sing is also open to joint venture opportunities with the private sector and government.
He said for the time being, affordable housing will be their focus.
Ng said 89% of Mah Sing's planned residential launches are priced below RM1 million, 68% priced below RM700,000 and 50% priced below RM500,000.
Do not ask your friend about the value of your home. Click here at The Edge Reference Price to find out.