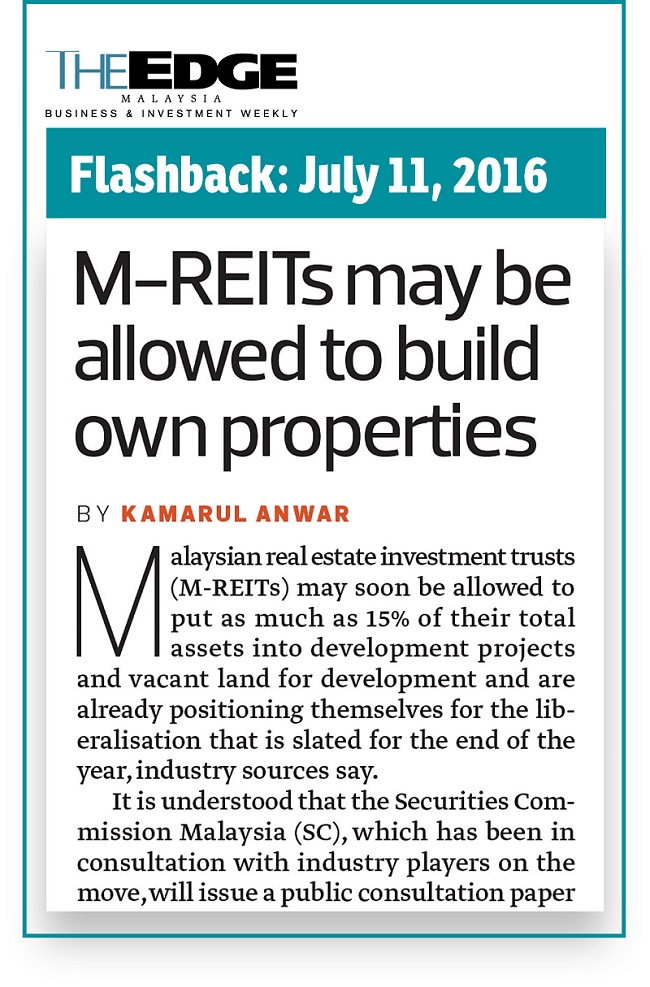 KUALA LUMPUR (July 15): Malaysian real estate investment trusts (REITs) may soon be able to buy vacant land and engage in property development activities if a new proposal by the Securities Commission Malaysia (SC) garners positive response.
The regulator yesterday released a consultation paper seeking public feedback on proposed enhancements to the Guidelines on Real Estate Investment Trusts (REITs Guidelines), as part of its effort to facilitate growth of the market and at the same time promote stronger governance and efficiency.
This confirmed a report by The Edge weekly on July 11, which pointed to one of the anticipated proposals, that is, allowing REITs to acquire vacant land and undertake property development subject to a cap of 15% of their total asset value. In comparison, the cap for property developments by Singapore REITs in the republic currently stands at 25% of total assets.
It is also proposed that REIT managers be allowed to enter into long-term leases with registered proprietors of real estate.
Interested parties and the public have until Sept 13 to provide their feedback on the proposed changes to the REITs Guidelines.
"A key aspect of the enhancements is to allow REITs to invest in a wider range of real estate asset classes," said the SC in a statement yesterday.
It noted that under current requirements, REITs that hold old and outdated properties would have to sell such properties back to their sponsors to be redeveloped and subsequently repurchase the redeveloped properties, "or otherwise be saddled with a less competitive portfolio of buildings".
REITs, however, need to hold on to the developed properties for at least two years upon completion, so as to ensure that the property development activities are not conducted for the purpose of selling the properties but to enhance their income-generating capacity. Currently, REITs are allowed to only refurbish, renovate or extend existing real estate in their investment portfolios.
Area Management Sdn Bhd executive chairman Datuk Stewart LaBrooy told The Edge Financial Daily that the development activity proposal is "a game changer" for Malaysian REITs, and something that REIT managers have been pushing very hard since his days as chairman of the Malaysian REIT Managers Association.
"Allowing development and redevelopment of assets would be a good thing for REITs and bring value for unitholders," he said.
LaBrooy also commended the SC's proposal to allow REITs to do unit buy-backs, saying this would help REITs that believe their units are undervalued.
However, some industry observers believe that the liberalisation of the market can bring problems as REITs are supposed to be passive investments.
Nevertheless, under the proposed enhancements, the SC posits that REITs are required to furnish investors with more disclosures on properties that come with income support, where the trusts need to tell investors these properties' yields with and without income support.
An income support arrangement, where a REIT's sponsor or property vendor provides minimum rental income for a fixed period, "would be able to generate a yield that is above market rate", the regulator said.
While there could be legitimate reasons as to why a REIT enters into an income support arrangement, the regulator said part of the problem this brings is investors may be misled by the headline yield when the income support provides only short-term enhancement to a REIT's yield — which may not be sustainable after the arrangement lapses.
Another issue, LaBrooy said, is that the income support may have the effect of inflating the valuation of a purchased property.
Such controversy stemming from income support happened in Singapore, when Keppel Land Ltd sold a recently developed office tower to Keppel REIT in 2011, as the rental value had yet to mature and the occupancy rate was low.
The SC also wants REITs to provide details on how the income support is priced into the purchase consideration for the real estate, and the tenure or remaining tenure of the income support.
For Islamic REITs established for over five years, the SC is proposing that they be allowed to collect rental income that comes from syariah non-compliant activities by up to 5% of a REIT's total turnover. Currently, Islamic REITs cannot accept new tenants or renew existing tenants whose activities are fully syariah non-compliant.
Another salient proposal in the consultation paper is to strictly cap the REITs' borrowings to 50% of their total assets, whereas currently the investment trusts can go above 50% after obtaining unitholders' approval. Bloomberg data showed none of the 17 M-REITs are anywhere near that level as at their latest quarter, although YTL Hospitality REIT was already nearing the ceiling, at 46.32%.
Not sure how much you will have to pay a month for your home? Check out our mortgage calculator here.
This article first appeared in The Edge Financial Daily, on July 15, 2016. Subscribe to The Edge Financial Daily here.