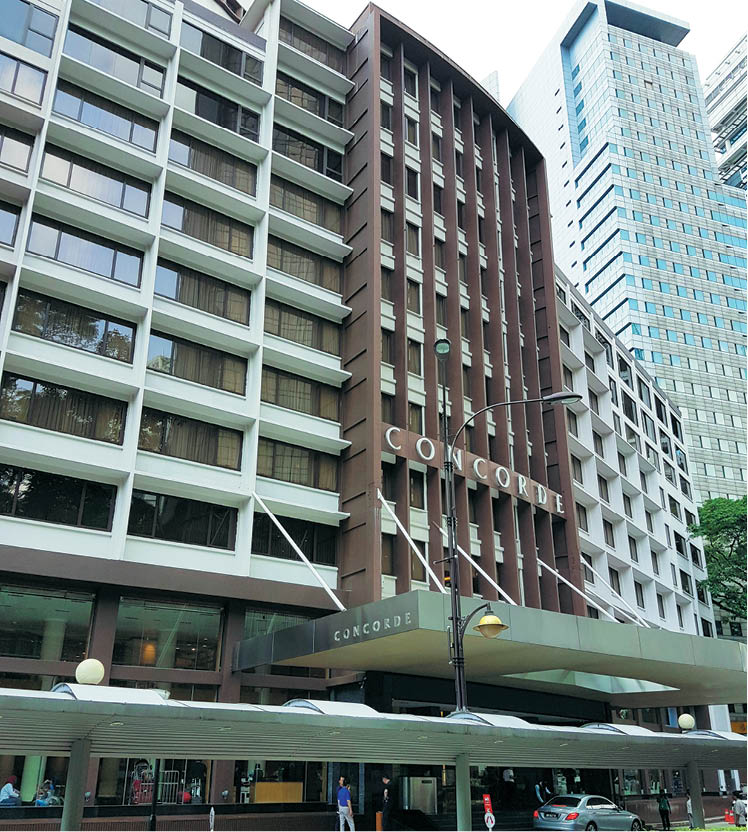 LONG-established Concorde Hotel Kuala Lumpur — which is linked to Sultan of Selangor Sultan Sharafuddin Idris Shah, entrepreneur Tan Sri Syed Yusof Syed Nasir and Singaporean tycoon Ong Beng Seng — may be torn down to make way for a multibillion-ringgit integrated project, documents show.
This will make it the fourth commercial building and the third established hotel within a 500m stretch along Jalan Sultan Ismail to be demolished in recent years.
In 2011, two companies — Hotel Equatorial (M) Sdn Bhd and Tradewinds Corp Bhd, which is controlled by Tan Sri Syed Mokhtar Albukhary — decided to unlock the value of the prized land parcel in Kuala Lumpur by replacing their old structures with modern and taller buildings.
It appears that Concorde's owner, Ampang Hotel Sdn Bhd, is weighing the possibility too. The 57-year-old building, which has changed hands several times, has been renovated several times.
"Much of the commercial space along Jalan Sultan Ismail was built in the 1980s, when approved density or plot ratios were much lower, perhaps in the range of four to five times. Nowadays, it is not uncommon to see nearly triple that, which means that the value of the underlying land has increased tremendously. The rule of thumb is that once the value of a building (in terms of built-up area) is less than the value of the underlying land, it is time to redevelop," says Nabeel Hussain, associate director of Savills Malaysia.
"Assuming each of the 581 rooms in the four-star hotel is valued at an average RM700,000 … that would suggest a total value of RM406 million, whereas the underlying land (at a reasonable assumed selling price of RM2,700 psf in Jalan Sultan Ismail) will be in excess of RM493 million. Add the fact that the property is nearly 60 years old and requiring refurbishment, the decision to redevelop can be understood," he adds.
When asked why the land is being redeveloped, a source tells The Edge that it is a large parcel but the current plot ratio is very low.
Until recently, Dewan Bandaraya Kuala Lumpur (DBKL), the approving authority for deve-lopment projects in Kuala Lumpur, granted very low plot ratios. They were between eight and 10 about seven years ago. Currently, developers are being given plot ratios of 12, 14 and up to 16. A
0.96-acre piece in Jalan Imbi, for example, has a plot ratio of 14.3. Generally, the higher the plot ratio, the higher the building can be, allowing the developer to maximise the land area and its profit.
In early 2011, news emerged that Tradewinds Corp was planning to demolish not one but two buildings located on adjoining lots — the Crowne Plaza Mutiara Hotel and the Kompleks Antarabangsa office building. Demolition of the 40-storey hotel and 32-storey office building commenced in 2013. An earlier plan for an integrated mega project, Tradewinds Centre, on the site was given a plot ratio of 10.55. Subsequently, the plot ratio for the development, renamed Tradewinds Square, was increased to 16. The tallest tower is expected to be 775m high.
As for Equatorial, the owners decided to tear down the 18-storey building built in 1973 and are now building a 53-storey office-cum-hotel in its place.
Meanwhile, initial plans submitted by Ampang Hotel indicate that the hotel and multistorey car park on two adjoining lots will be torn down. In its place, a 39-storey tower with 240 office suites, a 54-storey hotel block with 530 rooms and 205 units of serviced apartments will be constructed. A sky bridge will link the towers.
In addition, there will be two 41-storey towers housing 266 serviced apartments. There will also be a 10-storey annexe podium which will house the lobby, retail space and car park. The proposal may be altered, depending on conditions set by DBKL.
The Edge was not able to obtain information on the commencement or completion dates of the project. But, a rough indication is that if all approvals are obtained — whether from DBKL or shareholders — the project may be completed in 2021.
A search at the Office of the Federal Territories Director of Lands and Mines shows that both parcels are freehold and measure 182,906 sq ft or 4.2 acres in total. The smaller parcel, Lot 157, measures 42,588 sq ft. Lot 1208, where the hotel is located, measures 140,318 sq ft.
Using the lower selling price range for offices and serviced apartments, a back-of-the-envelope calculation will give the project a conservative gross development value of RM2.5 billion.
Concorde, known as The Merlin Kuala Lumpur from 1957 to 1990, introduced Hard Rock Cafe to Malaysia in 1991. The restaurant's status in the redevelopment remains unclear.
The Merlin was built and majority-owned by Lim Foo Yong and his family until the early 1970s when Faber Merlin Malaysia Bhd bought it. Faber Merlin's chairman at the time was Chang Ming Thien, who established Overseas Trust Bank Ltd in Hong Kong and co-founded United Malayan Banking Corp.
The Merlin was sold to Ampang Hotel in 1990. Incorporated in the previous year, Ampang Hotel is wholly owned by Ampang Investment Pte Ltd. Ong's Singapore-listed Hotel Properties Ltd's annual report shows that it owns 30% of Ampang Investments.
Jardine Cycle & Carriage Ltd used to own 40% of Ampang Investments but disposed of the stake to Hongkong Land Holdings Ltd in 2007. As at last year, Hongkong Land still held the stake. The remaining 30% is held by Sultan Sharafuddin and Syed Yusof.
Based on the latest numbers available, in the financial year ended Dec 31, 2014, Ampang Hotel made a net profit of RM10.83 million on the back of RM77.84 million in revenue. It had an accumulated profit of RM59.65 million. Total liabilities stood at RM70.2 million, of which RM24.7 million was current.
This article first appeared in The Edge Malaysia on July 25, 2016. Subscribe here for your personal copy.