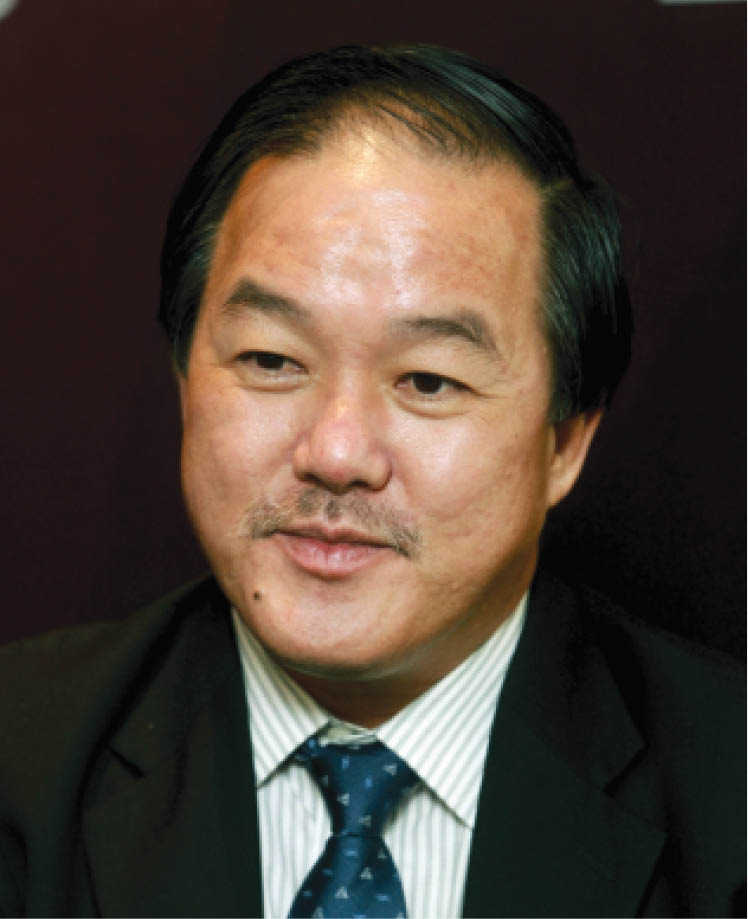 DEEP-pocketed construction company Kerjaya Prospek Group Bhd is defying concerns over a property market slowdown as it continues to pull in orders. Over the past three months, it has bagged four projects totalling more than RM1 billion.
Executive chairman and co-founder Datuk Tee Eng Ho says the group is confident it will continue its streak of contract wins on the back of strong cash flow, a proven track record and good relationships with reputable clients such as Eastern & Oriental Bhd (E&O), S P Setia Bhd and Eco World Development Group Bhd.
Even as more property developers delay their projects or scale down the size of their launches during the current slowdown, Kerjaya has widened its customer base to include other major developers like BCB Bhd, Yong Tai Bhd and Nusmetro Property Sdn Bhd.
Year to date, Kerjaya has secured RM1.43 billion worth of projects, surpassing its internal order book replenishment target of RM600 million for the year.
"Developers continue to give us jobs because they are confident we have adequate cash flows, equipment and manpower to carry out their jobs. We also benefit from rebates given by our (building material) suppliers for paying them in cash," Tee tells The Edge in an interview.
As at March 31, Kerjaya's cash and bank balances stood at RM136.67 million and borrowings at RM74.19 million, resulting in net cash of RM62.48 million.
He notes that another key advantage Kerjaya has over its peers is its niche in building high-rise properties such as condominiums and hotels.
"We also don't build low cost. We go for medium- and medium-high-cost properties," he says, adding that he sees a pickup in the property sector in the second half of next year.
While developers tend to favour construction companies with deep pockets, Kerjaya is equally cautious about the jobs it goes for and is reluctant to engage in projects that are perceived as risky, as well as clients that are not good paymasters.
"I have rejected a lot of jobs. I also do not overcommit," Tee says, adding that the contracts Kerjaya now takes on are worth more than RM100 million.
The group's outstanding order book in hand stands at RM2.9 billion, which lends earnings visibility for the next three years.
Kerjaya is confident it will beat management's profit guidance of RM80 million for the financial year ending Dec 31, 2016 (FY2016) and RM110 million for FY2017.
For the first quarter ended March 31, Kerjaya saw its net profit jump more than six times to RM23.68 million from RM3.67 million a year ago, while revenue rose 12 times to RM185.93 million from RM15.45 million.
According to Tee, invitations to tender are still streaming in, even in a slowing property market. The group has a tender book of RM1.6 billion, mostly for jobs located in the Klang Valley and Penang, with an estimated success rate of 20% to 30%.
Kerjaya, formerly Fututech Bhd, has been a successful turnaround story after Tee and his family injected their private construction outfits — Kerjaya Prospek (M) Sdn Bhd and Permatang Bakti Sdn Bhd — into the loss-making Fututech for RM458 million last year. Tee, 51, and his brother Eng Seng, 46, who is executive director of the group, have led the growth of the privately held Kerjaya Prospek (M) from its beginnings in 1995.
Tee plans to position Kerjaya as a pure construction company in Malaysia, keeping his other privately held company, which is involved in property development, separate from the listed vehicle.
"Currently, Kerjaya has two property projects, Vista Residences in Gohtong Jaya, Genting Highlands, and an 8.7-acre piece of land in Monterez Golf and Country Club in Shah Alam, Selangor. Once these projects have been completed, there will not be any property projects in the group anymore," he adds.
To date, the RM300 million gross development value (GDV) Vista Residences has garnered a take-up rate of 48% since its launch in January. Tee expects take-up for the 378 units of serviced apartments, whose prices start from RM700 per sq ft, to improve once the 20th Century Fox World Genting Malaysia theme park and Genting Premium Outlets open later this year.
The group's RM200 million GDV project in Monterez Golf and Country Club in Shah Alam is only set to launch next year.
Meanwhile, Tee does not rule out the possibility of listing its privately held property development company Kerjaya Prospek Property Sdn Bhd, but it won't be in the near future.
"Even if we do, we will list it separately (from Kerjaya)," he says.
Kerjaya Prospek Property has more than 200 acres of landbank in the Klang Valley, Melaka and Penang, which would give a combined GDV of RM2 billion for its income stream in the next three years. A check with the Companies Commission of Malaysia reveals that Kerjaya Prospek Property posted a net profit of RM18.06 million for the financial year ended June 30, 2015 (FY2015) from RM377,897 in FY2014. Revenue for FY2015 stood at RM991,993.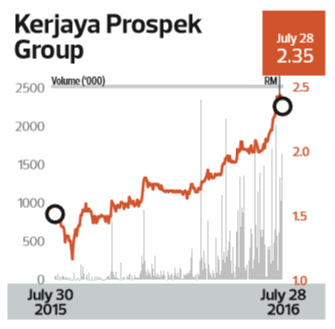 Kerjaya's share price has gained 61% in the past one year. It hit its all-time high of RM2.44 on July 25 before closing at RM2.33 last Friday. Its market capitalisation stood at RM1.18 billion. The ability to sustain profit margins despite a slowdown in the property sector has supported the shares of Kerjaya. Its profit margin at 10% to 12% has also been consistently superior to its peers' 3% to 5%.
Analysts' consensus target price on the counter at RM2.56 reflects an upside of 9.87% from Friday's closing price of RM2.33.
In a July 26 unrated report, RHB Research values Kerjaya at between RM2.76 and RM2.87 based on a 12.5 to 13 times price-earnings ratio (PER).
"We think these PERs are reasonable in view of its current market cap, solid profit margins as well as earnings growth prospects. Given its balance sheet strength, we think the company has the potential to surprise investors with a higher-than-expected dividend payout ratios and bonus issues over the medium term," the research firm says.
Kenanga Research is of the view that Kerjaya's sterling track record of timely delivery has made it a sought-after contractor among prominent developers.
"In the current challenging property market where sales are weak, developers are focusing on delivery to preserve margins and strengthen brand quality; hence, realising unbilled sales with quality products without delays is paramount," it said in a note to clients on July 20.
Going forward, Kenanga Research also expects Kerjaya to benefit from high-rise developments at EcoWorld's Bukit Bintang City Centre project and E&O's Puro Place venture given their long-term relationship.
Kenanga Research has a "trading buy" call on Kerjaya, with a target price of RM2.62 based on targeted FY17 PER of 12 times.
As at May 31, Tee, his wife Datin Toh Siew Chuon, 49, and Eng Seng collectively own 74.9% of Kerjaya's shares.
This article first appeared in The Edge Malaysia on Aug 1, 2016. Subscribe here for your personal copy.