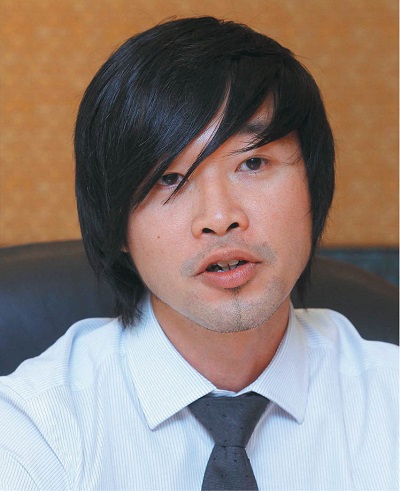 BOTH the Malaysian and Singaporean governments have sent clear signals that the high-speed rail (HSR) linking Kuala Lumpur and the city state will be a reality; it is only a matter of time. While it may be easy to identify which companies will benefit from the project, deciding when to invest is much more challenging, given that the HSR will only be completed in 2026 at the earliest.
That said, at least one hurdle to investing has been substantially diminished — scepticism that the project will take off at all.
"As the HSR project has been delayed for more than two decades, there is a lot of scepticism about the government's ability to roll it out. We think this time round, there is a good chance of the project going ahead," writes JPMorgan director of equity research Mak Hoy Kit in a report last week.
Mak points out that funding for the project is unlikely to be an issue as it can be done via a public-private partnership or a special purpose vehicle to keep it off the government's balance sheet.
"If required, there is an option of Chinese funding (presumably with low rates and long tenure), subject to comfort with Chinese M&E/rolling stock supply," he adds.
Among the companies featured in the 44-page report are big-cap construction outfits Gamuda Bhd and IJM Corp Bhd as well as property counter UEM Sunrise Bhd (see table). The trouble with these stocks is that the HSR project is still not seen as an immediate catalyst despite the government announcing plans to begin awarding contracts next year.
But the report regards this target as ambitious. As it stands, the government has not even begun undertaking land acquisition for the project, nor have the detailed technical requirements been finalised.
"Our report is a thematic and tactical one, and should not be construed as an outright 'buy' now. Key milestones we are looking out for are the signing of a formal bilateral agreement between Singapore and Malaysia and the call for pre-qualification," Mak tells The Edge.
After all, announcing big projects does not necessarily translate into stronger share price performance until there is more earnings visibility. A recent example is the Pan Borneo Highway project. While Sarawak-linked construction stocks rallied leading up to the announcement of the project, their share prices have since eased.
Cahya Mata Sarawak Bhd, for one, has seen its share price fall 29.09% from its high earlier this year to close at RM3.80 last Friday.
That said, the scale of the HSR is easily more than double that of the Pan Borneo Highway, which will cost RM13.2 billion, excluding land acquisition costs. In contrast, Mak estimates that civil works for the HSR will cost between RM30 billion and RM45 billion. Clearly, there is enough work to go around for all the construction firms, especially the big ones.
However, as the report points out, there is a chance that Chinese construction companies may get a share of the action, if Chinese money finances the infrastructure works. And this means a smaller slice of the pie for the local construction companies.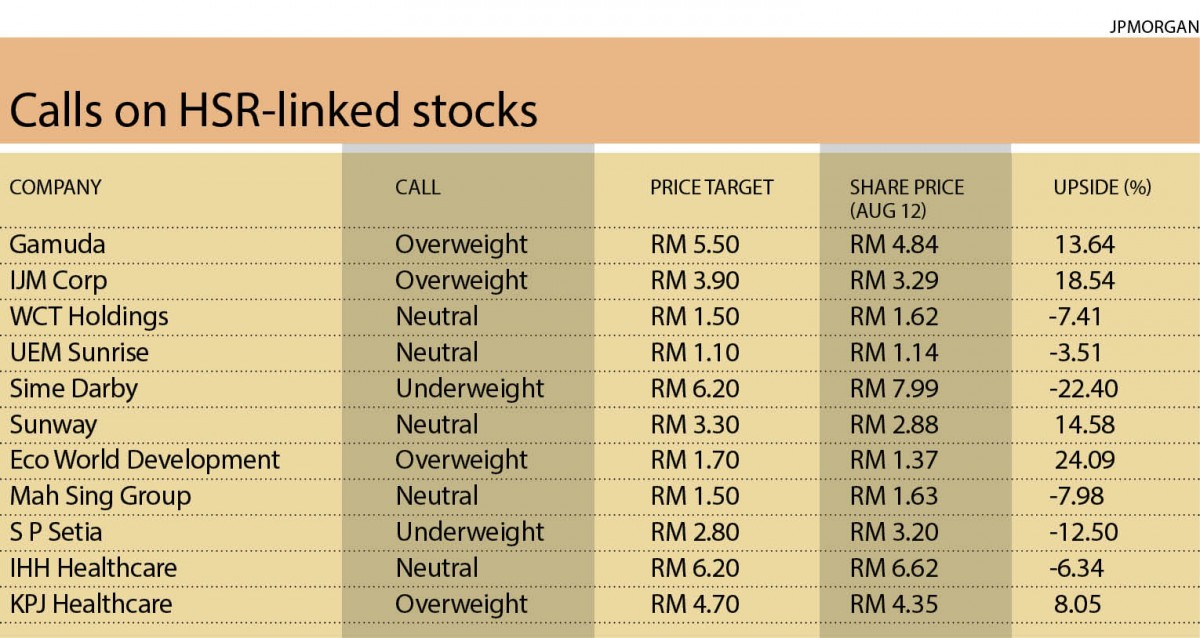 "But I believe local contractors will have a role to play through joint ventures in the consortium and subcontract works, given historical precedence. Furthermore, this is a large project and there is quite a lot to go by," says Mak.
While there is more uncertainty surrounding construction stocks, property counters may be a safer bet. Due to the slowdown in the property market, many property counters are already trading at near-bottom valuations. There may not be any catalyst in the near term, but the downside risks for such stocks appear to be much lower.
In this regard, UEM Sunrise is one of the top picks to benefit from the HSR. The group has 7,307 acres of land in Iskandar Malaysia, Johor (based on effective stake). In fact, as a percentage of the total project gross development value, UEM Sunrise has the largest exposure to Johor at 85%, notes the JPMorgan report.
More importantly, industry insiders say the HSR alignment and the Nusajaya station are most likely going to involve UEM Sunrise's land.
"It has not been formally set in stone, but the line is expected to pass on the west of the second link. That puts the station well on UEM Sunrise's land," notes an industry insider.
The property market in Iskandar is definitely soft at the moment and this is reflected in both property pricing and UEM Sunrise's share price. Closing at RM1.16 last Friday, UEM Sunrise is valued at an almost 60% discount to its revalued net asset value.
Developing properties around the Nusajaya station — only one stop away from Singapore — is a unique value proposition for UEM Sunrise. One of the key selling points during the Iskandar property boom in 2013 and 2014 was that Singaporeans and Malaysians working in Singapore would opt to live on the cheaper side of the Causeway. But without proper connectivity, the bulk of the buyers have been Malaysian.
The HSR station, however, will attract more Singaporeans to consider moving over. After all, a small Housing and Development Board flat in Singapore easily costs S$600,000 (RM1.79 million). That money would buy a freehold semi-detached house in Johor.
"Prime property prices in Singapore are more than double those in KL and Johor Baru, and even more so for domestic stops. So, there is room for upside," says Mak.
As it stands, UEM Sunrise's share price has already begun to move up with a substantial increase in average trading volumes over the past few months. Analysts say some funds are beginning to take positions in the stock.
Another property counter with a substantial land bank in Johor is Sunway Bhd, with 948 acres. While the parcels are not as close to the HSR station as that of UEM Sunrise, Sunway still has land close enough to benefit from the project substantially.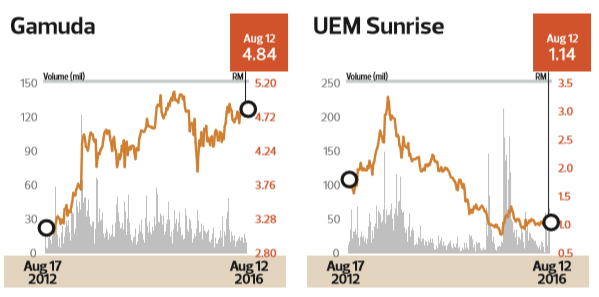 Meanwhile, companies supplying construction materials will also benefit from the HSR. The JPMorgan report lists cement manufacturers Lafarge Malaysia Bhd and Tasek Corp Bhd as beneficiaries. Lafarge, for example, has a 40% market share. Keep in mind that the entire 350km track will be built on some of the highest quality concrete available, including viaducts and tunnels, all of which will require huge amounts of concrete.
Looking ahead, the report also flags the healthcare and tourism sectors as beneficiaries of the HSR, once it is completed. IHH Healthcare Bhd and KPJ Healthcare Bhd are listed as potential beneficiaries, albeit in the distant future.
While it is still too early to look into the long-term beneficiaries, the next 6 to 12 months could be a window to begin taking positions in property and construction stocks as the HSR project gets under way.
This article first appeared in The Edge Malaysia on Aug 15, 2016. Subscribe here for your personal copy.