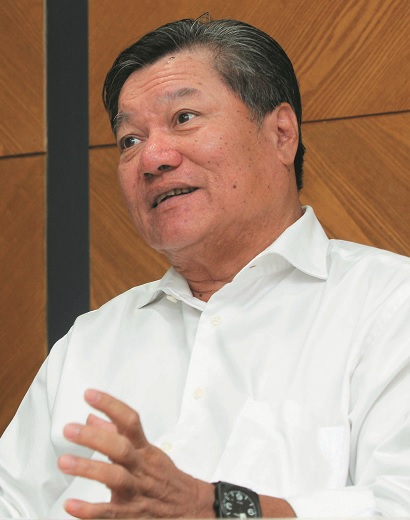 TAN Sri Eddy Chen is as passionate about real estate today as when he first started out in the construction and property development industry more than three decades ago. Chen was appointed to the board of MKH Bhd (formerly known as Metro Kajang Holdings Sdn Bhd) on July 31, 1984 and has been its managing director since 2005.
Having gained a strong foothold in Kajang where it is based, MKH has ventured into urban centres such as Damansara, Bangsar, Mont'Kiara, Shah Alam, Cheras, Petaling Jaya and other parts of Greater Kuala Lumpur, focusing mainly on homes for the middle class.
Led by Chen, the Bursa Malaysia-listed company has to date developed more than 30,000 units of homes with a value exceeding RM12 billion.
TheEdgeProperty.com: Building and selling homes — what was it like then and now?
Tan Sri Eddy Chen: Those days, we (developers) were building basic homes — a place that you go back to sleep after work. But now, we are building houses with lifestyle concepts and facilities such as smart homes and green homes — all because of lifestyle demands. People are more aware of their health and lifestyle because they are more knowledgeable and informed today with greater exposure to what's around the world.
Besides that, people need smaller spaces because more parents and children want to live on their own. Also, seniors know how to take care of themselves and are more financially independent.
During good times, we only need to do minimal announcements to sell our projects and it will be fully sold within a short period. However, in times like these (market slowdown), we see a new phenomenon which we call personal sales. Agents and brokers have become more important now because they are more flexible (working at odd hours) and commission driven so they are more aggressive in closing deals. They have their network, knowledge of the area and can provide advice which advertisements cannot do. They can give a personal touch and that little bit of extra that could draw customers to see the place.
How many homes have you built?
I have actually lost count. Ten years ago we finished building 15,000 landed and high-rise homes. I think as at July 2016, we should have completed at least 30,000 homes with 80% of them priced below RM500,000.
What was your most memorable project and why?
My most memorable project is Pelangi Damansara in Petaling Jaya. It was not a small project. We built 5,600 apartment units there. The project commenced right after the 1997 Asian Financial Crisis and we were selling it at a low price, plus we had to relocate over 400,000 squatters who were on the land. The biggest challenge, however, was the cleaning up of foreign workers by the government in 2000. Foreign workers only came back to Malaysia half a year later. This caused the project to be a year behind schedule. We worked day and night, but the quality was affected. The consequence was that instead of 12 months, our team had to be stationed on site to carry out rectifications for three years.
Nevertheless, there is a happy ending. The first buyer would have bought a unit for RM150 psf. Now it can be sold at RM300 to RM400 psf.
Buyers are getting younger. How do you engage them?
Youngsters generally have smaller disposable income. However, they are usually the more ambitious ones. This is the group whose parents have been telling them that real estate is the best investment, so they are more knowledgeable in terms of house buying. About 60% of Malaysians are 40 years old and below. This is also the group that is more tech savvy and easily access information, news and trends. Hence MKH Bhd is investing in social media to engage them while continuing to build affordable houses with lifestyle facilities, with easy access to public transport, schools and child care.
What are your investment tips for first-time homebuyers?
Location, location, location. It is old-school, but it is evergreen. The young buyer or young family should look at the availability of schools, public transport and amenities. Basically where the public transport is located, property prices in these places will be more stable. Also, do a little bit of research on the background of the developer, such as how long it has been in the market and whether it is an award-winning developer, because this is their track record. You should also think about your needs as well as your family's, such as more liveable features, which include landscaping, parks, gated and guarded facility, green homes and innovative homes.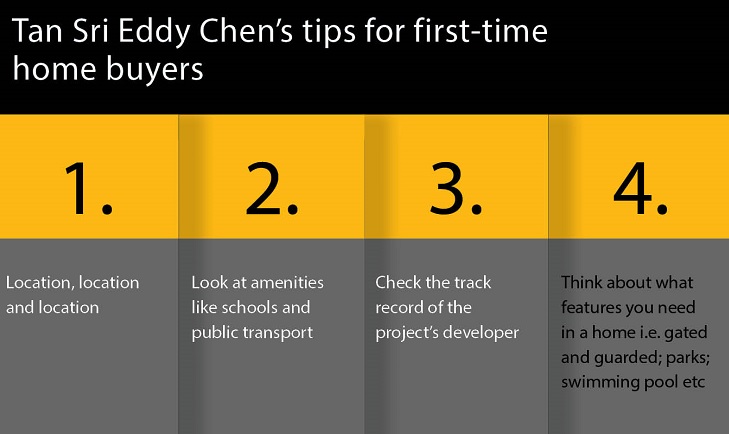 How key is social media to your business — are you on social media?
MKH Bhd has its own website and Facebook account. We update our news, new launches, activity and promotions on both our website and social media. We also interact with the public via our social media so if they have questions they can ask away. Social media is very important in growing the business because the biggest group of buyers are aged below 40 years old. This group of people are usually tech savvy and their main source of information is the Internet.
Your property outlook for 2016/2017?
Bank Negara Malaysia (BNM) has recently reduced the overnight policy rate. I hope BNM will further reduce it by the end of the year. When BNM does so, other banks will follow. This means that monthly repayments will be lower due to lower interest rates charged on mortgages.
When people have more money, they can spend and the Asian mentality is to spend on things which will appreciate in value. However, I foresee the property market will still be flat until the end of this year.
What is your aspiration for the Malaysian property sector?
MKH Bhd would like to see a vibrant property sector where developers are able to build more houses for the growing population, especially affordable housing. I wish that the government will make the cost of building cheaper, rather than merely providing subsidies that can only help a little. By reducing the cost, such as related taxes, developers will be encouraged to build more affordable homes.
I also would like to see Malaysian developers build more liveable homes and create more liveable environments.
● Tan Sri Tan Seng Leong (BCB Bhd): Look out for signs of recovery
● Tan Sri Lee Kim Yew (Country Heights Holdings Bhd): Land is the key to accumulate wealth
● Tan Sri Liew Kee Sin (EcoWorld): Achieve greater heights by embracing technology
● Tan Sri Lim Kim Hong (I-Bhd): Well-planned projects less affected by negative factors
● Tan Sri Lim Kang Hoo (Iskandar Waterfront Holdings Bhd): Act on opportunities from the HSR link
● Tan Sri Lim Hock San (LBS Bina Group Bhd): The keys to success are product, location and pricing
● Tan Sri Leong Hoy Kum (Mah Sing Group Bhd): The ability to adapt to change is crucial
● Tan Sri Mohamad Salim Fateh Din (MRCB): Malaysia's property market will continue to be dynamic
● Tan Sri Ong Leong Huat (OSK Property): Build homes according to buyers' wants and needs
● Tan Sri Lim Soon Peng (Titijaya Land Bhd): Affordability — key to homebuyers' needs today
● Tan Sri Danny Tan Chee Sing (Tropicana Corp Bhd): Engage customers through social media wisely
This story first appeared in TheEdgeProperty.com pullout on Aug 26, 2016, which comes with The Edge Financial Daily every Friday. Download TheEdgeProperty.com pullout here for free.