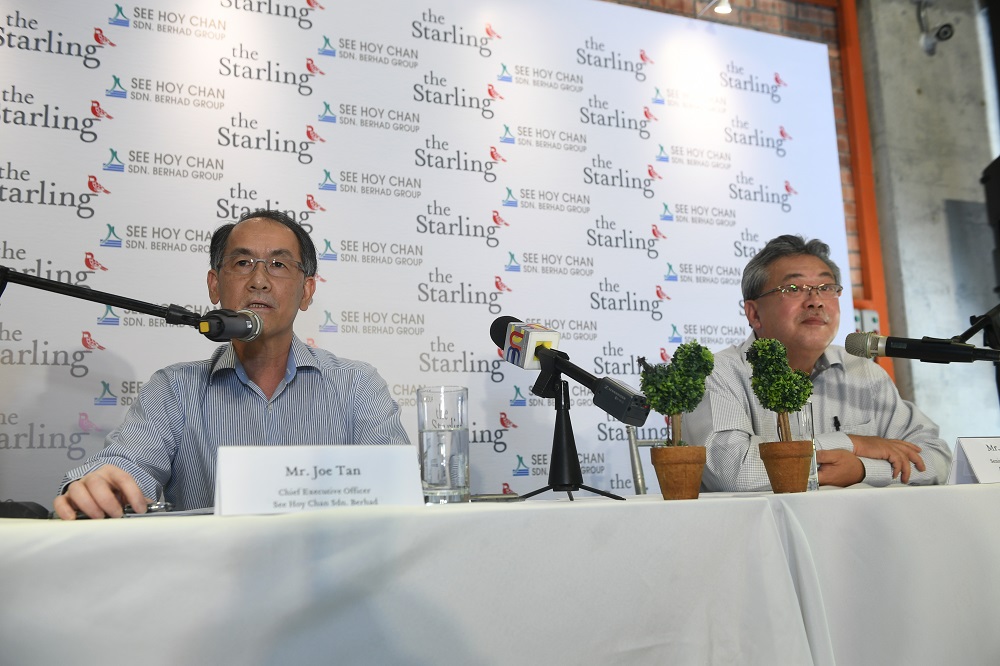 PETALING JAYA (Sept 26): The Starling mall in Damansara Uptown, Petaling Jaya will already be 85% occupied by the time it opens for business end-November.
Themed "The Mall in a Park", the 5-storey mall has achieved 85% occupancy following partnerships forged with about 95 tenants, its developer See Hoy Chan Sdn Bhd CEO Joe Tan told reporters after the unveiling of key tenants today.
The tenants include MBO flagship cineplex, Jaya Grocer, SSF Home Décor, Padini Concept Store, Nichii & Kitschen, Rakuzen, Sushi Zanmai, Daiso, ACE Hardware and Popular Bookstore.
"We are looking at an 85% occupancy rate when the mall opens, but we expect the occupancy rate to reach 90% after that," Tan said.
In his welcoming address at the unveiling ceremony, See Hoy Chan executive director Teo Chiang Khai said the ceremony allowed the developer to not only introduce the retail and food and beverage (F&B) tenants at The Starling mall but also to give the public an idea of what the mall is about.
Named after the Starling bird, the mall is located in Damansara Uptown and has a gross development value (GDV) of RM600 million. It offers a net lettable area of approximately 450,000 sq ft and will be able to accommodate up to an estimated 200 retail outlets.
The mall is targeting to have a tenant mix of 30% to 35% for food and beverage (F&B), 20% fashion, 10% home decoration and the balance would be for a grocer or supermarket, Tan said.
"As a neighbourhood mall, The Starling is not here to compete with mega malls, such as 1 Utama," he noted. "Our primary market is the area within a 15-minute drive and creating a relaxing space with a park and strong F&B."
"It is very important to know your target market, and that is why we positioned The Starling mall as an eco-lifestyle neighbourhood mall," he added.
The mall features a 27,500 sq ft park area with a meandering brook, bird bath and a variety of shady landscaping. Tan said the mall is also targeting to achieve a Gold standard in Malaysia's Green Building Index (GBI).
Damansara Uptown has a captive daily working population of about 20,000 and a conservative estimate of about 8,000 daily visitors, said Tan who expects about 30,000 to 40,000 footfalls on average in the mall on weekdays and weekends, respectively.
See Hoy Chan is currently upgrading the traffic flow system in Damansara Uptown to smoothen traffic flow in the area. The upgrading works are expected to be completed by next month and will include a bicycle track, walking path, a three-lane traffic flow and an underground tunnel which connects the mall to the Damansara-Puchong Expressway (LDP)."
Try out one of our super tools, the rental yield calculator, here.