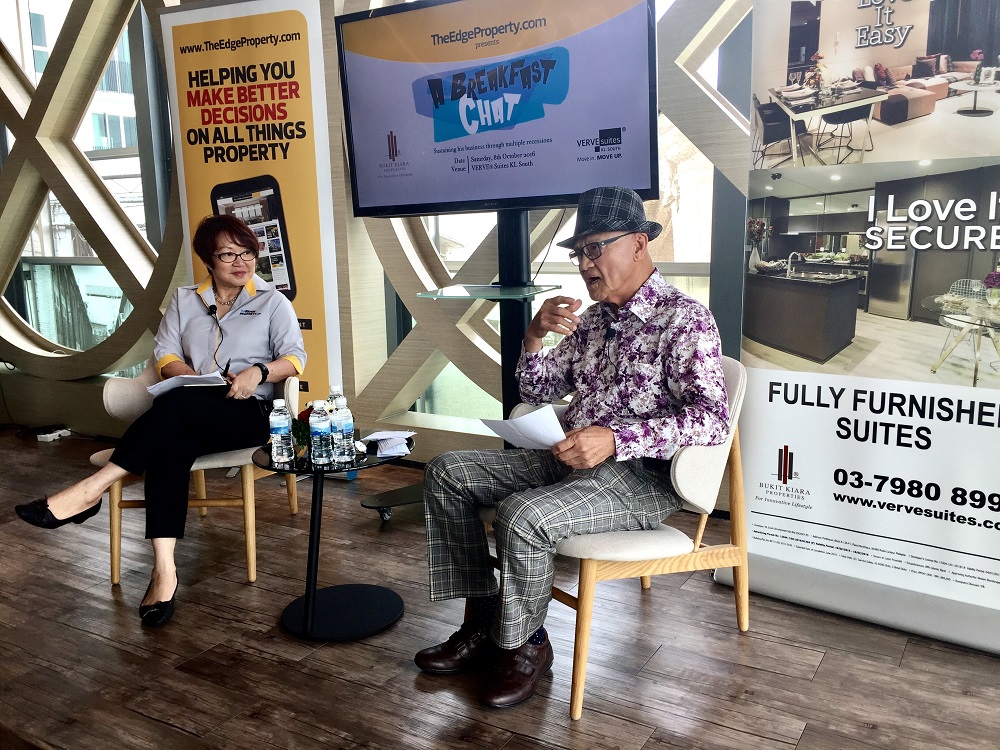 KUALA LUMPUR (Oct 8): What do you look for when buying your first home? Considering the connectivity of the place where your new home will be and not overstretching your finances are the two main factors when deciding where you should buy your first home, according to group chairman of Bukit Kiara Properties Sdn Bhd (BKP) Datuk Alan Tong.
"You do not want to stay in an area where you will take a few hours to travel to and from work. That three hours you spend on the road should be used for more productive activity and not in a traffic jam," said the veteran property developer, who was giving some pointers to the audience during a talk entitled "A Breakfast Chat with Datuk Alan Tong" this morning at Verve Suites KL South.
Tong, who is known as the Condo King of Malaysia for pioneering the development of condominiums in Malaysia, also shared his experience in sustaining his business through multiple recessions, during the event presented by TheEdgeProperty.com with the support of BKP.
About 125 participants turned up at the Verve Suites KL South to listen to the breakfast chat which was facilitated by TheEdgeProperty.com managing director and editor-in-chief Au Foong Yee.
First-time homebuyers, he said, have to consider their financial circumstances and be frugal if they need to. "It is important to not overstretch your finances. I have learned from my late father to not overstretch when it comes to spending. My father was a migrant from China who came to Malaysia to make a living for his family. Out of his 13 sons, he managed to send eight of his sons overseas to study. When he passed away, he left a bus company, 150 employees and four pieces of land in Klang. He was able to do it because he was frugal in his spending," said Tong.
"Our national household debt stands at about 89% currently. We are the second nation in the world with the highest household debt. It is important that we are able to pay off our debt once we have borrowed it," he added.
When it comes to living in areas with good connectivity, Tong said there would be a need for higher density residential developments near public transportation in future such as near mass rapid transit (MRT) and light rail transit (LRT) stations.
"We have three MRT lines in the Klang Valley which have been planned. I think we will definitely need more than three lines in the future to accommodate the growing population. However, we need an adequate volume of passengers to be able to maintain the stations.
"That is why I feel it is important that the authorities do not limit the heights of condominiums. It is always said that we need to reduce the height of the condominiums to reduce congestion. But the question is, how long are we going to continue spreading out our development? This is not the solution to the problem (of congestion)," Tong added.
For more on what Tong shared during the breakfast chat, read the Oct 14, 2016 issue of TheEdgeProperty.com which is available free for download.