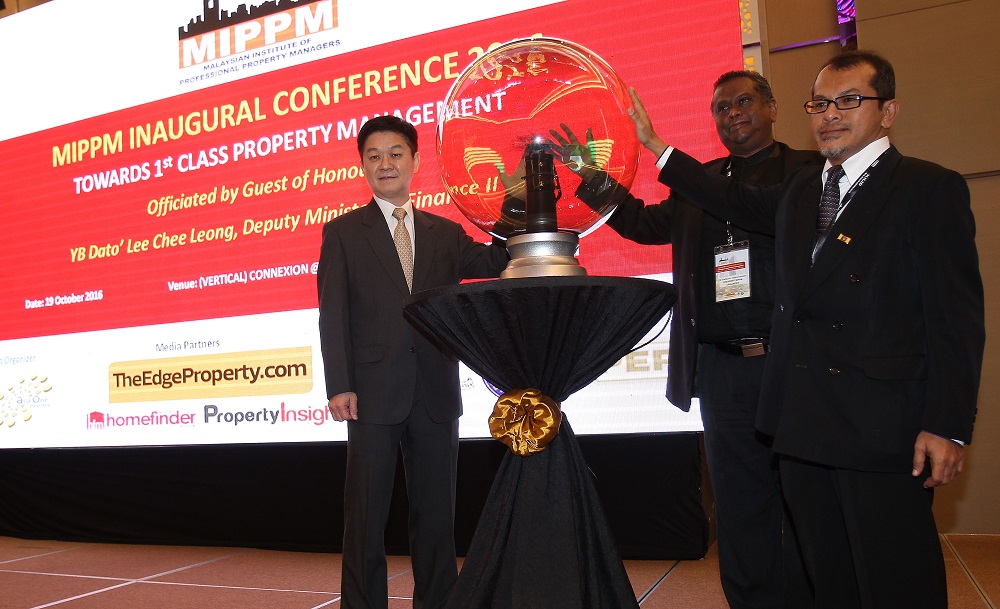 KUALA LUMPUR (Oct 19): The management of some 70% of condominiums and apartments in Malaysia is considered to be "below par", according to The Malaysian Institute of Professional Property Managers (MIPPM).
Its president Sarkunan Subramaniam said more still has to be done to raise awareness among the homeowners living in stratified properties of the importance of property management.
"Only 74 out of 7,325 high-rise residential properties surveyed earned a top 5-star rating, while the rest were ranked only 1 and 2 stars. Why is this the case? It shows that much has to be done to improve property management standards in Malaysia," said Sarkunan during a media conference after the opening of MIPPM's inaugural conference today in Kuala Lumpur.
He added that more than 70% of Malaysia's population today live in cities, and about 30% of the urban population are staying in more than 15,000 strata schemes, hence there are many property management maintenances issues and problems to be resolved including cleanliness, security and collection of service charges.
"We have 70% population living in the cities and we are hitting 80% soon. However, most of our high-rise building managements are ranked at only 1 to 2 stars. We are very far behind compared with developed countries and we have been talking about becoming a developed nation by 2020," Sarkunan said.
"It is very important to change our mindsets and be aware that professional property management is very important. It is something we have to regulate in future. Well-managed projects certainly have more value compared with those that are poorly managed even though they are both located in the same area, or of similar size and age," he added.
He said well-run premises are more successful in their collection of service charges or rents simply because the occupants are happy to pay.
He also emphasised that property management is not synonymous with property maintenance.
"Many people refuse to pay their maintenance fees because they think the management is not doing their job. For those who are thinking the same thing, you should change your mindsets. You should keep paying the maintenance fees, and join the management committee to see what you can do or improve. Do not allow your property to continue receiving bad management," he said.
"We also call property management prevention management — to prevent bad things from happening such as incidents of people falling into an empty lift shaft or getting electrocuted in the swimming pool; all these can be prevented if you have a professional property management team to check things from time to time," he noted.
He also urged property managers to register themselves with MIPPM.
"MIPPM believes that training is the best way to build capacity in the industry. We are also doing our part in creating awareness among property owners and investors alike on the importance of good property management. When consumers start demanding better services, the industry will have to move forward," said Sarkunan.
Organised by MIPPM, the full-day conference featured talks on the strata management tribunal, effective management of service contracts and providers, issues and challenges in managing green buildings, facilities management versus property management and the latest trends and developments in property management.
TheEdgeProperty.com is one of the conference's media partners. Themed "Towards 1st Class Property Management", the event is supported by the Board of Valuers, Appraisers and Estate Agents (BOVAEA), the Royal Institution of Surveyors Malaysia, and the Association of Valuers, Property Managers, Estate Agents and Property Consultants in the Private Sector Malaysia (PEPS).
The conference was officiated by Deputy Minister of Finance II Datuk Lee Chee Leong.
"For the property management industry in Malaysia to undergo transformation, it has to be carried out by trained and qualified professionals. The profession has to continuously find new ways and methodologies to enhance their services," said Lee.
"I also believe that the best way to go through a challenging period like now is by reinventing ourselves by adopting new technologies, creating new mindsets and changing the way we do things. When we reinvent ourselves, we can expect different and better results," he added
Other guests present were president of PEPS Foo Gee Jen and president of BOVAEA Rahah Ismail.