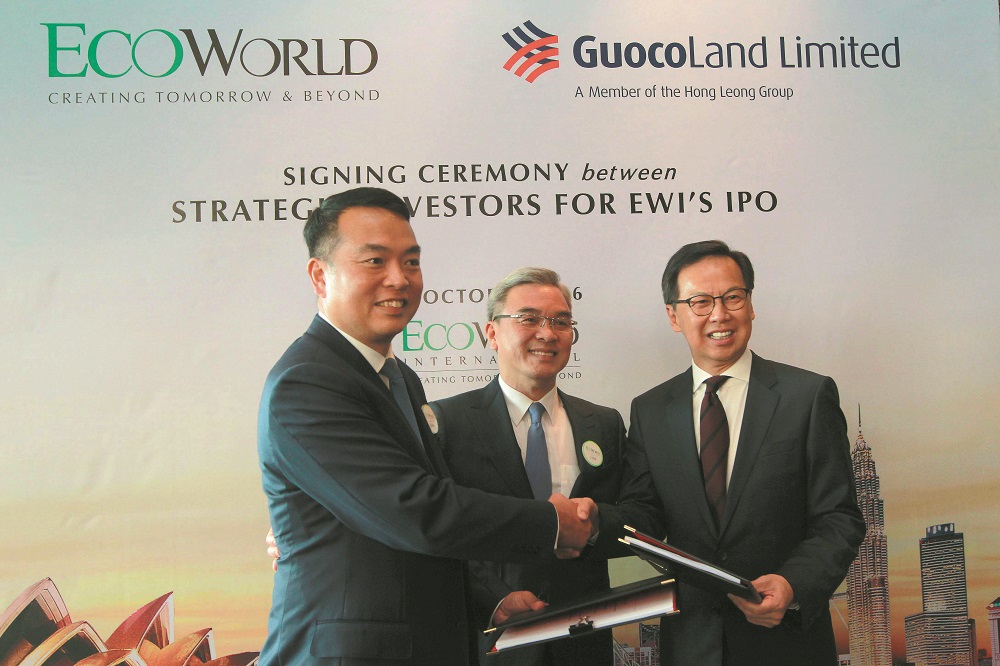 Tycoon Tan Sri Quek Leng Chan, through his Singapore-listed vehicle GuocoLand Ltd, has agreed to take a 27% stake in Eco World International Bhd's (EWI) initial public offering (IPO), slated to take place by March next year.
The announcement was made last Thursday after nine months at the negotiation table, says EWI executive vice-chairman Tan Sri Liew Kee Sin, who is also founder and chairman of Eco World Development Group Bhd (EcoWorld).
This confirms a report by The Edge in May, which said Quek was looking at acquiring a substantial stake in EWI.
Under the shareholders' agreement signed on Thursday, GuocoLand and EcoWorld will each take 648 million shares or a 27% stake in EWI's upcoming IPO. Another 18.7% will be allocated to institutional investors, 17% for retail investors and the remaining 10.3% will be held by Liew, who is well known for growing S P Setia Bhd into what it is today before he left the company in 2014.
The offer price of EWI's IPO shares has not been fixed, and will be determined based on a book building process.
GuocoLand and EcoWorld will sign another two deals at a later stage to further outline their long-term partnership. The two companies will each appoint up to three directors to the EWI board, in addition to four other independent directors.
EWI's IPO entails the issuance of up to 2.15 billion new shares, representing an 89.7% stake in the company. This will raise over RM2 billion that will be used to fund the development of four projects in London and Sydney.
"On our own, we will never grow big in London. With [the partnership of] GuocoLand, we (EWI) can tap its strengths to go forward. We [also] need financial power to do property development overseas," says Liew.
"So far, EWI has sold half of its total gross development value (GDV) and within the next 18 months, the remaining GDV will also be sold. So, we need to start looking for new projects in London and Sydney. We need financial resources and GuocoLand can provide that, as well as potential landbank," he adds.
EWI currently has three ongoing projects in the UK, namely the £691.3 million (about RM3.5 billion) London City Island project on the Leamouth Peninsula by Canary Wharf, £932.5 million Embassy Gardens and £566.1 million Wardian London.
"The projects in the pipeline will give us earnings visibility until 2020," Liew says, adding that EWI is in a good position to seek new projects given its low gearing ratio post-IPO.
According to him, the company is not impacted by the softening property prices, but has managed to record "impressive" sales even after the Brexit.
"Our products are all priced at the mid-range level, which is highly sought after by house buyers," Liew says, noting that the weakening of the pound sterling has also resulted in a rebound in sales since last month.
GuocoLand president and CEO Raymond Choong says the group has been on the lookout for investment opportunities in other markets besides Asia.
"It is not just about us investing in EWI, but also us working together to tap the much bigger markets of the UK, Australia and China. The partnership is a win-win for both sides whereby we can leverage our expertise to give us a much better advantage over other developers," Choong adds.
He believes now is a good time for GuocoLand to enter the London and Sydney markets. "Uncertainties surrounding the Brexit create an opportunity for us to enter the London property market at reasonable prices and terms."
EWI president and CEO Datuk Teow Leong Seng says the company's sales between Jan 1 last year and Oct 3 this year stood at £1.058 billion.
Year to date, EWI has registered £472 million in sales, of which £136 million or 30% was secured after Brexit. For the financial year ended Oct 31, 2015 (FY2015), it achieved sales of £436 million.
Teow says UK homebuyers account for almost half of EWI's current buyers, followed by Malaysians (19%), Chinese and Hong Kong people (18%), Singaporeans (5%) and buyers from the Middle East and North Africa region (3%).
He adds that EWI has no plans to defer its property launches amid the UK property slowdown.
The company is expected to deliver Block A and M of its London City Island project by October next year. The remaining five blocks will be launched progressively after that, says Teow.
Subsequently, EWI will deliver the Embassy Gardens and Wardian London projects by the first half of 2018 and the first half of 2020 respectively.
This article first appeared in The Edge Malaysia on Oct 31, 2016. Subscribe here for your personal copy.