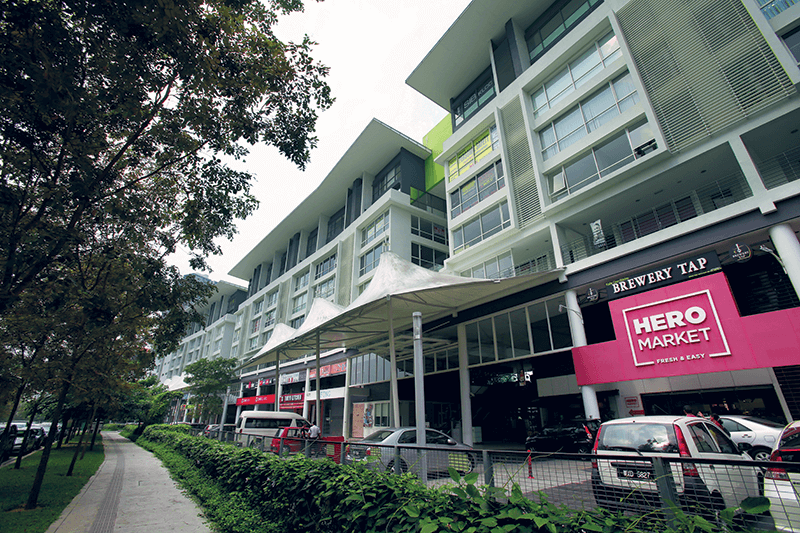 Located along Persiaran Perdana in Bandar Sri Damansara, Kuala Lumpur, Ativo Plaza may appear rather unassuming but once you are inside, you will discover its hidden charms.
Ativo Plaza, which won The Edge Malaysia-PEPS Value Creation Excellence Award 2015 in the non-residential category, is an 8-storey modern, green and open-design building with 198 office suites and 43 lifestyle retail units.
It is the first phase of upscale mixed-use development Damansara Avenue, which comprises shops, offices, residences and a shopping mall.
Occupying 48 acres in the heart of Bandar Sri Damansara, Damansara Avenue is being developed by Indo Aman Bina Sdn Bhd, a subsidiary of TA Global Bhd.
Ativo Plaza, which sits on 5.73 acres of freehold land, offers lifestyle food and beverage (F&B) outlets and signature offices. It is easily accessible via the Damansara-Puchong Expressway, the New Klang Valley Expressway and the SPRINT Highway.
From Persiaran Perdana, there is an internal ring road that connects to the main road, bringing traffic into Ativo Plaza. The retail and office suites face the main road while a seven-acre linear park lies behind the building.
"When all the phases are developed, this green area will be surrounded by the buildings, which will feature green walls. With all the greenery around, it provides a space to relax, so the people staying or working here won't feel that they are living in a concrete jungle," says TA Global executive director Kimmy Khoo.
The park is the key element that makes Ativo Plaza stand out. Not only does it offer a green lung here but it also provides a place for the residents to interact and hold activities.
"Overseas, we can see people strolling in parks even at 11pm. They gather and organise community activities such as line dancing and sport. But, in Malaysia, people just stay at home," Khoo says.
The walkways and jogging tracks in the park will be surrounded by buildings and there will also be a small playground, offering a safe environment for parents to leave their children to play and run around.
The lush green space is actually an integral part of Ativo Plaza as it will connect the first phase of Damansara Avenue with future phases.
During a site visit, the judges were impressed by the landscaping and the ideas behind its design.
This is the first time TA Global has taken part in The Edge Malaysia Property Excellence Awards and so it did not expect Ativo Plaza to win.
According to director of business development Ernest Yeap, the project team considered every detail to make sure the design is in line with the plan to create a green development. For example, there are no corridors for the retail units, so there is no need for air conditioning, which means lower consumption of electricity.
"The retail units come with dual frontage — one portion faces the road, providing good visibility and connectivity, while the other faces the lush green area, giving a nice view and private space for the tenants," he explains. This design also enhances the natural air ventilation of the units.
He says most of the parking space is located below ground because of the topography. This also allows the developer to build a ring road providing direct access from Persiaran Perdana to Damansara Avenue.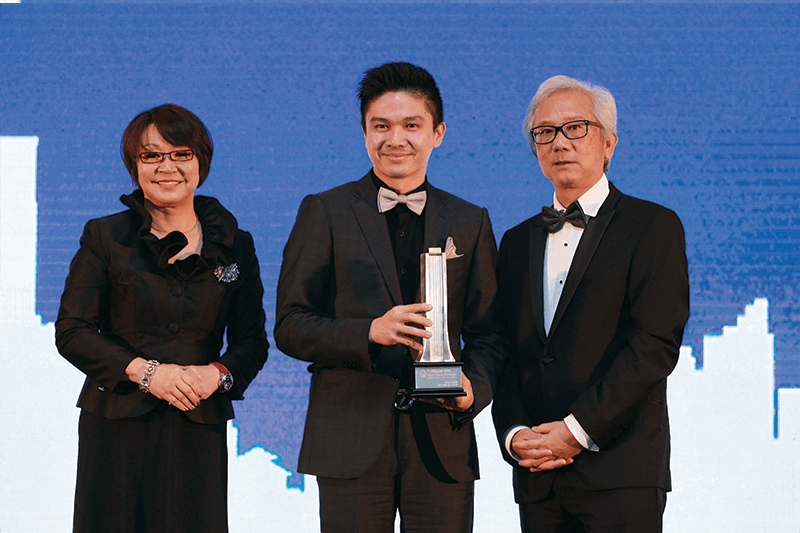 "The slopes will become a landscaped area with several interconnected buildings, which will be developed in the future," says Yeap.
To make Ativo Plaza's concept different from other retail developments in the Klang Valley, the developer also took care to have tenants that offer retail and F&B choices that are not found in Bandar Sri Damansara.
The niche tenants include Hero Supermarket, The Morning After café, Rondaevoo by Rotiboy, BMS Organics, Café D'Fong and Out of Seoul. There are also established F&B outlets such as Kenny Rogers, Subway, Old Town Kopitiam and Papa John's Pizza.
Capital appreciation and rental yield
Launched in 2010, Ativo Plaza was fully taken up within two weeks. According to the developer, since then, the office suites have seen capital appreciation of between 34% and 41% as at end-2014. Investors have also enjoyed rental increases of 39% to 43% since its completion in 2013. Currently, rents for the office suites are between RM2.50 and RM3 psf per month.
The office suites — 198 units in all — come in five layouts with built-ups of 547 to 4,094 sq ft. The selling price was between RM251,000 and RM2 million, or between RM450 and RM500 psf.
According to Yeap, the subsale prices for the office suites now range from RM480,000 to RM2.2 million and monthly rents range from RM1,700 to RM6,700.
"As at June 2015, the office suites have an occupancy rate of 78% — some are owner-occupied while others are rented out. There are insurance agencies, creative companies, a training centre and a fitness centre," he adds.
He attributes the office suites' price appreciation to the development's unique design that combines functionality with green open spaces.
The maintenance fee of the office suites is 35 sen psf.
Security is another feature of Ativo Plaza as it boasts round-the-clock closed-circuit television surveillance with guards patrolling even at night.
More to expect in the future
Damansara Avenue is divided into two parcels. Development on Parcel One's 26.5 acres consists of Ativo Plaza, Azelia Residence and Ativo Suites as well as Ativo Annexe, which comprises offices, F&B or retail units and serviced apartments.
Azelia Residence, which comprises 250 serviced apartments, was completed last year. Due to the overwhelming response, the lifestyle units were sold by ballot on launch day.
Ativo Suites, to be launched early next year, will feature 668 dual-key serviced apartments with built-ups of between 500 and 1,500 sq ft. Prices are between RM480,000 and RM1.4 million.
Parcel Two — 21.5 acres — is still in the planning stage. According to Yeap, there will be a shopping mall with an estimated gross lettable area of one million sq ft in Damansara Avenue's master plan.
Khoo says with all the residential, retail, office and leisure components coming in, there will be added vibrancy to Ativo Plaza in the future and Damansara Avenue is poised to be the next hot spot for leisure activities for residents of Bandar Sri Damansara, Kepong, Sierramas, Bandar Menjalara, Desa ParkCity and Selayang.
"Capital appreciation and rental yields at Ativo Plaza will grow as more people come and become part of the community," she adds.
It is worth noting that a mass rapid transit station of MRT 2 project — Sri Damansara East — has been proposed for a site adjacent to Damansara Avenue, thus adding value to the development.
Ativo Plaza, which is located after the Penchala toll plaza, may face stiff competition from a number of shopping malls in Petaling Jaya such as Atria Shopping Gallery, 1 Utama and The Curve. Desa ParkCity, which is 5km away, could also be a direct competitor when it comes to attracting the crowd.
However, Khoo is not too worried about Ativo Plaza's location. "It's a different catchment we are talking about. Before the [Penchala] toll, consumers have a lot of lifestyle choices, but what about people staying in Kepong, Sungai Buloh and Selayang? There are large populations in these areas looking for lifestyle retail places too," she says.
A study on the catchment size for Ativo Plaza shows that within a five-minute drive, there are 17,000 households comprising 67,000 people.
Khoo says residents in nearby neighbourhoods such as Desa ParkCity, Bandar Menjalara and Sierramas are mostly high income earners who are willing to spend and are looking for lifestyle F&B and leisure outlets. Ativo Plaza, she says, has what it takes to attract them.
She believes Damansara Avenue, when completed, will have more to offer and will continue to surprise the market with its new offerings. TEPEA 2015
Do not ask your BFF about the value of your home. Click here at The Edge Reference Price to find out.
This article first appeared in City & Country, a pullout of The Edge Malaysia Weekly, on Dec 7, 2015. Subscribe here for your personal copy.