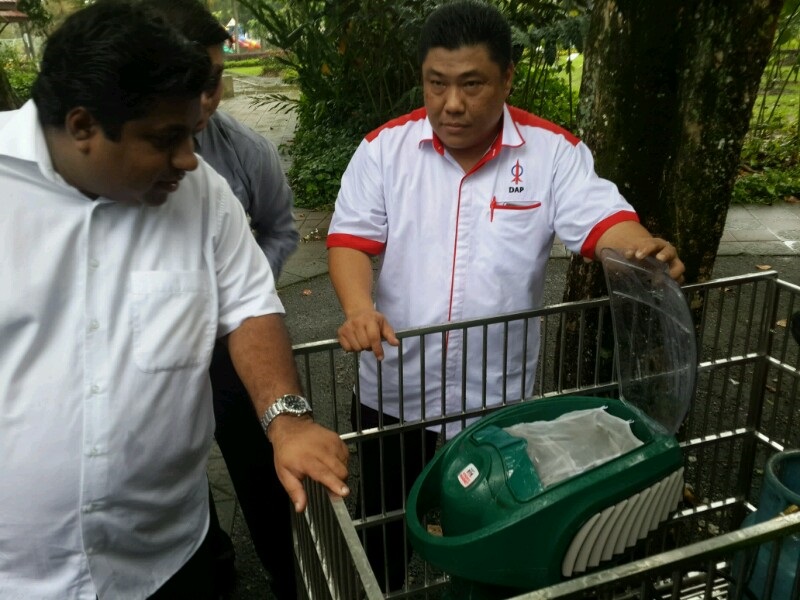 KUALA LUMPUR (Oct 15): Bukit Gasing assemblyman Rajiv Rishyakaran believes he has come up with a new way to combat the mosquito menace in Petaling Jaya by installing new machines in public parks like Taman Jaya to help bring the mosquito population down.
"I have recently purchased two Mosquito Magnet machines in an attempt to fight the mosquito problem in PJ," he said.
"We have the usual methods of fighting dengue, which includes gotong-royong and search-and-destroy... but still there are challenges in terms of the number of mosquitos," he said to reporters in Taman Jaya yesterday.
After the successful trial run in Section 11, Rajiv bought two more machines to be placed in Petaling Jaya parks and dengue hotspots.
"We did a trial in Section 11 together with the residents' association there and were able to suck in mosquitos.
"Therefore, we have purchased two more machines. One is here in Taman Jaya, which we installed two weeks ago, and the other will go in the playground in Gasing Indah, Section 5."
Rajiv claimed that after two weeks, the number of mosquitos in those areas had dropped.
"This is a unique method, in contrast to the conventional ways that are not yielding the desired results.
"The results are there, the mosquitos are being caught now with this machine," he said.
He also explained that if Petaling Jaya City Council (MBPJ) had a problem with a particular hotspot, then the machine could be move to the location.
"The machine costs RM4,800 from the state budget, which requires only a change of battery and gas tank each month," he said.
Terrence Loh, who supplied the machines, said the Mosquito Magnets were also weatherproof and could operate 24 hours a day.
"The machine stimulates a human body temperature using gases and moisture to attract mosquitos, which will then be sucked into a bag," he said.
The machines are now in operation, erected inside reinforced cages to prevent vandalism and theft.
"We will move the machines around to cover the area more effectively but, with security in mind, I only hope that these measures will stop these machines from being stolen," Rajiv said. -- The Malaysian Insider