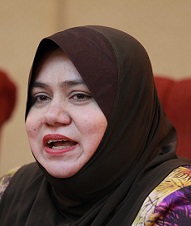 KUALA LUMPUR (Nov 17): The government will sign the concession agreement for the East Coast Expressway Phase 2 (LPT2) by the end of this year, said Deputy Works Minister Datuk Rosnah Abdul Rashid Shirlin (pictured).
Currently, users of the RM4.25 billion LPT2 do not have to pay tolls as the government is still finalising the agreement with the selected concession company after issuing the request for a proposal to manage and maintain the highway, said Rosnah.
"In view of this, issues regarding the toll rate and the share distribution, which involve the interest of the state government, have not been finalised. According to the plan, the concession agreement of LPT2 would be signed by the end of the year," Rosnah said during the oral questioning session in Parliament yesterday. She was responding to a question by Barisan Nasional Setiu member of parliament Che Mohamad Zulkifly Jusoh, who had asked the minister of works to state the share of distribution between the concessionaire and the state government, and when the highway would be fully operational.
Rosnah also said the 184km-long LPT2 is completed and has been fully operational since Jan 31.
LPT2 connects Jabur and Kampung Gemuruh in Terengganu. PLUS Malaysia Bhd has taken over the operation of the highway for now.
Rosnah also said the 174km-long East Coast Expressway Phase 3 (LPT3), which connects Pahang, Terengganu and Kelantan, is in the Highway Network Development Plan Phase 1.
This article first appeared in The Edge Financial Daily, on Nov 17, 2015. Subscribe to The Edge Financial Daily here.