Judge methodology

Tan Sri Teo Chiang Kok
A patron and past president of the Real Estate and Housing Developers' Association (Rehda) of Malaysia. He was also a past president of Fiabci Malaysia and is an adviser to the Malaysian Association for Shopping and Highrise Complex Management (PPK).
He is a director of See Hoy Chan Holdings Group in Malaysia and has 38 years of experience in the property development industry. He oversaw the development of the Bandar Utama township and to date, the company has developed 30,000 residential units and 20 million sq ft of commercial properties.
"All the winners of this year's awards are familiar names and prominent players in the property industry.
The positions of the winners have changed somewhat, basically due to their respective activities in the market and the timing of their projects' completion during the past few years.
This is not unexpected as projects take considerable time from planning to launch.
This determines exactly when the projects are launched, completed and consequently, when profits are recognised and factored into the quantitative scoring.
Congratulations to all the Top 10 winners."
Tan Sri Eddy Chen
He is the group managing director of MKH Bhd and is also a patron and past president of Rehda Malaysia. Chen is serving as a National Council and Executive Committee Member of Rehda Malaysia for the 2014 to 2016 term.
He has been involved in property development and construction-related businesses for nearly three decades. Chen sits on various government-private sector committees that formulate policies on housing and the property sector. He is the president of the Malaysia Shopping Malls Association for 2014 to 2016.
He is also the president of the Building Management Association of Malaysia (BMAM) for 2014 to 2016.
"First, let me congratulate all the Top Property Developers Awards winners. As always, we saw very competitive performances by all winners.
While The Edge Malaysia Top Property Developers Awards continue to command high respect and integrity in the award process, more awards of all kinds are being churned out by many other organisations, many with conditions attached.
For this, I applaud The Edge for continuing to stay above the fray as others commercialise theirs.
On another note, 2015 was a challenging year, with many developers adjusting downwards their target achievement. Going forward, developers with strong balance sheets supported by high unbilled sales will do well.
Given the two factors and looking at the Top Property Developers Awards 2015, I expect the 2016 line-up will be very much the same. Again, my heartiest congratulations to all the winners."
(Note: Chen abstained from voting for MKH Bhd)
Datuk Soam Heng Choon
He is the current deputy president of Rehda Malaysia and was the chairman of Rehda Negeri Sembilan from 2004 to 2010.
On April 6, 2015, he was appointed CEO and managing director of IJM Corp Bhd. Prior to his current role in IJM Corp, he was CEO and managing director of IJM Land. He had been with Road Builder (M) Holdings Bhd since 1989, which eventually merged with IJM Corp in 2007. Prior to that, he was with the Ministry of Works for 10 years.
He is a professional engineer and a member of the Institution of Engineers, Malaysia.
"I would like to take this opportunity to congratulate all the top ranking developers of this year's The Edge Malaysia Top Property Developers Awards. Competition has been keen for the top 10 spots. Consumer perception and brand loyalty are leading contributors to the scoring.
This year, the property players made the top 10 rankings because of their high levels of consumer awareness, customers' positive associations with the brand and their ability to create meaningful value compared with their competition.
Indeed, it is heartening to see that the top 10 developers and professionals have made customer focus and sustainable innovation strategic priorities.
And today, as the market becomes more challenging, branding plays an important role in helping discerning customers to decide which product to buy, or whom to buy from. And it is in times like this that property developers need to focus their efforts on continuing to build and maintain their brand by being more resilient, creative and sensitive to the needs of customers.
(Note: Soam abstained from voting for IJM Land)
Ho Chin Soon
A Fellow of the Royal Institution of Surveyors, Malaysia, and a registered valuer with the Board of Valuers, Appraisers and Estate Agents, Malaysia. He holds a Professional Diploma from the Royal Institute of Chartered Surveyors (UK).
He is currently the chairman of Ho Chin Soon Research, a property information company that specialises in land use and ownership maps. He has authored several property-related books.
"2015 is turning out to be a challenging year for property developers. However, I note that developers with strong brands do continue to bring in the crowds when they launch their real estate products.
Branded developers are proactive and some have already tailored their merchandise and offerings to suit market conditions.
The workload for us judges is increasing and I notice the quality of the submissions has improved greatly. Keep up the good work."
Datuk Seri Michael Yam
He is the immediate past president of Rehda Malaysia. His experience in the real estate and corporate sectors includes being CEO of two different Bursa listed companies. Now, he manages his own private equity, corporate advisory and development consultancy firm.
He is currently chairman of InvestKL Corp and also an independent non-executive director of Standard Chartered Bank Malaysia Bhd, Standard Chartered Saadiq Bhd, Paramount Corp Bhd, Sunway Bhd, Malaysia Airports Holdings Bhd, Cahya Mata Sarawak Bhd and CLAB Bhd.
He is professionally qualified as a Fellow of the Chartered Institute of Building and also a Fellow of the Royal Institution of Chartered Surveyors.
"It is commendable that after 13 years, The Edge Malaysia Top Property Developers Awards still garners immense interest and participation from property developers.
It reaffirms this competition's premium status and prestige as the industry recognises it as the gold standard in establishing the standing of developers among their peers, not only quantitatively but also qualitatively, especially in the eyes of the public at large and consumers.
Competition this year is still intense, gauging from the submissions. Notably, there are some marked changes in the rankings compared with previous years. Perhaps this may be attributed to the lack of projects by previous performers, or maybe budget cuts have lowered the companies' visibility and market positioning.
Regardless, in a highly competitive market and in light of the prevailing challenges, developers would need to harness all their resources to ensure the sustainability and relevance of their business. It is in times like this that one sorts out the men from the boys!"
(Note: Yam abstained from voting for Sunway Bhd and Paramount Corp Bhd)
Datuk Jeffrey Ng
A patron and past president of Rehda Malaysia. He has more than 30 years of experience in finance, corporate planning and executive management in the property and hotel industries in both Malaysia and Australia.
He is a member of the Malaysian Institute of Certified Public Accountants, a fellow member of Chartered Accountants, Australia and New Zealand and a fellow member of the Malaysian Institute of Directors. He holds a Capital Markets Services Representative's Licence under the Securities Commission Malaysia.
Currently, Ng is CEO of Sunway REIT and chairman of Rehda Institute. He is also a director of United Overseas Bank (Malaysia) Bhd and Urban Hallmark Properties Sdn Bhd. He was recently reappointed as panel member of the Appeal Board under the Federal Territory (Planning) Act 1982.
"Congratulations to Sunway for retaining the No 1 position.
Great to see IJM and UOA gaining such strong market recognition and momentum. It is also interesting to note that only Mah Sing and IOI moved up in ranking this year, while last year's Top 10 winners dropped in their rankings.
This year's ranking of the Top 10 winners holds true the old adage of what market competition is about.
It is hard enough to reach the Top 10, but it is equally difficult to maintain or improve your ranking once you have reached there.
The property cycle has enjoyed its upswing for more than half a decade. With the current property market slowdown, these top property developers are forced to adjust their marketing, product and business strategies in order to compete for their market share.
Clearly, some top property developers are adjusting faster to cope with the current tougher market conditions than others."
(Note: Ng abstained from voting for Sunway Bhd)
Kumar Tharmalingam
A past president of Fiabci Malaysia and a past board member of Fiabci International, Kumar is a Fellow of the Royal Institution of Charted Surveyors, Fellow of the Institution of Surveyors Malaysia and a registered real estate valuer and property consultant with the Board of Valuers, Appraisers and Estate Agents, Malaysia. He has been in the real estate industry for more than 35 years.
From 2010 to 2013, Kumar was CEO of Malaysia Property Inc (MPI) and an executive director in Sunway Bhd. He is currently the senior advisor to Area Management Sdn Bhd, a private equity fund developing gated industrial projects in Malaysia.
"People often ask me why The Edge awards are the barometer of excellence in property awards in Malaysia.
The primary reason is you can't buy The Edge awards. Judges selected from the property industry consider every property company listed on Bursa Malaysia, looking for the top 30 property companies in the country. Non-listed property companies have to send in a detailed checklist, including audited results, to be considered.
You will not see 1,000 paying guests at the strictly by-invitation only awards dinner. Just Malaysia's best developers. And the judges. No exceptions.
The desire to be there one day spurs every developer to excel in their business so they can be considered.
If that was The Edge group's raison d'etre for the launch of The Edge Malaysia Top Property Developers Awards, then they have achieved their objective."
Au Foong Yee
Au was an executive editor at The Edge Malaysia when she conceptualised The Edge Malaysia Top Property Developers Awards in 2003, which has evolved into the anchor for The Edge Malaysia Property Excellence Awards. She is now managing director of The Edge Communications Sdn Bhd, which publishes The Edge Malaysia, The Edge Financial Daily and haven. Au is also managing director of TheEdgeProperty.com and The Edge Galerie Sdn Bhd.
"The so-called property mantra of location, location and only location is almost, well, dead. Branding is the all new and encompassing real estate buzzword.
Being a judge of The Edge Malaysia Top Property Developers Awards from its start in 2003, has allowed me to scrutinise the insights into Malaysia's best and most important developers for more than a decade. It is clear that developers with a strong brand are increasingly finding a strong and loyal following in property buyers.
Make no mistake; the brand perception of a developer is more complex than that of, say, luxury wearables.
It is not just about market visibility. And unlike wearables, the shelf life of a developer's brand is almost perpetual; in fact, the brand's lifespan is as long as the project stands.
The risk exposure of a developer's brand does not stop at its latest project. Remaining on the radar are all its ongoing activities, and a lot goes on before a property can be put on the market, is completed and subsequently handed over to the buyer.
All the developers who made it to The Edge Malaysia Top Property Developers Awards 2015, naturally, have displayed exceptionally strong branding, coupled with a strong financial performance. Competition is getting tougher, with developers raising the bar for themselves in a trying market.
Sunway Bhd must be applauded for remaining in the No 1 spot for the second consecutive year. As they say, winning is tough; staying at the top is tougher.
Special mention must be given to IJM Land for making a spectacular jump in ranking from the 14th spot last year to second place this year.
Congratulations to all the winners."

Rosalynn Poh
Poh is editor of City & Country, the property pullout of The Edge Malaysia.
"It has been another interesting year for The Edge Malaysia Top Property Developers Awards. Congratulations to Sunway for remaining in the top spot for the second year and great job to all the outstanding developers! Once again, it shows that making huge profits alone is not enough anymore. The 65% weightage for qualitative attributes (since 2010) makes it all just a bit more interesting.
I have been fortunate to have been part of these prestigious property awards for the past few years. While the whole process can be rather long, and at times, tedious, due to its complexity, the team and I are proud of the fact that it is audited and you cannot buy the awards for the strictly by-invitation awards night ceremony. In other words, The Edge Malaysia Top Developers are truly deserving winners and therefore should be very proud of themselves.
So to all the winners, congratulations on your great performance!"Rosalynn Poh
Poh is editor of City & Country, the property pullout of The Edge Malaysia.
"It has been another interesting year for The Edge Malaysia Top Property Developers Awards. Congratulations to Sunway for remaining in the top spot for the second year and great job to all the outstanding developers! Once again, it shows that making huge profits alone is not enough anymore. The 65% weightage for qualitative attributes (since 2010) makes it all just a bit more interesting.
I have been fortunate to have been part of these prestigious property awards for the past few years. While the whole process can be rather long, and at times, tedious, due to its complexity, the team and I are proud of the fact that it is audited and you cannot buy the awards for the strictly by-invitation awards night ceremony. In other words, The Edge Malaysia Top Developers are truly deserving winners and therefore should be very proud of themselves.
So to all the winners, congratulations on your great performance!"

AWARDS Methodology
The Edge Malaysia Top Property Developers Awards is an exercise to rank Malaysia's top property players based on their quantitative and qualitative attributes — from the consumer's perspective. The ranking is published annually.
Introduced in 2003, it is based on the conviction that a developer's quantitative attributes alone are not sufficient to earn it the title of most outstanding player. A property developer is judged not only on how profitable the company is or how many homes it builds and sells each year but also on its qualitative attributes.
All companies listed on Bursa Malaysia's property sector are automatically considered for the awards while non-listed developers which are interested to be ranked need to submit entries. Advertisements calling for entries from privately owned companies and the property development arms of companies not listed on Bursa's property sector were published in The Edge.
Quantitative attributes
Four quantitative attributes, namely shareholders' funds, profit before tax, revenue and cash/net gearing make up 35% of the overall score. Net gearing is defined as the total of long and short-term loans minus cash divided by shareholders' funds.
All financial data considered for the 2015 awards was based on a developer's FY2014 results. The quantitative data of listed developers was derived from documents submitted to Bursa. Non-listed companies were required to submit copies of their audited accounts. Where signed audited financial statements were not available, data certified by the developer's external auditors was used. Seven non-listed developers took part this year.
Qualitative attributes
Qualitative attributes contribute a greater weightage of 65%. The five attributes evaluated are product quality (finishing and timeliness), innovation and creativity (in the products and marketing), value creation for buyers (capital appreciation), image (includes credibility) and expertise (includes management and experience).
Points awarded
A maximum of 10 points are awarded for each qualitative and quantitative attribute. Points for quantitative attributes are based on the financial data of the company while points for qualitative attributes are awarded by a panel of judges comprising industry experts and veterans as well as The Edge.
This year's judges were Datuk Jeffrey Ng, Tan Sri Teo Chiang Kok, Kumar Tharmalingam, Tan Sri Eddy Chen, Datuk Seri Michael Yam, Datuk Soam Heng Choon and Ho Chin Soon. The Edge was represented by its managing director Au Foong Yee and City & Country editor Rosalynn Poh.
Judges who abstained from the deliberation and judging of companies in which they had direct or indirect interests were Ng for Sunway Bhd (he is CEO of Sunway REIT Management Sdn Bhd), Chen for MKH Bhd (managing director), Soam for IJM Land (CEO and managing director of IJM Corp Bhd) and Yam for Paramount Corp Bhd and Sunway Bhd (director for both).
Results audited
The property developers were ranked according to their overall score. After the points for the quantitative and qualitative attributes were tabulated, the results were audited by Deloitte Malaysia.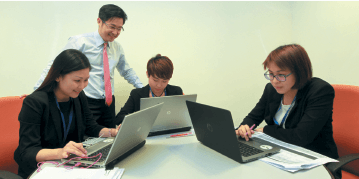 The Edge Malaysia-PEPS Value Creation Award 2015
Judges' remarks

Foo Gee Jen
Managing director of C H Williams, Talhar & Wong Sdn Bhd
Vice president of PEPS
All the entries impressed us with their high quality and innovative planning, which made them stand out in the marketplace.
These projects were all launched in 2010 when the property market was beginning to recover, and despite competitive market conditions, they achieved nearly 100% take-up.
In the residential category, Gamuda Land 's subsidiary Harum Intisari Sdn Bhd took the blue ribbon for phase 15B of Ambang Botanic 1 in Bandar Botanic, comprising 128 units of 2-storey semi-detached houses and bungalows.
Bandar Botanic in Klang is also the winner of the International Real Estate Federation's FIABCI Malaysia award for Best Master Plan in 2003.
Bandar Botanic is a well-planned parkland-waterfront township and resort. The semi-detached houses are designed to be more spacious than typical units. The developer also constructed wider road shoulders for the residents. This new gated and guarded township also features a dedicated flyover for convenient access from the Shah Alam Expressway.
Another project that won a merit award in the residential category is Z Residence by Trinity Group. It is a breath of fresh air compared with the typical high-rise in the Bukit Jalil area. Facilities provided exceed that of its competitors and include a large infinity pool, generous greenery and pool and mahjong tables for indoor recreation.
In the non-residential category, Ativo Plaza by Indo Aman Bina Sdn Bhd — a subsidiary of TA Global Bhd — emerged the winner.
Ativo Plaza in Bandar Sri Damansara combines both retail and office use in a single development. The linear landscaping with a modern open concept distinguishes itself from the conventional square plaza layout and reinforces the impact of a green and serene ambience. Tenanted by Hero Mart and other F&B outlets, Ativo Plaza provides shopping convenience to existing office tenants and the catchment population.
This retail-office development with ample green space introduced a refreshing development concept and broke new ground in Bandar Sri Damansara.
Chee Kok Thim
Director (valuation services) of Rahim & Co
Chartered Surveyors Sdn Bhd
Honorary secretary of PEPS
There were 13 entries in all for the residential and non-residential categories. Most of the participating projects were by established developers, indicating growing recognition of The Edge Malaysia –PEPS Value Creation Excellence Awards.
The Z Residence by Trinity Group was chosen merit winner in the residential category for its innovative landscape and master plan that create value to the buyers.
The facilities include an infinity swimming pool and a gym facing the pool, landscaping, and common areas such as a sky lounge and meeting room on the top floor for the residents. The developer also put effort in designing the lift lobby and improving the access road to the condominium.
Ativo Plaza, the winner in the non-residential category, has a good mix of commercial activities on the ground floor, such as niche brand restaurants and supermarket. Notably, there is a 7-acre park with lush greenery, good lighting and water features for people to take a walk or indulge in other activities.

James Wong
Managing director of VPC Alliance (Malaysia) Sdn Bhd
Past president and current council member of PEPS
The winners truly deserved the awards. Congratulations.
Bandar Botanic's outstanding attributes were the creation of a resort style environment, with 15% of the land area dedicated to green parks and lakes, three-tier security, gated and guarded community concept and its freehold status.
For the merit winner of the residential category, I salute the Trinity Group for developing the interesting Z Residence, which is built on a difficult slope site, into a value-for-money condominium development, with its posh lobby, infinity pool, elevated floating garden and sky lounge.
Ativo Plaza, the winning project in the non-residential category, is not a conventional commercial development. The office suites were complemented by 43 units of F&B and lifestyle shops, with an open arena for entertainment and other activities, landscaping and ample car parking.
Under the Damansara Avenue Master Plan, this development will be linked to a proposed shopping mall and new MRT station.
Au Foong Yee
Managing director of The Edge Communications Sdn Bhd
and TheEdgeProperty.com
Winning The Edge Malaysia-PEPs Value Creation Excellence Award is no mean feat — it is a statement that these developers have been recognised for creating substantial value for their buyers.
Such a track record would naturally sit well with investors and owner-occupiers alike. This becomes more relevant at a time when property prices in preferred or dream addresses show little sign of easing, although growth has slowed.
For first-time homebuyers, putting down what could amount to one's life savings on a property whose value could go up substantially would mean better prospects of upgrading to a better one in the near future. On the flipside, make a wrong choice and you could be stuck with the property for a long time.
This year, we received a total of 13 submissions. All these developers must be applauded for having done well in creating value for their buyers. It may be a sign of the times, but it is heartening to see more and more developers paying more attention to ensuring that buyers do not regret their purchase.
Congratulations to the winners!
Rosalynn Poh
Editor of City & Country, the property pullout of The Edge Malaysia
We saw many competitive entries this year. The submissions by themselves would have been no easy task as there was a long list of detailed information and certified documentation to comply with. Those who made it to the shortlist were notified, and presentations and walkabouts carried out with the judges.
This award is important to homebuyers and prospective investors as we all want properties that are not only good to live in, but which can get a decent return on investment and provide peace of mind. We recognise outstanding performance by the developers as the value of a property does not solely lie on how fabulous the location is. It is a package deal that discerning investors and owners look for these days — good location, design, great master plan, sustainable concept and so on — we want it all.
To the winners, kudos for building not only good properties, but also creating great value for the owners!
Ativo Plaza in Bandar Sri Damansara and Phase 15 Ambang Botanic in Bandar Botanic win value creation excellence awards
TA Global Bhd's Ativo Plaza in Bandar
Sri Damansara (non-residential) and Gamuda Land's Phase 15 Ambang Botanic in Bandar Botanic, Klang (residential) bagged The Edge Malaysia-PEPS Value Creation Excellence Award 2015. Merit award was given to Trinity Group's Z Residence in the residential category.
This award is a joint initiative of The Edge and the Association of Valuers, Property Managers, Estate Agents and Property Consultants (PEPS) to recognise property developments that have rewarded their purchasers in terms of capital appreciation in an outstanding way.
Read more on Pages 60, 62 and 110.
Methodology
The award is aimed at helping consumers find properties that have the greatest value creation in terms of capital appreciation and recognising the property developer whose properties have achieved the highest value creation.
Judging criteria:
A)The average capital appreciation derived from the property developer's selling price and the actual transacted price or deemed market value of any subsequent sale of five properties.
B)The average capital appreciation per year over a period of not more than five years, derived from the average capital appreciation as stated in the criteria above.
C)Qualitative attributes based on the occupancy rate, master planning and the sustainability of value.
Scores are tallied based on a weightage of 65% for criteria A, 15% for criteria B and 20% for criteria C. The five-member judging panel comprised three representatives from the Association of Valuers, Property Managers, Estate Agents & Property Consultants in Private Sector Malaysia (PEPS) and two from The Edge.
The Edge Malaysia-PAM Green Excellence Award 2015 Judges

Judges' citation
S P Setia's Corporate Headquarters in Setia Alam is a deserving winner as a lot of effort has been done to fulfil the green criteria. It is very encouraging as it sets a very good precedent for future green buildings.
A point to highlight is that the construction cost is a mere RM200 psf for a building that saves on energy costs, compared to one that doesn't have green features and technology.
Over and above that, the building is certified GBI Platinum (Provisional). There is a story and thought behind the project — it shows a commitment and the fact that they want to make a statement that this is going to be iconic. It also gels with the company's vision that hopes to set a benchmark, and as a guideline, for neighbouring projects and developments to follow.
Methodology
This award is open to all Malaysian property developers — both listed and unlisted — with projects in the country as well as corporate members of Malaysian Institute of Architects (PAM) with projects in Malaysia. The projects — of any size and type — must be completed.
One of the judging criteria for the green award is that the project must showcase innovation beyond the industry standard required by the Green Building Index, Leadership in Energy and Environmental Design, Singapore's Building and Construction Authority's Green Mark or other recognised green-building certification.
The five-member judging panel also deliberated on the design, sustainability, implementation, cost efficiency and relevance of the project to the community.
The judges comprised three representatives from PAM and two from The Edge. Read more on Page 68.
Other awards and methodology
The Edge Malaysia Property Excellence Awards, introduced in 2010, has The Edge Malaysia Top Developers Awards, The Edge Malaysia-PEPS Value Creation Award and The Edge Malaysia-PAM Green Excellence Award. Last year, The Edge Malaysia Affordable Urban Housing Excellence Award was introduced. This year, joining the prestigious awards are The Edge Malaysia Lifetime Property Achievement Award and The Edge Malaysia Outstanding Property CEO Award. The new awards and its inaugural winners, as well as other awards and winners are:
1) The Edge Malaysia Lifetime Property
Achievement Award 2015 (NEW)


The award recognises an individual who has contributed significantly to — and has had a positive impact on — the Malaysian property industry through the years. The recipient would be visionary and innovative, and have successfully played a major role in raising the image and benchmark of the property industry in the country.
The first recipient of this inaugural award is Datuk Alan Tong Kok Mau of Bukit Kiara Properties Sdn Bhd.
2) The Edge Malaysia Outstanding Property
Entrepreneur Awards 2015 (RENAMED)


The award replaces The Edge Malaysia Outstanding Property Personality Award, which was introduced in 2012. It honours industry captains who have made significant and outstanding contributions to growing their companies into dynamic players at the forefront of the industry. The recipients of the award are selected by The Edge.
This year, they are Tropicana Corp Bhd's Tan Sri Danny Tan and Mah Sing Group Bhd's Tan Sri Leong Hoy Kum.
3) The Edge Malaysia Outstanding Property
CEO Award 2015 (NEW)

This is a new award, conceptualised to recognise CEOs or professionals who have successfully taken their companies to an exceptional level under their leadership. The winners are selected by The Edge.
The recipients of the inaugural award are Tan Sri Abd Wahab Maskan, managing director of Sime Darby Property Bhd, and Eco World Development Group Bhd president and CEO Datuk Chang Khim Wah.
4) The Edge Malaysia Property Development
Excellence Award 2015 (RENAMED)

Previously known as The Edge Malaysia Outstanding Property Award, the award recognises successful, large-scale property developments that have made a significant impact. The projects would have proved to be catalysts for growth while continuing to contribute positively to the vibrancy of the area they are located in.
There are two recipients of the award for 2015. They are Gamuda Land for Kota Kemuning in Selangor and Perdana ParkCity Sdn Bhd for Desa ParkCity in Kuala Lumpur.
5) The Edge Malaysia Notable Property
Achievement Award 2015 (RENAMED)

The award recognises outstanding projects that showcase not only unique concepts and designs but also the commitment of the developers in translating them into reality.
There are three winners this year — IJM Land Bhd's The Light in Penang for its marine waterways, Mulpha Land Bhd's tranquil 1,765-acre Leisure Farm for being a pioneer in Johor with its security and eco-sustainable design, and S P Setia Bhd's Setia Eco Park for its eco-features.
6) The Edge Malaysia Affordable Urban Housing Excellence Award 2015

Introduced in 2014, this award seeks to identify and encourage the private sector to provide more and better quality affordable housing. Only projects undertaken wholly by private sector developers who receive no aid or participation, direct or indirect, from the government are eligible.
There are two winners for this category — MKH Bhd for Pines @ Hillpark Shah Alam North and Sime Darby Property Bhd for Saron in Bandar Bukit Raja, Klang. TEPEA 2015
Do not ask your BFF about the value of your home. Click here at The Edge Reference Price to find out.
This article first appeared in City & Country, a pullout of The Edge Malaysia Weekly, on Dec 7, 2015. Subscribe here for your personal copy.