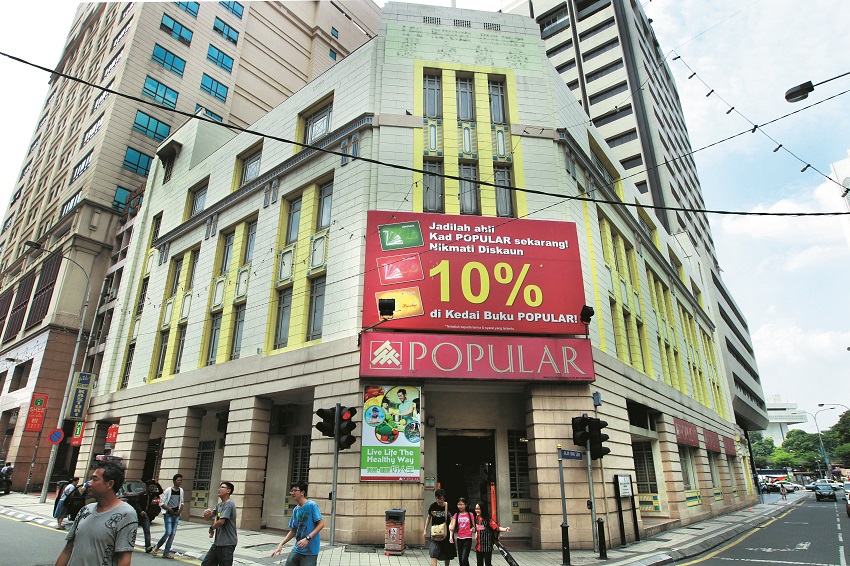 SITUATED on busy Jalan Tun H S Lee, Lee Rubber Building has stood witness to the changes that have taken place in Kuala Lumpur since 1930. For the past 85 years, the building has served not only as a place of business, but also as a landmark and a popular meeting spot for city folk.
In September, however, the historic building was put on the market, leaving its fate uncertain.
Lee Rubber Building — better known for the Popular bookstore it houses in China Town to most of us — was put up for sale by its owner, Lee Rubber Group, via property agent Rahim & Co, and has been vacant since early November.
Designed by Arthur Oakley Coltman of British architecture firm Booty Edwards & Partners, the building has a strong geometric shape with a corner set at a 45° angle. Like most urban Art Deco structures, it has a flat roof with no cornice or overhang.
The bulding was extended in the 1950s with the addition of a fourth floor, making it five-storeys high. The original colour of the façade was grey, but it was repainted to light yellow.
During the British era, Lee Rubber Building was famous as it was the tallest building in Kuala Lumpur, according to Rahim & Co.
The pre-war building is adjacent to the heart of Kuala Lumpur's China Town, better known as Petaling Street, one of the city's most popular tourist hot spots.
Petaling Street is an area deeply immersed in Oriental culture, heritage and history and has been enhanced with a covered pedestrian street at the intersection of Jalan Petaling and Jalan Hang Lekir.
The building is listed as Category 2 by City Hall, which means the entire façade must be preserved.
The property has a land area of 10,637 sq ft, a total built-up area of 46,607 sq ft and net lettable area of 38,126 sq ft.
Rahim & Co declined to reveal the reserve price, but says the owner is considering offers received so far.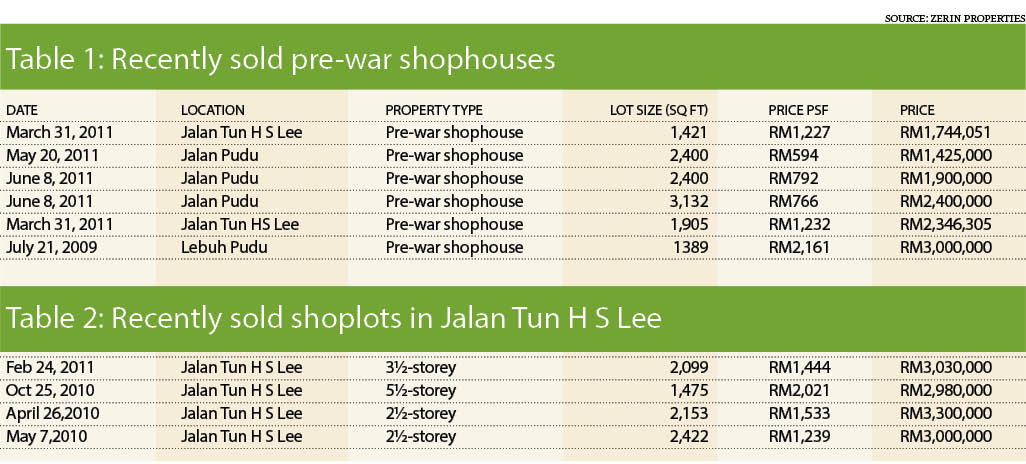 With potential but costly
"Lee Rubber Building is one of the few pre-war buildings that is well maintained and preserved under the National Heritage Act," says Roja Rani, head of research and consultancy at Zerin Properties. "It enjoys a prime location in downtown Kuala Lumpur and is highly accessible with close proximity to public transport, such as Pasar Seni LRT station, Masjid Jamek LRT Station, Pudu Sentral and future Pasar Seni MRT Station." She does not have an estimate of the reserve price.
Recent transacted prices psf for prewar shophouses in Kuala Lumpur were between RM594 and RM2,161, data from Roja shows (see Table 1). Meanwhile, shoplots located along Jalan Tun H S Lee were selling for RM1,239 to RM2,021 psf (see Table 2).
Roja believes pre-war shophouses such as the Lee Rubber Building have the biggest appeal and the potential to be converted into boutique hotels, which are becoming increasingly popular with tourists. That augurs well, especially with the government's intention to connect the area with major tourist spots.
"Converting pre-war shophouses into boutique hotels will not only generate higher revenue for the owners but also be in line with KL City Hall's intention to conserve these heritage buildings and at the same time, assist in the rejuvenation of the area," Roja says.
Notable conversions of pre-war shophouses into boutique hotels include Noble Hotel in Jalan Tuanku Abdul Rahman as well as the redevelopment of Bangunan Hong Leong at the corner of Jalan Tun H S Lee and Jalan Tun Tan Cheng Lock into Wolo Chinatown, a 288-key boutique hotel with a cinema.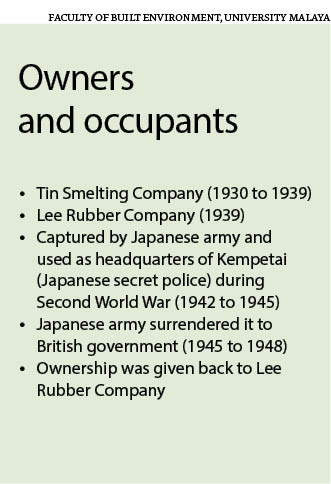 "While the historical value of these pre-war buildings is no doubt immeasurable, the cost of maintaining or restoring them to their past glory would also be immense, requiring specific methods and special building materials," Roja says. "Moreover, very few contractors have the special skills and knowledge to restore and conserve heritage and historical buildings."
However, the owner is entitled to incentives from the government for any restoration work carried out according to DBKL and Heritage Act guidelines.
Redevelopment values
Roja believes pre-war buildings are a worthwhile investment despite the higher investment cost because they play an important role in major rejuvenation schemes and create significant benefits for local economies and communities.
"There are quite a number of heritage buildings in the area capable of providing positive qualities and benefits to the rejuvenation scheme planned by KL City Hall. This explains the increasing transactions involving historical assets, where owners, acknowledging the growing demand and redevelopment value of these properties, are set to capitalise on their value by selling them to third parties." She adds that the biggest catalyst for real estate in the area is the location, which is about 3.7km from the KL city centre, and the potential for it to be transformed into a tourist destination.
The area's real estate market, consisting of pre-war shophouses, 1970s commercial buildings, late 1970s and modern office towers, shows a diversity of properties that is unique, Roja says. The area, she adds, has great potential to be transformed into a world-class tourist destination by capitalising on the historical landmarks to tap the expanding historical or heritage tourism market.
Do not ask your BFF about the value of your home. Click here at The Edge Reference Price to find out.
This article first appeared in City & Country, a pullout of The Edge Malaysia Weekly, on Nov 23, 2015. Subscribe here for your personal copy.