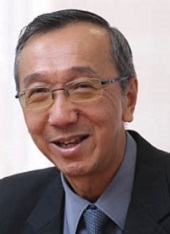 KUALA LUMPUR (Jan 20): Housing non-performing loans (NPLs) are expected to increase this year, although it won't be at the level seen during the financial crisis in the late-1990s, according to VPC Alliance (Malaysia) Sdn Bhd managing director James Wong (pictured).
Speaking to reporters at the 9th Malaysian Property Summit (9MPS 2016) here today, he added that the industry has seen a higher number of valuation cases for auctioned properties during the last quarter.
The 9MPS 2016 is organised by the Association of Valuers, Property Managers, Estate Agents and Property Consultants in the private sector (PEPS). The Edge Malaysia and TheEdgeProperty.com are media partners of the event.
"NPLs are expected to increase but it won't be as bad as the previous recession where it reached double digit. Bank Negara (Malaysia) is more prepared now," he said.
The increase in NPLs is attributed to a higher unemployment rate as well as the impact from Developer Interest Bearing Schemes (DIBS) that may see ample supply in the market now.
"DIBS has enabled so much speculation," he said. "This year is the time for payment [as most properties under DIBS will be completed]. We suspect a lot of DIBS buyers are speculators and they may not be able to complete the loan. Then, they have to unload the properties to the market and prices will come down."
Wong noted that 2016 will be a challenging year with property oversupply and a lacklustre global economy.
He expected to see less launches as well as more overhang and auctioned properties. Developers may also defer or downsize their launches, and that they will offer attractive packages and substantial discount to market their projects.
"We don't expect a property bubble or recession but a moderate decline in the property market and we also don't expect double-digit decline in property prices," he said.
He suggested that, however, the government should reintroduce DIBS for first-time homebuyers in the affordable housing segment.
In his presentation at the summit earlier, independent economist Lee Heng Guie also said 2016 will be a challenging year for the economy and property industry.
Lee also encouraged the reintroduction of DIBS for first-time homebuyers to maintain a sustainable property sector.
"Bank Negara Malaysia should ensure that the banking institutions continue to lend to eligible borrowers. Fiscal incentives such as stamp duty relief and DIBS should be considered for first-time homebuyers and for properties priced below RM1 million," said Lee.
Do not ask your BFF about the value of your home. Click here at The Edge Reference Price to find out.