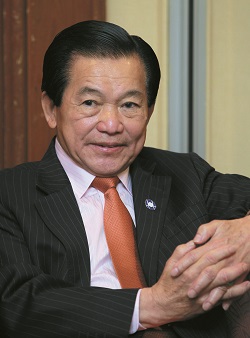 PUTRAJAYA (Jan 5): IOI Properties Group Bhd expects the financial year ending June 30, 2016 (FY16) to be a challenging but surmountable financial year for the company, due to the soft property market.
Its executive chairman Tan Sri Lee Shin Cheng (pictured) acknowledged yesterday that IOI Properties' profit margin in FY16 is expected to be squeezed by higher land, construction and labour costs.
Although he declined to give an indicative figure as it is difficult to quantify, he said the impact of the higher costs on the FY16 profit margin will be "quite significant".
"It (impact on the profit margin) will be quite significant," he said at a press conference after IOI Properties' extraordinary general meeting (EGM).
"It is difficult to predict what the percentage is because it varies from place to place and also depends on the kind of finishes provided," he added.
According to its filing with Bursa Malaysia, IOI Properties' profit margin had already seen some contraction in FY15.
For FY15, the group's gross profit margin was 51.31%, lower than its margin of 54.69% in FY14, while its operating profit margin in FY15 was 52.67%, lower than the 73.52% operating profit margin recorded in FY14.
For FY15, the group recorded gross and operating profits of RM980.35 million and RM1 billion respectively, compared with RM793.58 million and RM1.07 billion in FY14.
The group recorded a 31.72% increase in revenue to RM1.91 billion in FY15 from RM1.45 billion in FY14.
In another filing on its first quarter of FY16 results, the group stated that it plans to attract buyers with affordably priced landed and high-rise residences, as well as commercial shop offices in strategic locations, as the markets in these segments are expected to be resilient amid the current laggard market.
Despite the expectation of a slimmer margin, IOI Properties chief executive officer Lee Yeow Seng said the group is confident of achieving its RM2 billion sales target for FY16.
He said so far, sales had already exceeded the RM1 billion mark and the group had about 10 projects in the pipeline for FY16, with a total gross development value (GDV) of RM2.5 billion.
"Our overseas projects in Singapore and China will contribute quite significantly to our sales target, about 30% to 40%," he said.
He also said IOI Properties had a total of RM1.5 billion in unbilled sales, which the company expects to realise by 2018.
Yeow Seng, son of Shin Cheng, also said the group is targeting to begin construction of Phase 2 of IOI City Mall here before year end, with an investment of RM500 million, with the design and planning of Phase 2 to begin soon.
"Construction is expected to take about two to three years," he said.
"We will be adding about one million square feet to Phase 1 of the shopping mall," he added.
IOI Properties' EGM sought the approval of minority shareholders on the injection of Shin Cheng's private land into the property arm of IOI Group.
Shin Cheng said 99.99% of the shareholders approved the motion, paving the way for the design and planning of Phase 2 of IOI City Mall to begin.
He said Phase 1 of the shopping mall had achieved an occupancy rate of 93%.
"Thirty years ago, this place was in the middle of nowhere," he said.
"Nobody would have thought this area would have a shopping mall.
"Now that the mall and other properties are here, this area will grow faster," he added.
To recap, IOI Properties announced in October last year that it is injecting two property companies, of which Shin Cheng, his wife Puan Sri Hoong May Kuan and elder son Datuk Lee Yeow Chor are major shareholders, into the property arm of IOI Group for RM1.583 billion cash and shares.
The acquisition will see Shin Cheng's indirect stake increase to 58.56% from 51.47% currently.
The 400 acres (161.87ha) of land owned by the two companies — Mayang Development Sdn Bhd and Nusa Properties Sdn Bhd — are expected to generate an indicative GDV of about RM20 billion.
Seventy four per cent of the deal will be funded by shares priced at RM2.21, with the cash portion of the deal estimated to amount to RM158 million.
In a circular to minority shareholders in December, Kenanga Investment Bank Bhd said the issuance of IOI Properties shares would increase the paid-up capital of the company to RM4.41 billion from RM3.76 billion.
The proposed acquisition will result in an increase in IOI Properties' net assets to RM14.848 billion from RM13.427 billion as at June 30, 2015, it added.
Once the land injection is completed, IOI Properties' landbank in IOI Resort City will be enlarged to 161.87ha from 20.23ha.
IOI Properties closed five sen or 2.22% lower at RM2.20 yesterday, with a market capitalisation of RM8.29 billion.
Do not ask your gardener about the value of your home. Click here at The Edge Reference Price to find out.
This article first appeared in The Edge Financial Daily, on Jan 5, 2016. Subscribe to The Edge Financial Daily here.