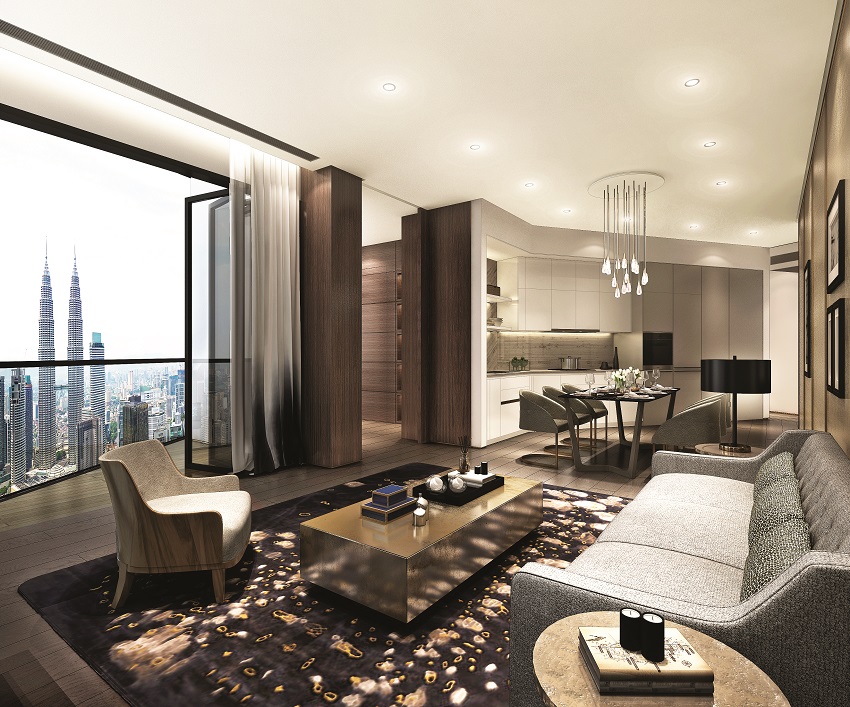 THE Kuala Lumpur city centre will welcome a new landmark, 8 Conlay, in 2020. An integrated development by KSK Land Sdn Bhd, a wholly owned subsidiary of KSK Group Bhd, this will be the group's first project.
Coming up on four acres of freehold land in Jalan Conlay, 8 Conlay will have a gross development value of RM4 billion and comprise two residential towers, named YOO8 Serviced by Kempinski, a hotel and a 5-storey retail podium. The 62 and 57-storey towers will offer a total of 1,062 units with built-ups ranging from 682 sq ft to 1,295 sq ft. Estimated selling prices will start from RM2,700 psf.
KSK Group has brought in international design, branding and marketing firm Yoo — which Hong Kong's Steve Leung is a part of — to design the interior of Tower A.
During a recent trip to Hong Kong, Leung and his project director Paul Broadley unveiled their interior designs for the units.
KSK Group CEO Joanne Kua (pictured) defines 8 Conlay as a modern and liveable development where residents and visitors can enjoy serenity within the city. "8 Conlay was born from the concept of well-being. We want to create a space where people get to enjoy modernity as well as well-being ... synergising the exterior, landscape and interior to create a space where residents or visitors can relax and escape the hustle and bustle of city life," she tells City & Country in an interview in Hong Kong.
A lot of effort, she says, was put into creating cosy, luxurious homes. "By teaming up with Yoo, we believe we will be adding value to the residences. We're preparing a home where people can enjoy luxury with an added touch of comfort and design. We know that Yoo and Steve Leung will help us to deliver what we want," she adds.
The upscale homes will offer more than just a higher standard of living. "We believe 8 Conlay will offer buyers and investors a good investment opportunity as it will command better yields for the longer term," Kua says.
The furnishings and interior design, she estimates, will give the properties a premium of 20% to 30% compared with non-branded upscale residences on the subsale market.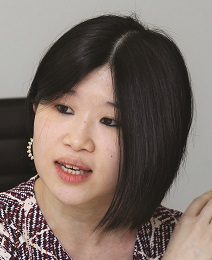 "YOO8 Serviced by Kempinski, at an average price of RM2,700 psf, is competitively priced compared with similar branded residences around the world. Malaysia's property prices are still among the lowest compared with its neighbours in Southeast Asia," Kua notes.
The interior design of Tower A units will reflect the essence of luxury with an Asian touch, with Leung combining the elements of wood, metal, earth, fire and water.
Broadley explains that each design is rooted in the elements. "For the first design, we used wood and water, creating a soft colour palette of beige and blue. The second design concentrates on metal and earth, hence the colour palette has earthy tones, whereas the third design has a darker colour palette, playing with browns and brass," he says.
Each design includes a powder room. Why a powder room? The powder room is a space guests can use when they visit, says Broadley. "It makes the space more luxurious — the owner and guests don't share the same space. If you have people over and your guests need to freshen up, the powder room is available. We will also have chevron floors and wooden panels on the walls, creating a sense of space and luxury," he adds.
According to Kua, when it comes to luxury, "many developers like to use marble floors, associating it with luxury. I don't think that's the case. For me, I like my home to be cosy and wooden floors offer a sense of cosiness and luxury.
"Also, all three design have different wooden floor patterns. For example, the first design is a chevron pattern while the second and third designs have different patterns."
The bathrooms, on the other hand, will feature marble, whose colour will match each design theme. In the first scheme, for example, light-coloured marble will accompany the soft colour palette, while the other two schemes will showcase marble with slightly darker undertones.
Broadley says the bathrooms are designed with large doors that open up to the room and the view. The bathrooms are designed to have a similar feel to those in five-star hotels.
"Based on the feedback we've got from the team, there are those who travel a lot and are used to hotel rooms and services. They love the grand vanity area with a large mirror and free-standing bath, and a wall-to-ceiling wardrobe. These are the qualities we've put into the bathroom so you will feel that you're having a holiday in your own home," he says.
Introducing fully furnished ID homes
The notion of selling fully-furnished homes with interior design took a while to catch on in Hong Kong, says Leung, who is deemed to have introduced such homes in Hong Kong in 2012.
Before he founded Steve Leung Designers Ltd, he was working with a property developer in which he was also one of the shareholders.
"I was the investor and design adviser for the developer, which wanted new ideas, hence I suggested fully designed and furnished homes.
"At first, the developer was sceptical about my idea and wondered if it would work. But after much deliberation, we went with the idea and introduced The Hampton I," says Leung.
The Hampton I, in Blue Pool Road in Happy Valley, Hong Kong, is a low-density residential development by CSI Properties Ltd, comprising 11 luxury apartments. When the units were previewed, they were immediately snapped up.
"The purchasers were smitten and purchased the units straight away. It's safe to say they were immediately sold out the moment they were launched," says Leung.
"It's easy to buy because you don't have to imagine how your home is going to be or how you're going to design it. We give it you fully designed and furnished and all you have to do is move in with your luggage."
For 8 Conlay, Kua and Leung say potential buyers would be high-net-worth individuals who are likely to choose branded residences as they provide convenience and top quality service.
"The demand for furnished apartments has increased in recent years. With a certain design theme and furniture pieces in place, it gives people an easy way to live in a cosy, professionally decorated and elegantly furnished apartment," says Leung. "I believe branded residences can offer not just good design but also significant return on investment, making them more popular in the future."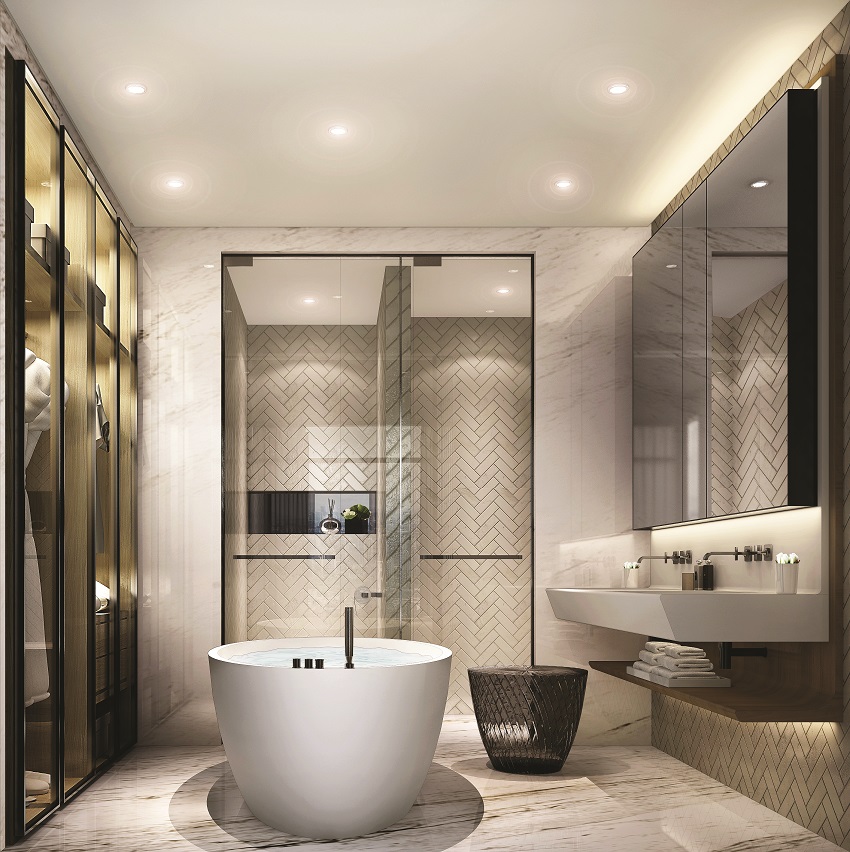 Moving forward with branded residences
Zerin Properties head of research and consultancy Roja Rani Applanaidu says while branded residences are a growing trend, Kuala Lumpur is not saturated with this type of property. Operators are very discerning about the markets they enter, thus maintaining their exclusivity, she says.
"Branded residences offer superior quality and international standards over other regular residences. [The operators'] expertise and long-standing reputation in the hospitality industry results in extremely high-quality products that are unrivalled in the overall residential market," she says.
This results in a typical premium of approximately 20% to 30% above non-branded properties, she adds.
Arjuna Indralingam, executive for mergers and acquisitions, investment, for Zerin Properties, explains that the main selling point of branded residences is the strong brands they are affiliated with, which signifies high standards that would ensure high occupancy, stable returns and capital appreciation.
"Branded residences offer all the benefits associated with a hotel but with the added advantage of exclusivity and discretion. These facilities will be structured to cater to every whim and fancy a resident has at any time, for example, services on demand," he says.
On the flipside, what should buyers be concerned about?
Arjuna says the only major drawback of branded residences is high service charges. "Because the level of service and standards are international and of the highest standard, this is also reflected in the substantial service charges imposed by the brands," he says.
Going forward, will branded residences be the next big trend in Malaysia?
Roja thinks so. "Unlike typical residences, branded residences more commonly fall in the hotel-residential market and as such, are a different asset class altogether. Thus, they offer potential investors a different type of asset that does not mimic the trends of the residential market.
"Branded residences are more stable assets that are able to resist typical market fluctuations given their specialised nature," she says.
According to her, a related trend that is gaining traction is integrated developments featuring branded residences, commercial and retail elements. "Together, they will offer residents a wholesome living experience with all requirements at their doorstep," she says.
This article first appeared in City & Country, a pullout of The Edge Malaysia Weekly, on Sept 28, 2015. Subscribe here for your personal copy.